A Yoga Sculpt-Inspired 30-Minute Workout
This workout is brought to you by Kelly Magnus, a Yoga Sculpt instructor at CorePower Yoga in Chicago. While she was away for the holidays, she pulled this workout together to combine yoga and strength into one yoga sculpt-inspired workout. She demonstrates the flow in the comfort of her living room. Bonus points if you can guess the holiday classic on in the background.
Tis the season for travel, family gatherings, lots of cookies and holiday cheer. A heated hour yoga session at your favorite studio might not fit into your schedule. But never fear, we've condensed a vinyasa flow and strength circuit into one 30-minute workout. Light a fire, turn on your favorite holiday flick and find time to slow down, sweat and practice peace – even when you're away from the studio and your favorite instructor.
Get ready to sweat by setting an intention. That intention can be as simple as "I'm going to focus on this workout for the next 30 minutes," but if you want to think about something more, use this quote as a reminder to practice self-care, since we often spend this season giving so much of our time to others:
"When we answer the call of our own heart, we help awaken the heart of the world."
About the yoga sculpt flow:
Warm up by flowing through a few Sun Salutations (approx. 3 minutes): mountain pose, forward fold, half lift, high plank, mid plank, upward facing dog and downward facing dog.
Following the warm-up, you'll flow through a yoga sequence incorporating bodyweight exercises. The sequence includes ten exercises that you'll do all on the right side, then on the left side. Some use both sides of your body so you'll hit those twice. You'll do each exercise for one minute.
After flowing through the sequence twice – once on the right leg and once on the left – you'll finish the workout with five minutes of savasana, because after the craze of the holidays, things can get hectic and we know you'll need the peace and quiet. From your warm-up flow to your final savasana, we'll have you working for 30 minutes total.
Here is your full workout:
Perform each exercise for one minute.
Down dog push ups
Three leg down dog right/left leg – knee to nose
Crescent lunge right/left leg – single leg lunge and twist
Crescent lunge right/left leg – single leg knee crunch
Goddess pose – squat
Goddess pose – oblique dip
Cardio burst: jumping jacks/star jumps
High plank – bird dog right/left leg
High plank – frog jump
Butterfly sit up
After you complete the circuit on your right leg, flow through a few Sun Salutations to catch your breath, then repeat on the left side.
Savasana (5 minutes): close your eyes and take up space. Rest in final savasana after completing the sequence on your right and left side.
Here are your moves:
Down dog push up: Plant your palms and feet shoulder distance, lifting your hips up in the air. Stretch your heels towards the floor. Lower your head, by bending your elbows out to 90 degrees, touching the tip of your head to the mat. Push back up and straighten your elbows.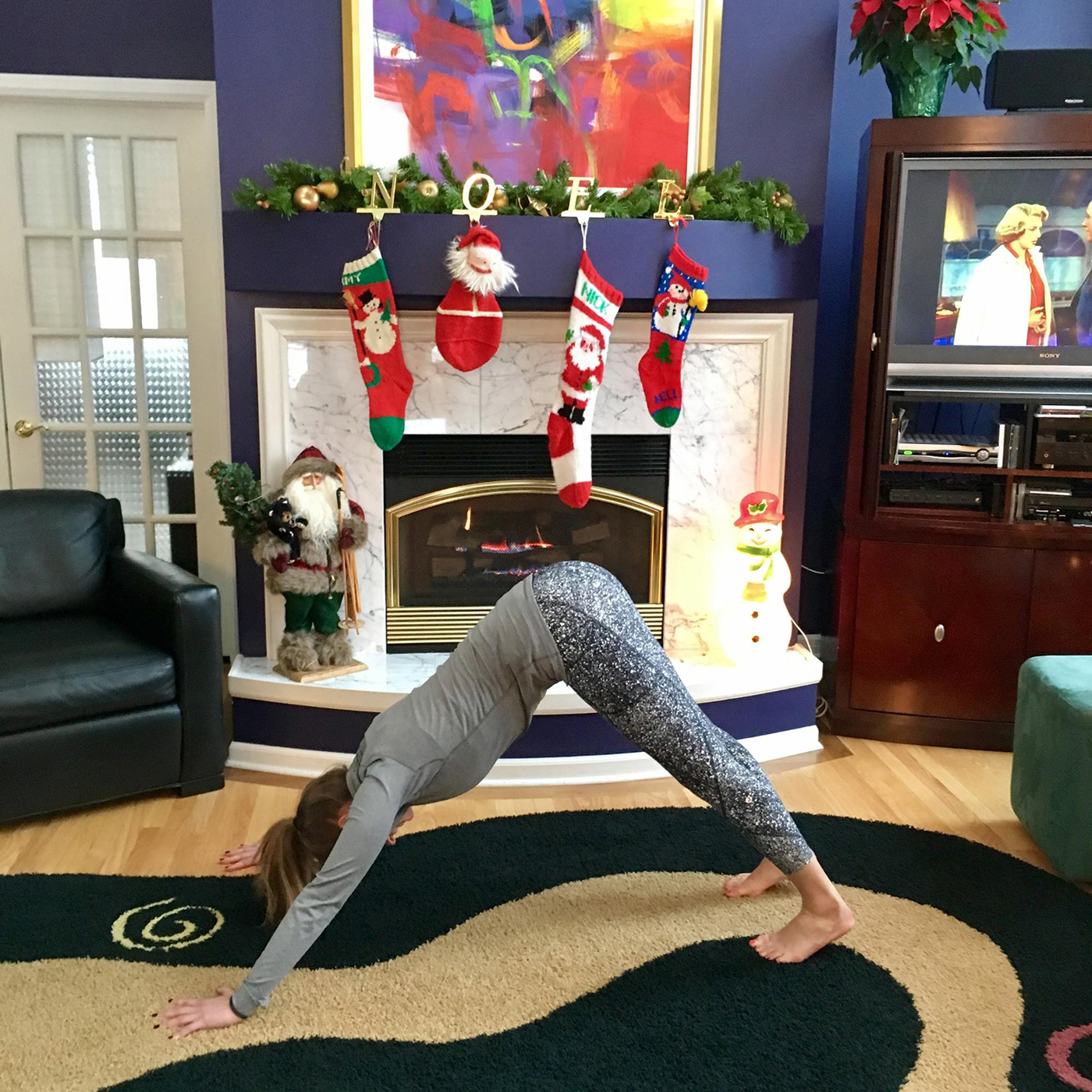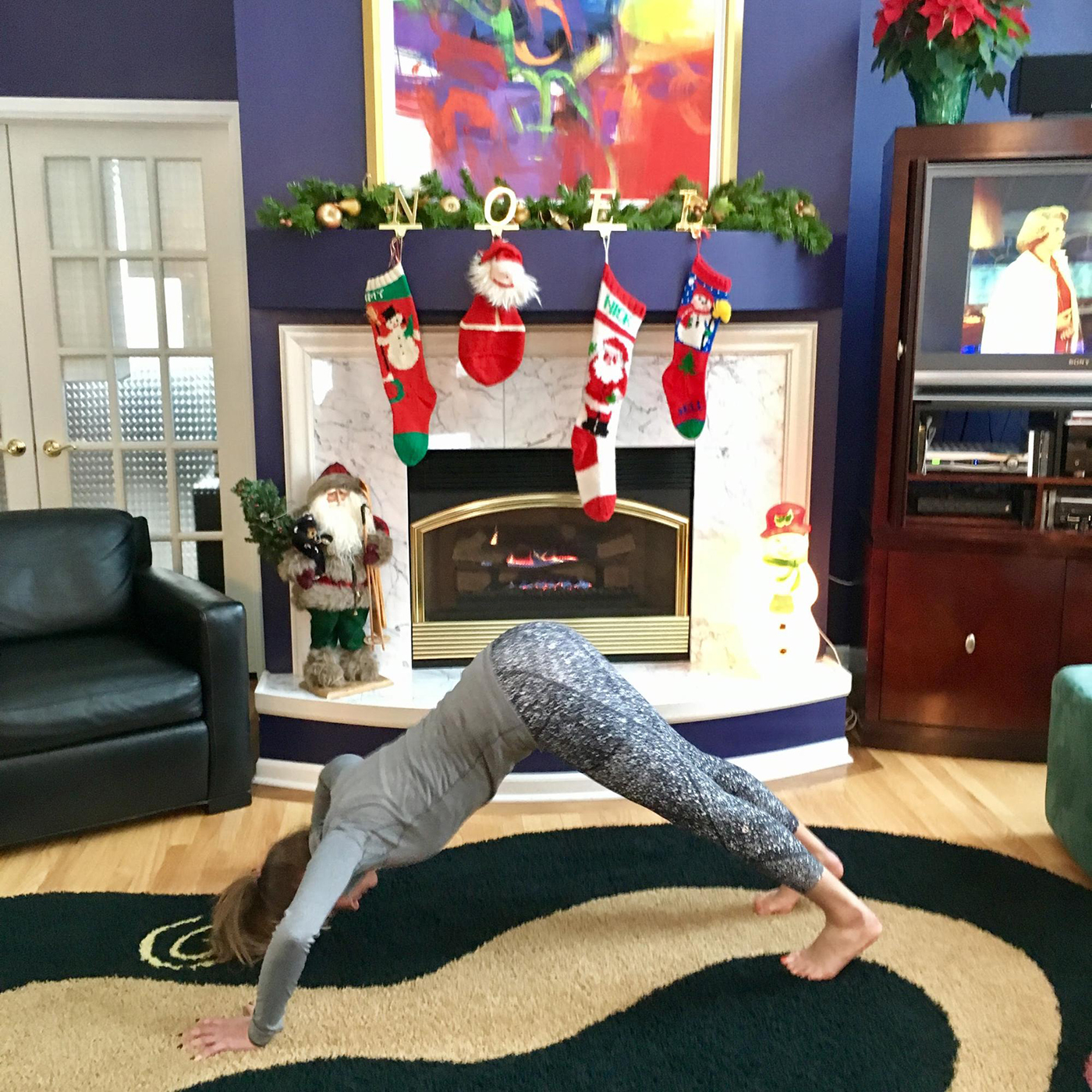 Three-leg down dog – knee to nose: From down dog, lift your right/left leg high; squeeze your glute. As you exhale, bring your extended leg into a crunch – touching your knee to your nose.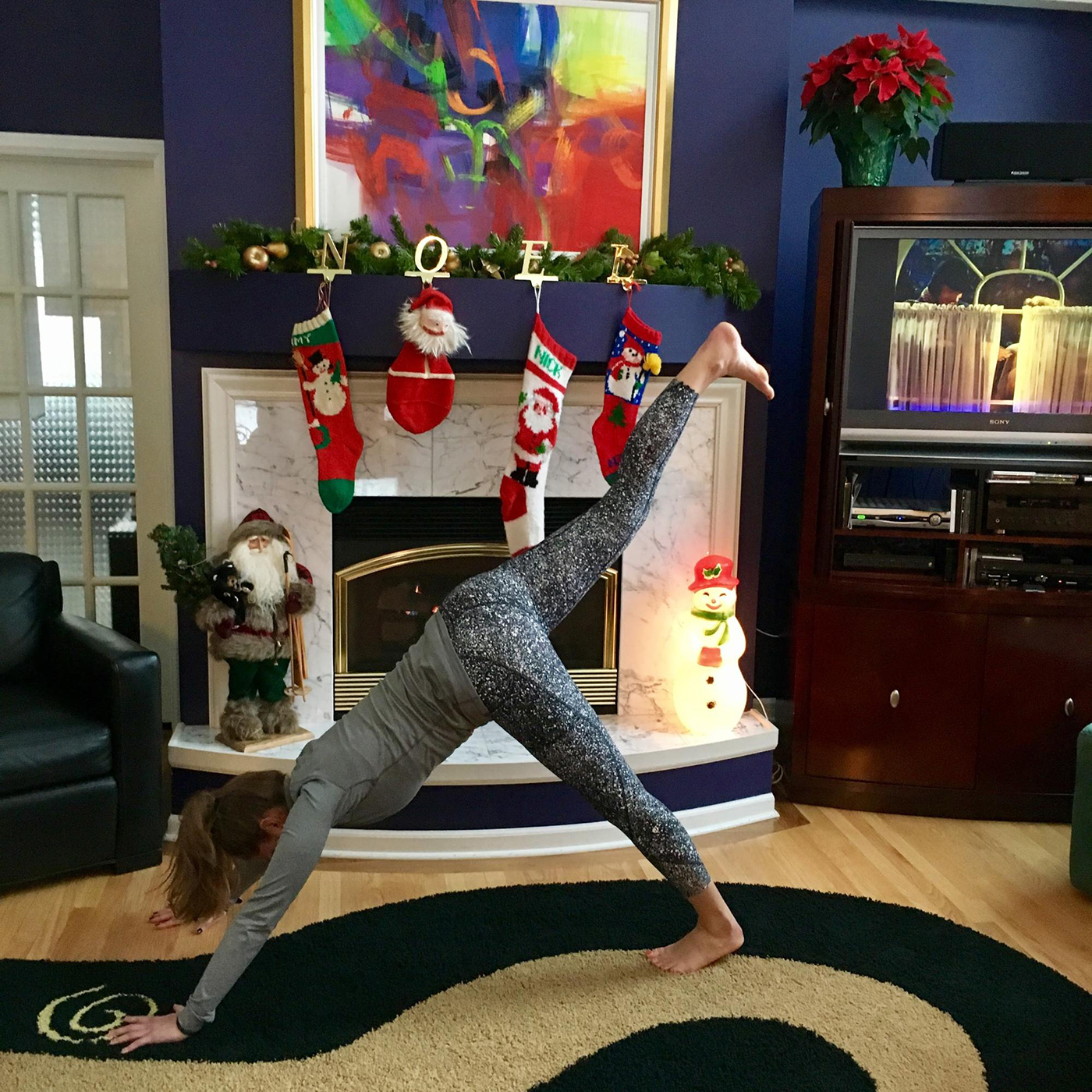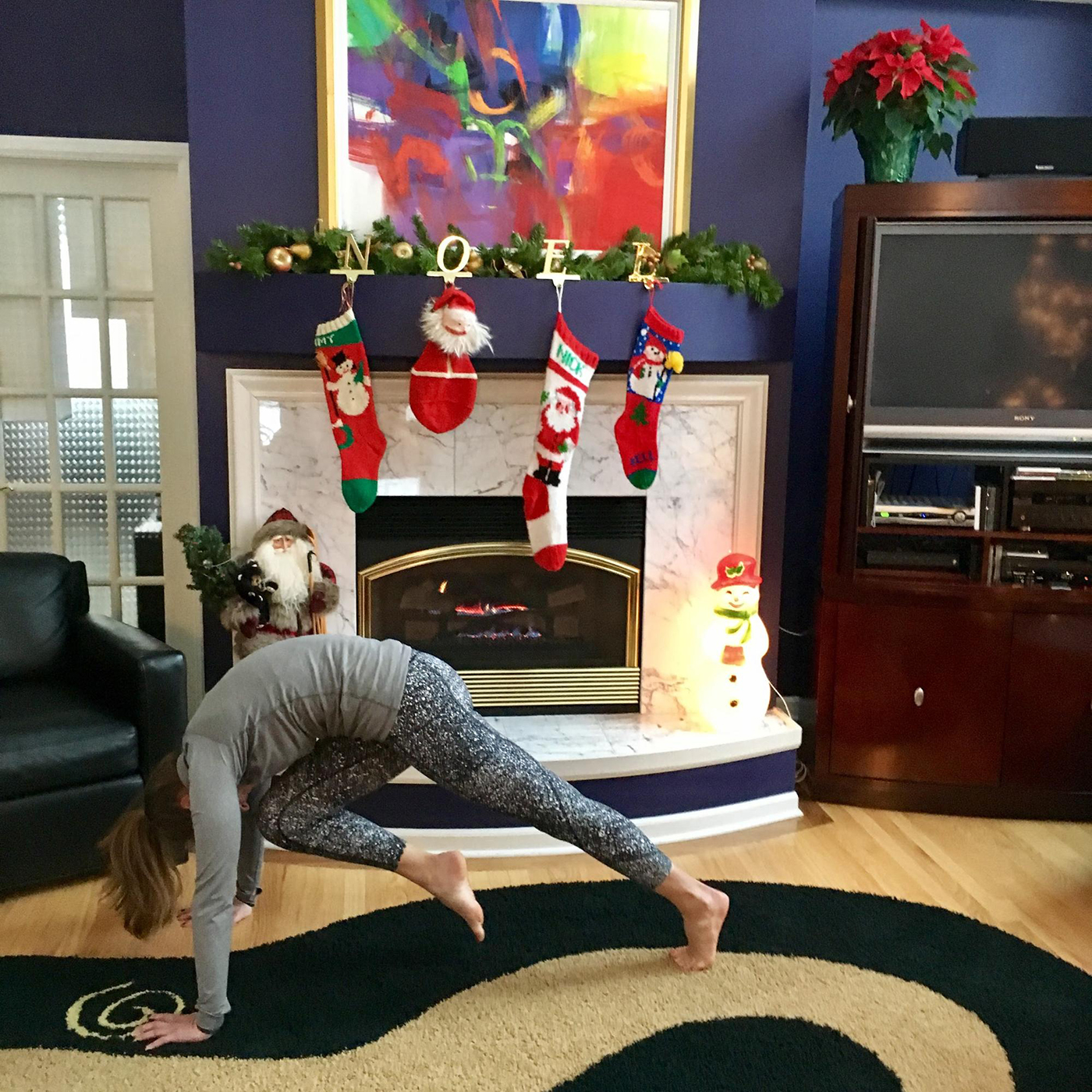 Crescent lunge – single leg lunge with twist: From a crescent lunge – your front knee bent and back leg extended – bring your hands to heart center. Lower into a lunge, hovering your back knee just off the floor. Twist with your torso over your front knee. Engage your obliques, twist back to center and straighten your legs. Lift and lower through lunge position, keeping your feet in one place.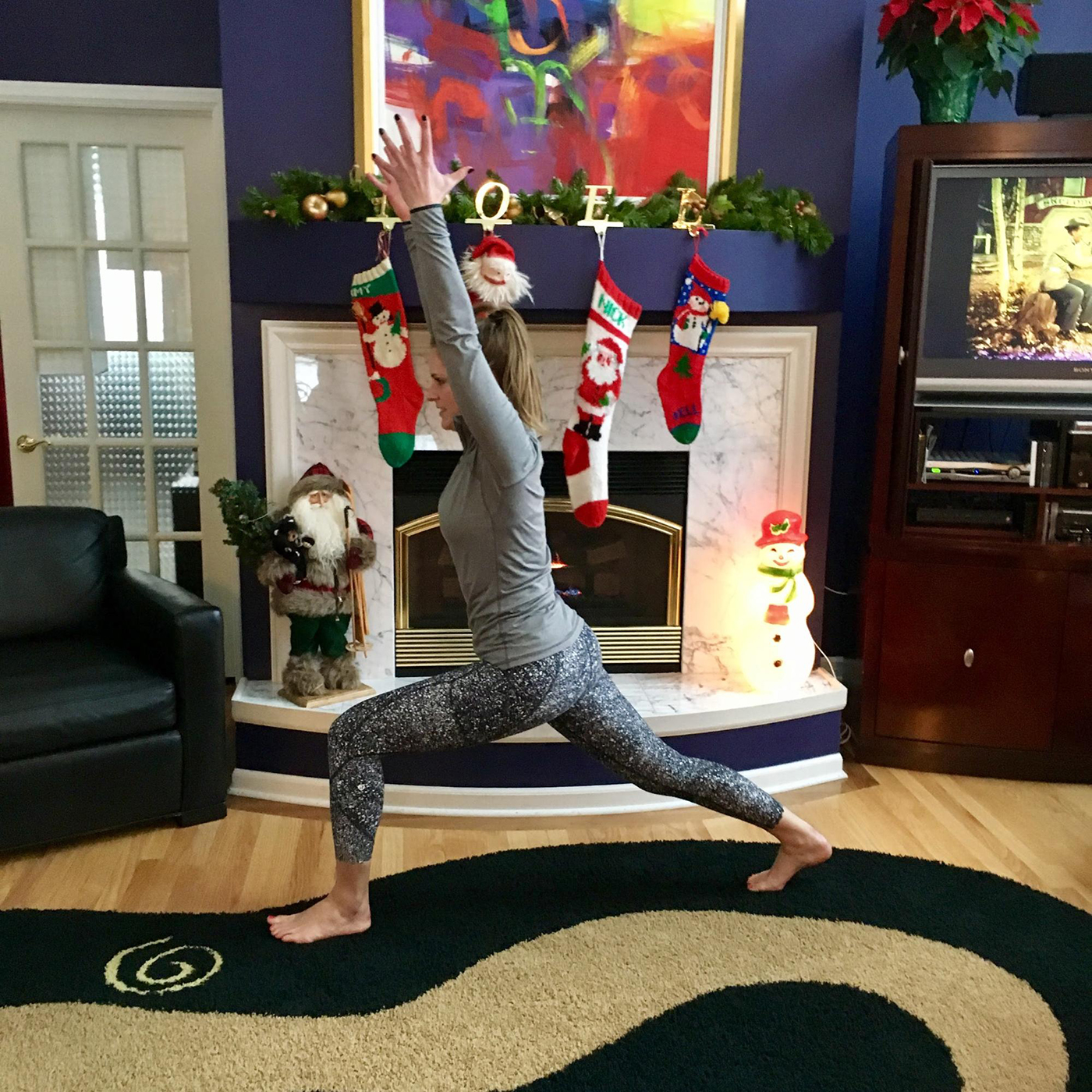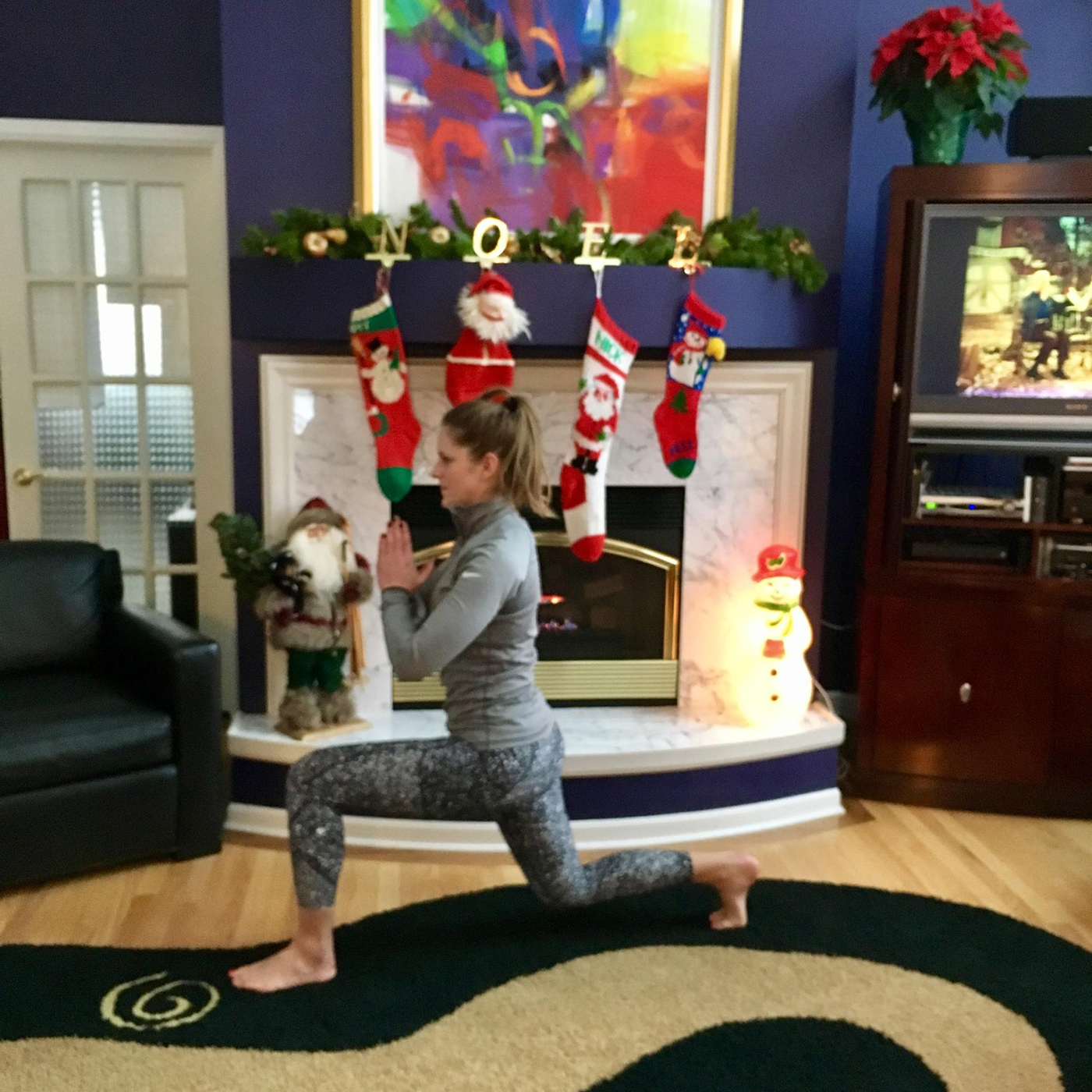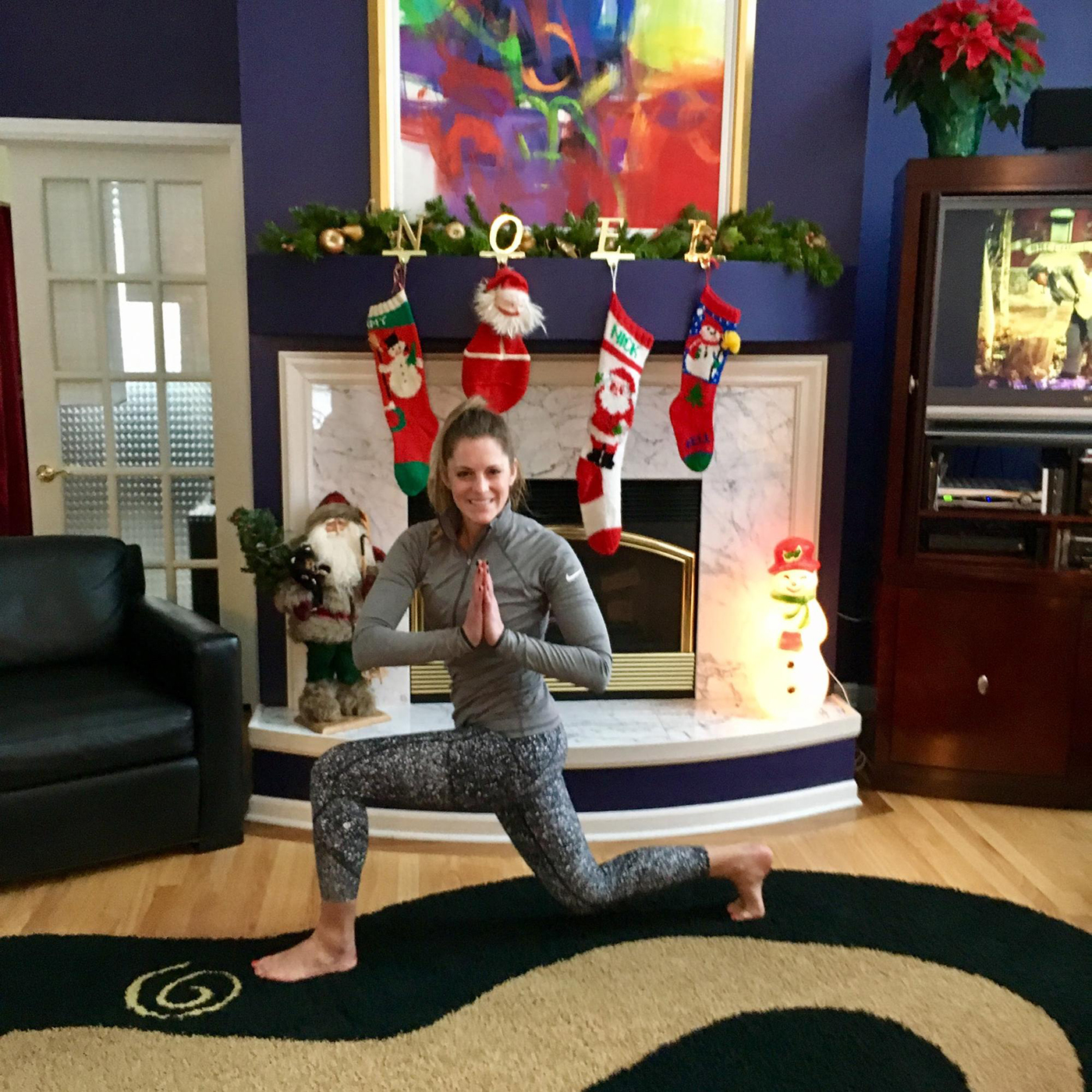 Crescent lunge – single leg crunch: Come back to your crescent lunge position. Extend your arms overhead and hinge your torso forward 30 degrees. Pull your core in and crunch by bringing your knees and elbows together. Extend back long.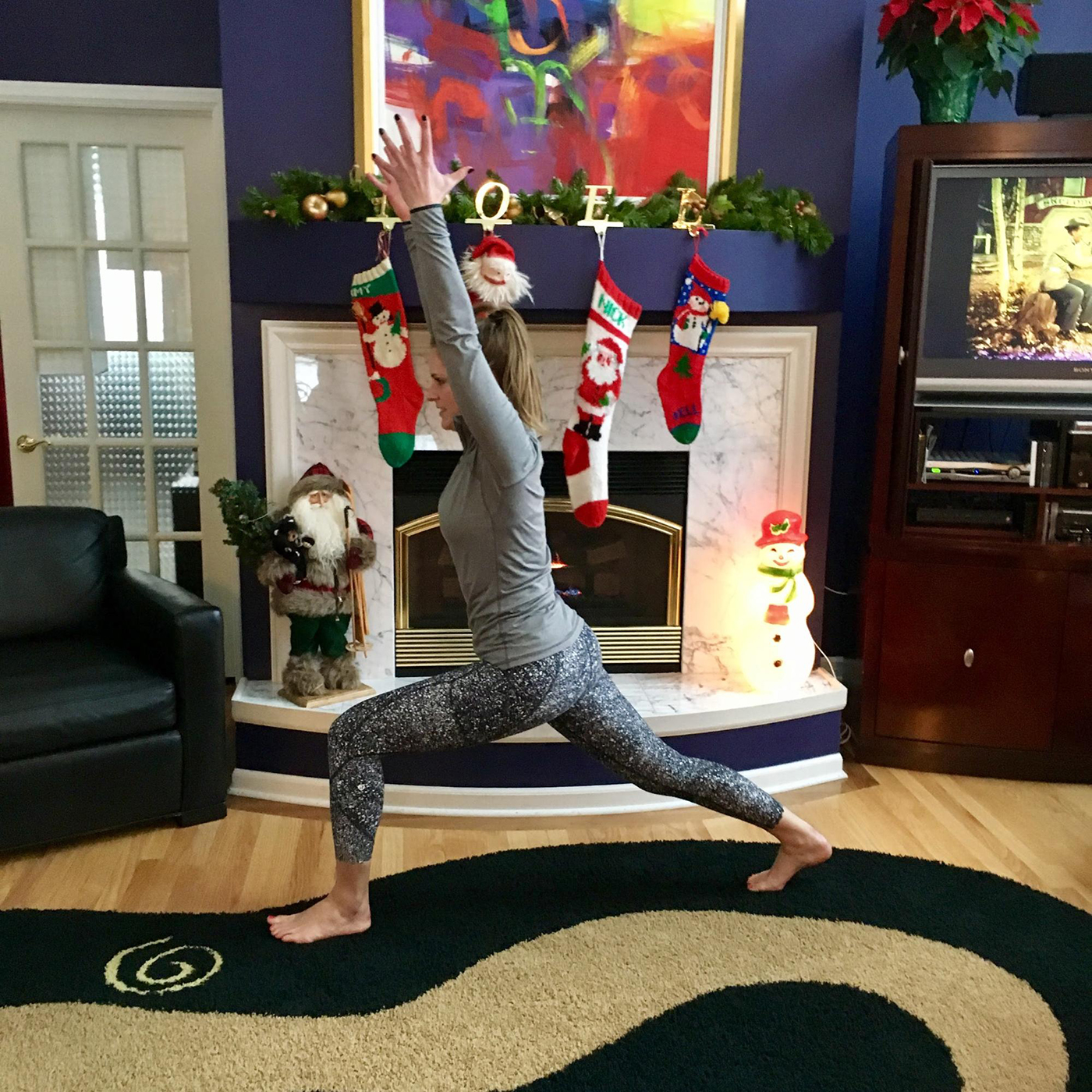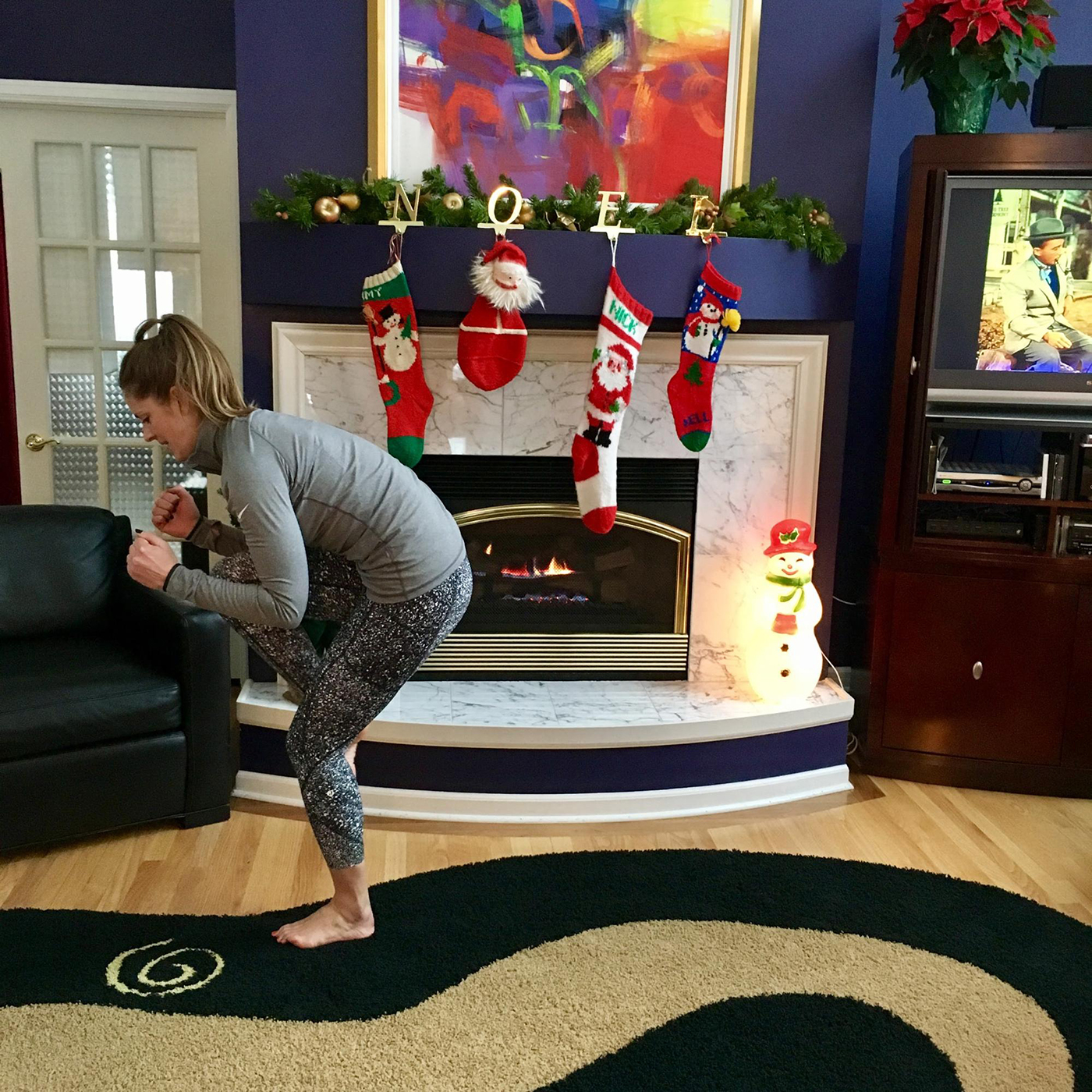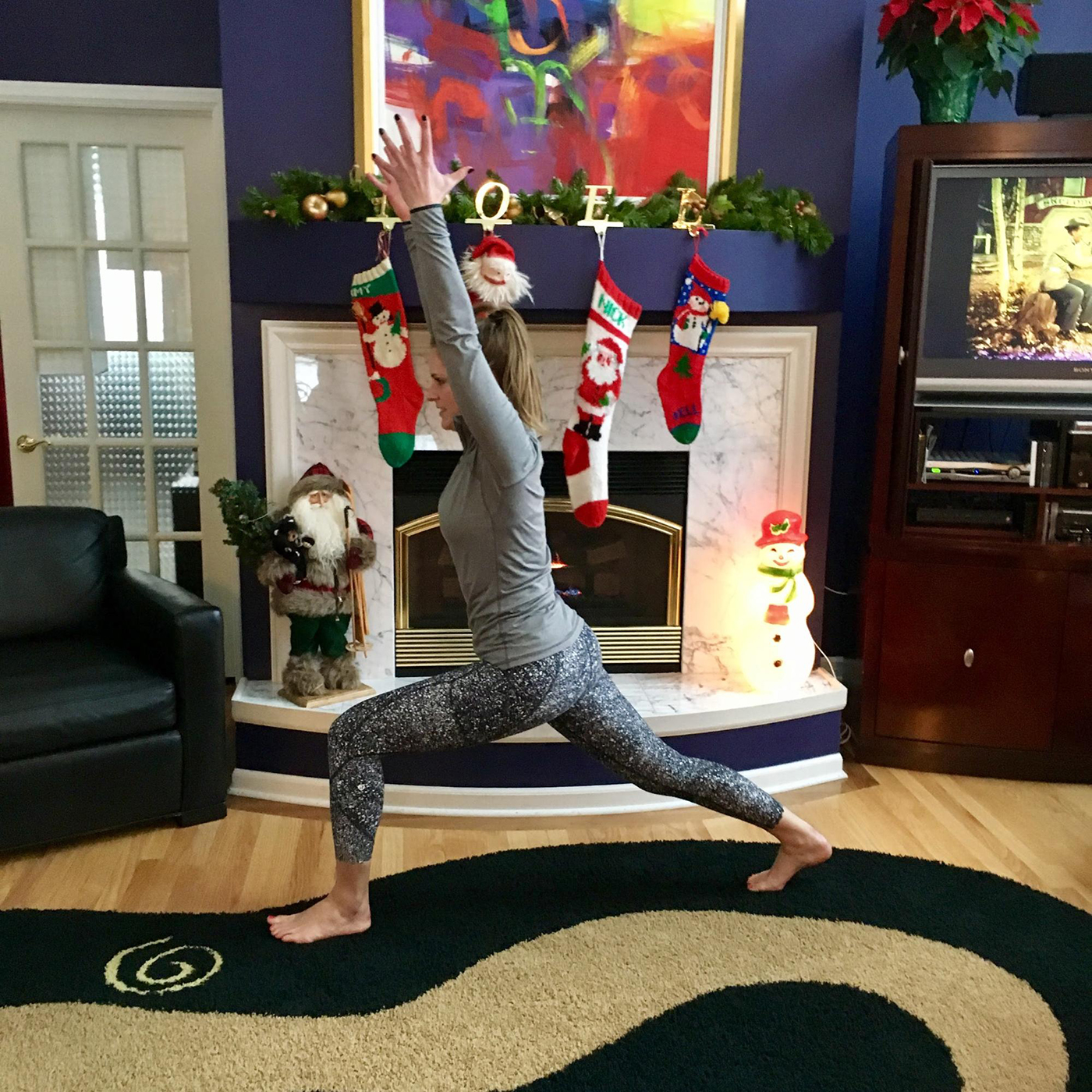 Goddess pose – squat: Stand with your feet wider than hips-distance apart, heels in and your toes facing out. With your hands at heart center, squat low, press through your heels and stand back up. Keep a flat back and your core in tight.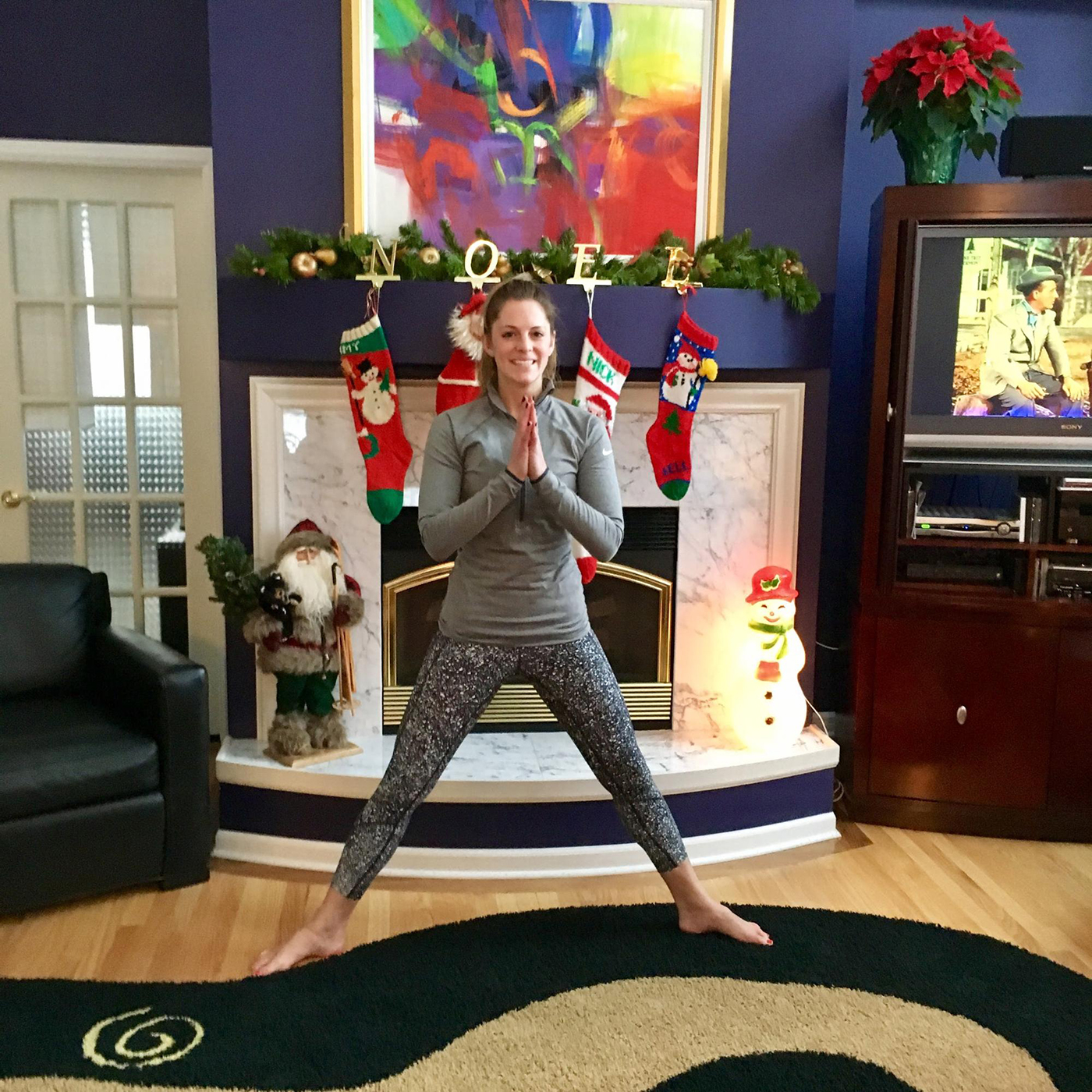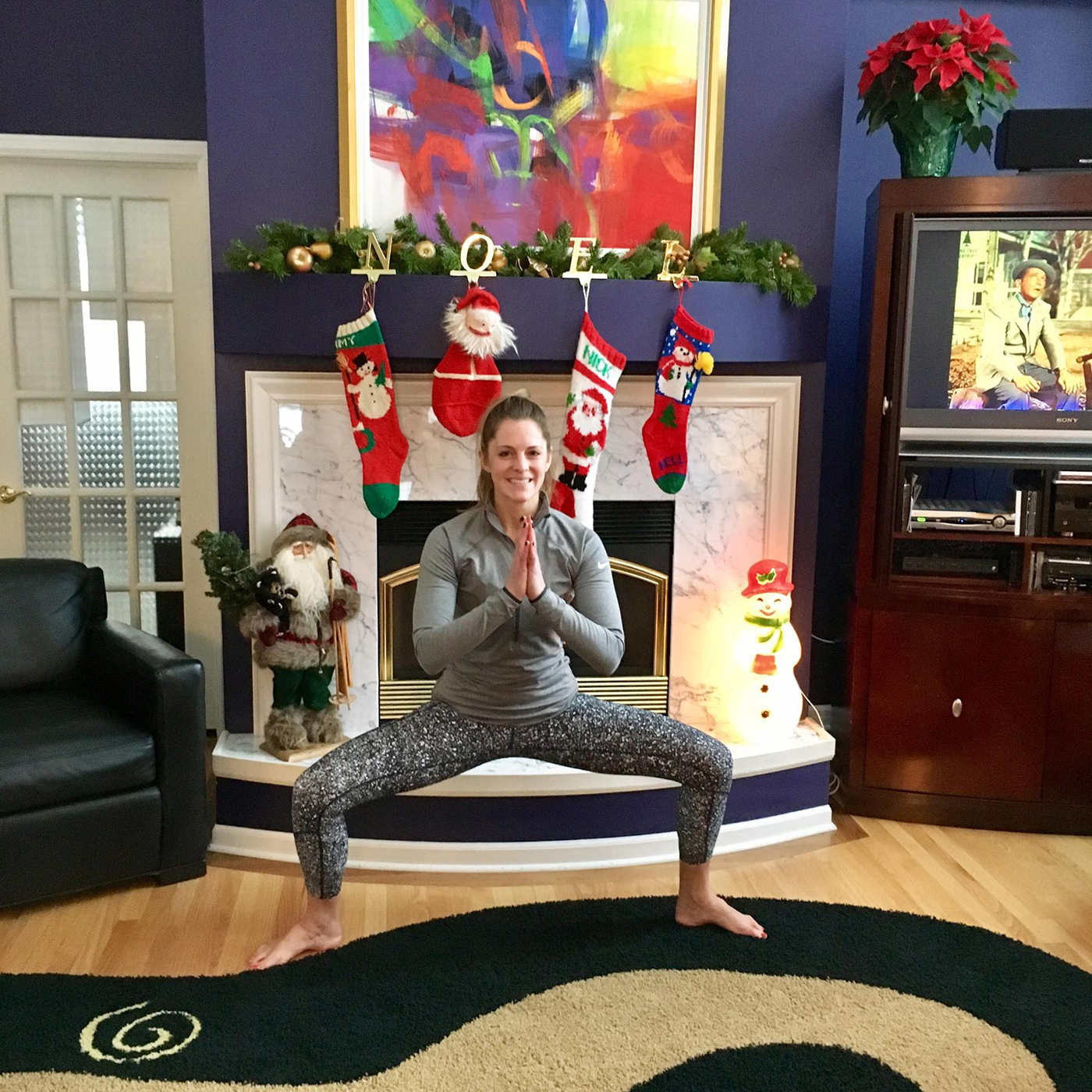 Goddess pose – oblique dip: Hold low in your goddess squat and place your hands behind your head with your elbows out wide. Crunch, using your obliques, side to side touching your elbow to your thigh/knee.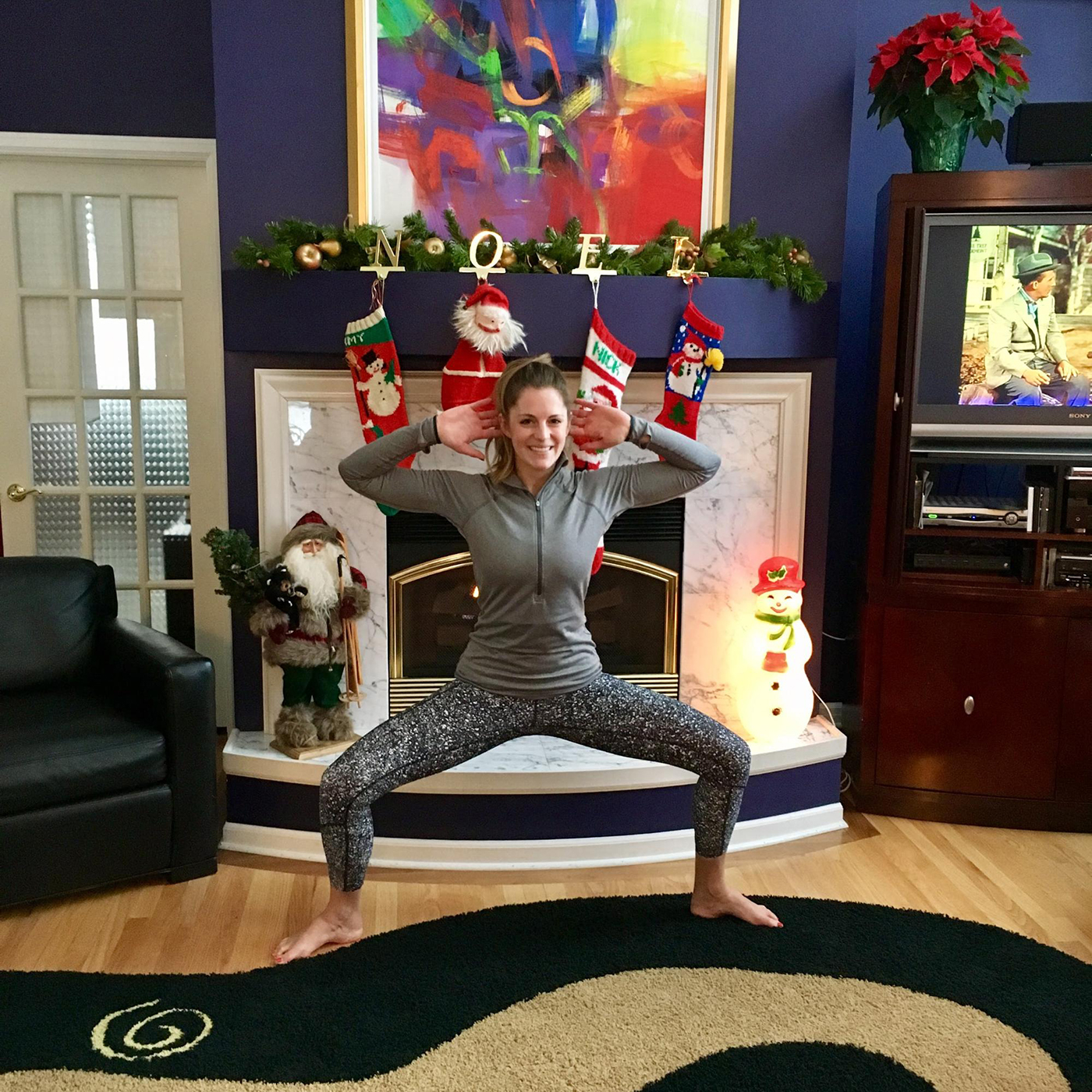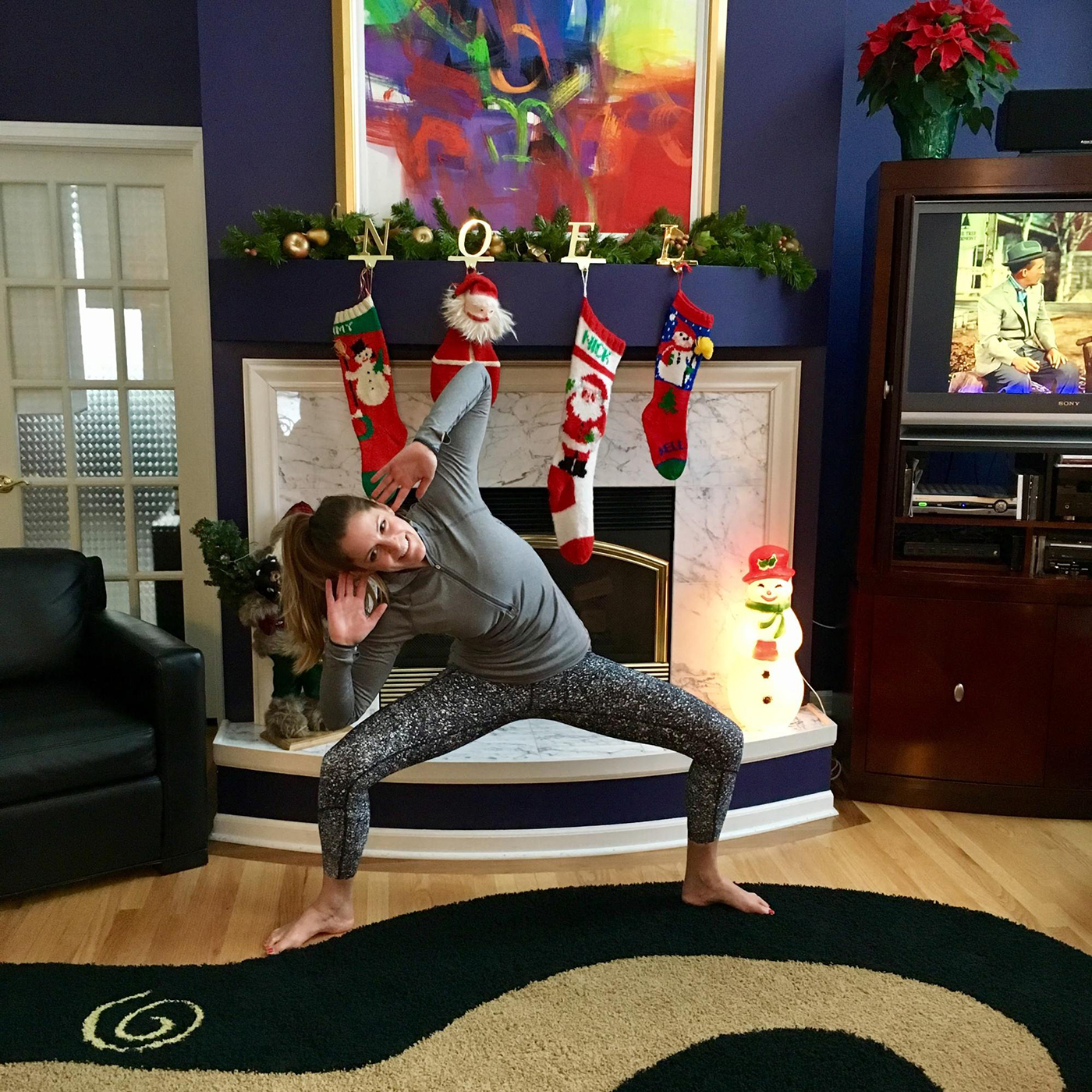 Cardio burst – jumping jacks or star jumps: Perform a jumping jack by jumping your feet out wide, bringing your arms up overhead and bringing everything back to center. For a star jump, extend both arms and feet when you jump. Bringing arms and feet back in together at the same time.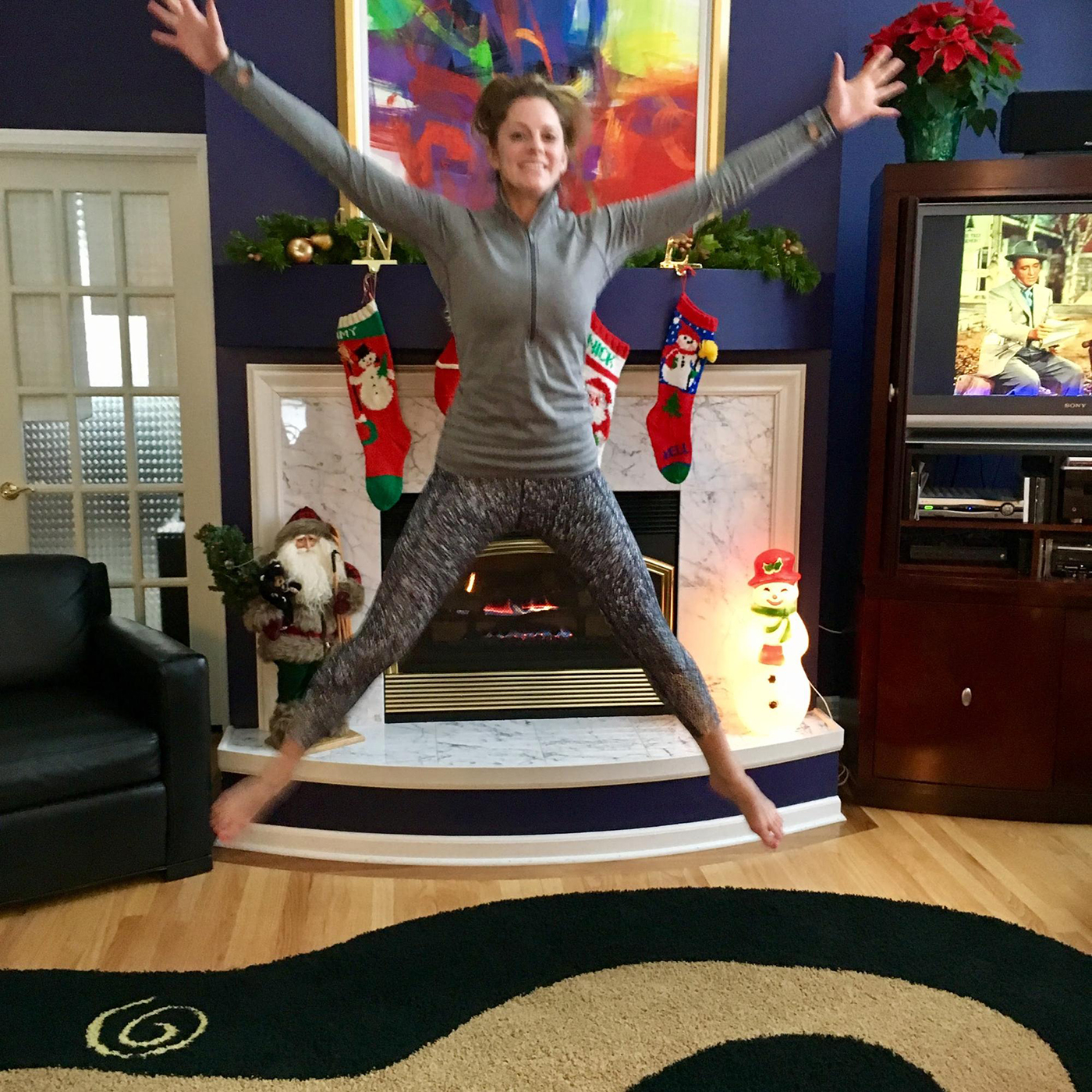 High plank – bird dog: Either from table top or a full plank position, extend your right leg back and left arm forward. Either tap your hand and foot back to the floor or round your spine and draw your knee towards your nose and elbow in towards your knee. Inhale to extend back out long, keeping your hips and shoulders square to the ground the whole time. Stay on your right leg through sequence one and your left leg the second time through.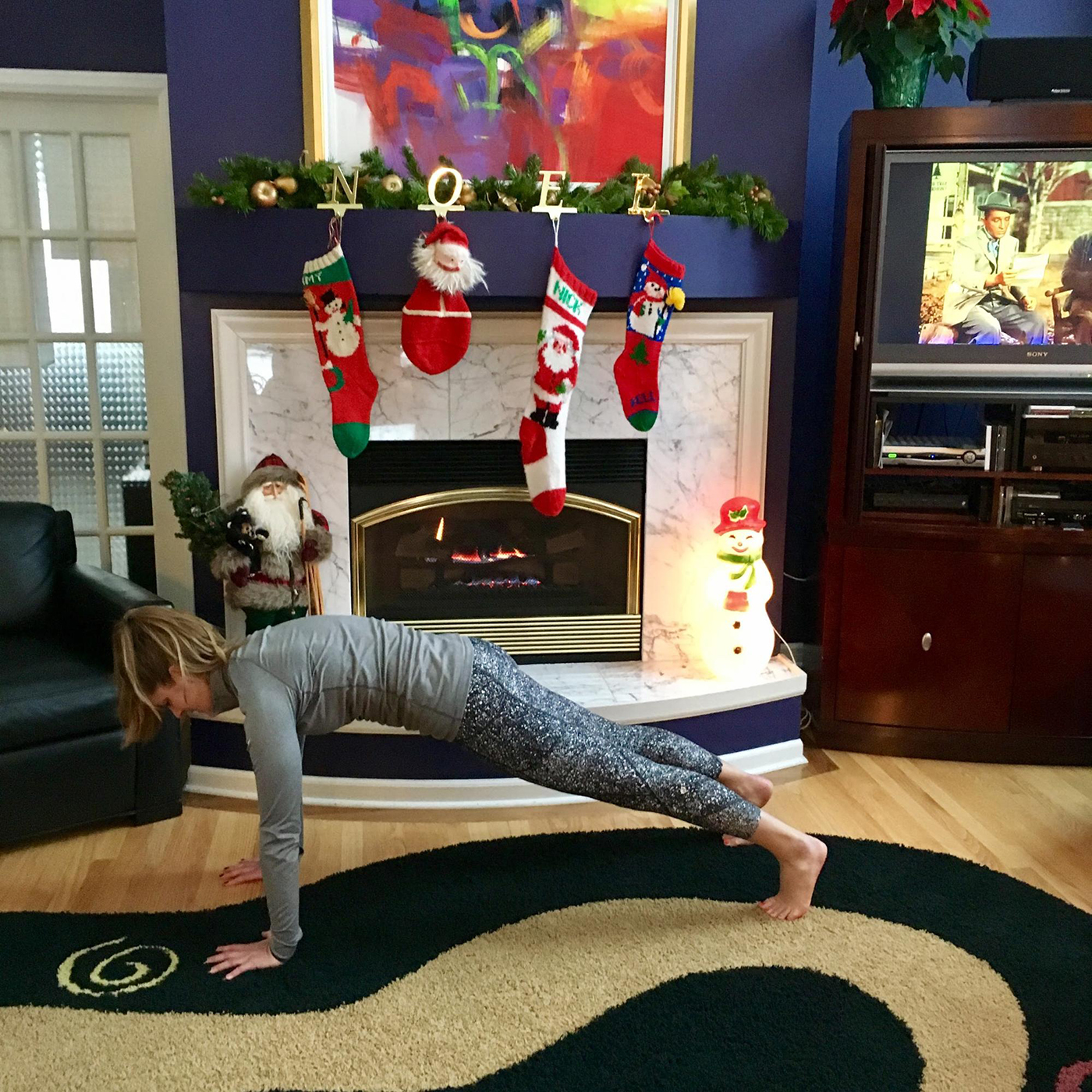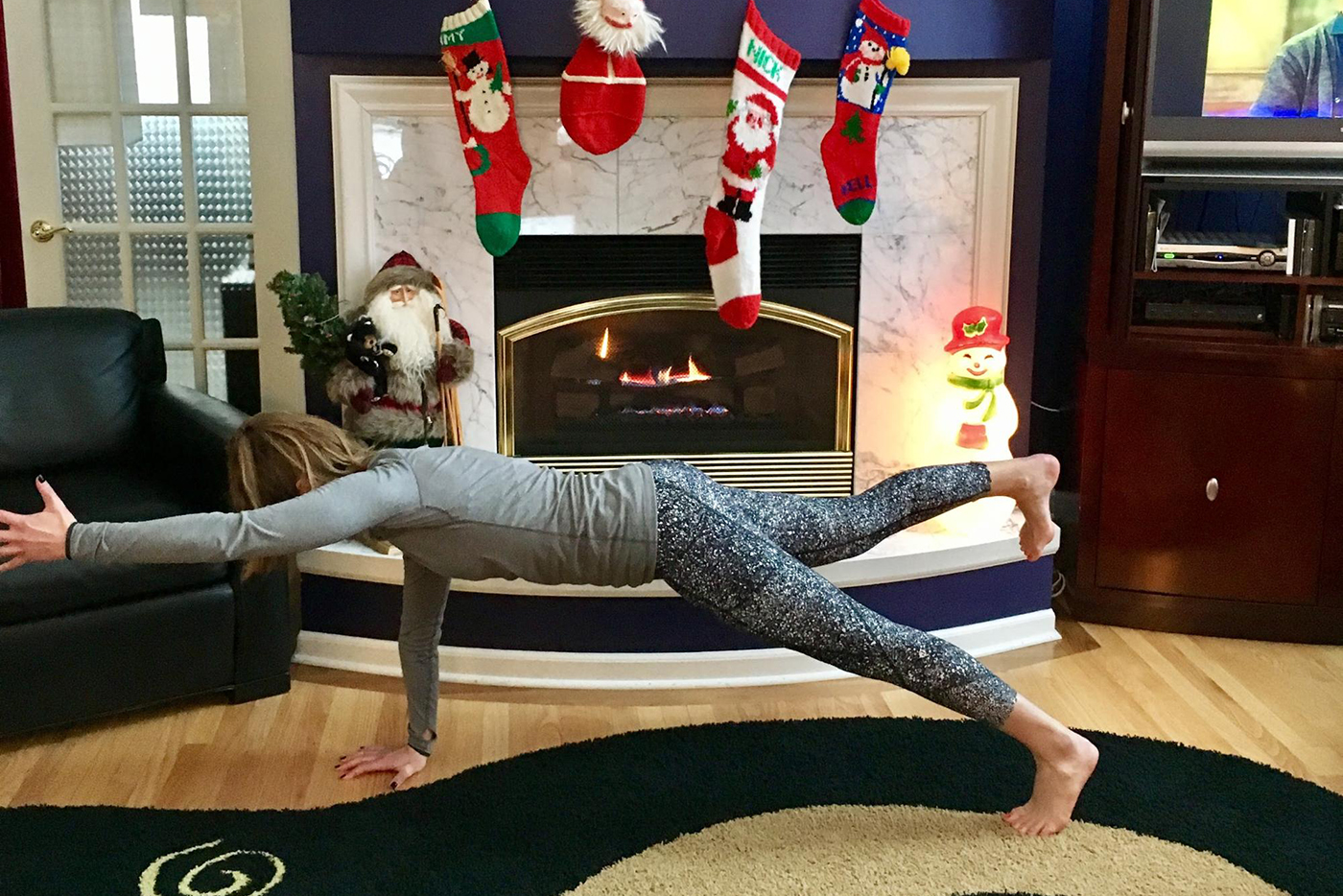 High plank frog jump: Start in an athletic stance and bring your hands to the ground. Exhale to hop your feet straight back to a plank, keeping a slight bend in your knees. Then hop your feet back forward outside of your hands, landing with heels down and hands still on the ground.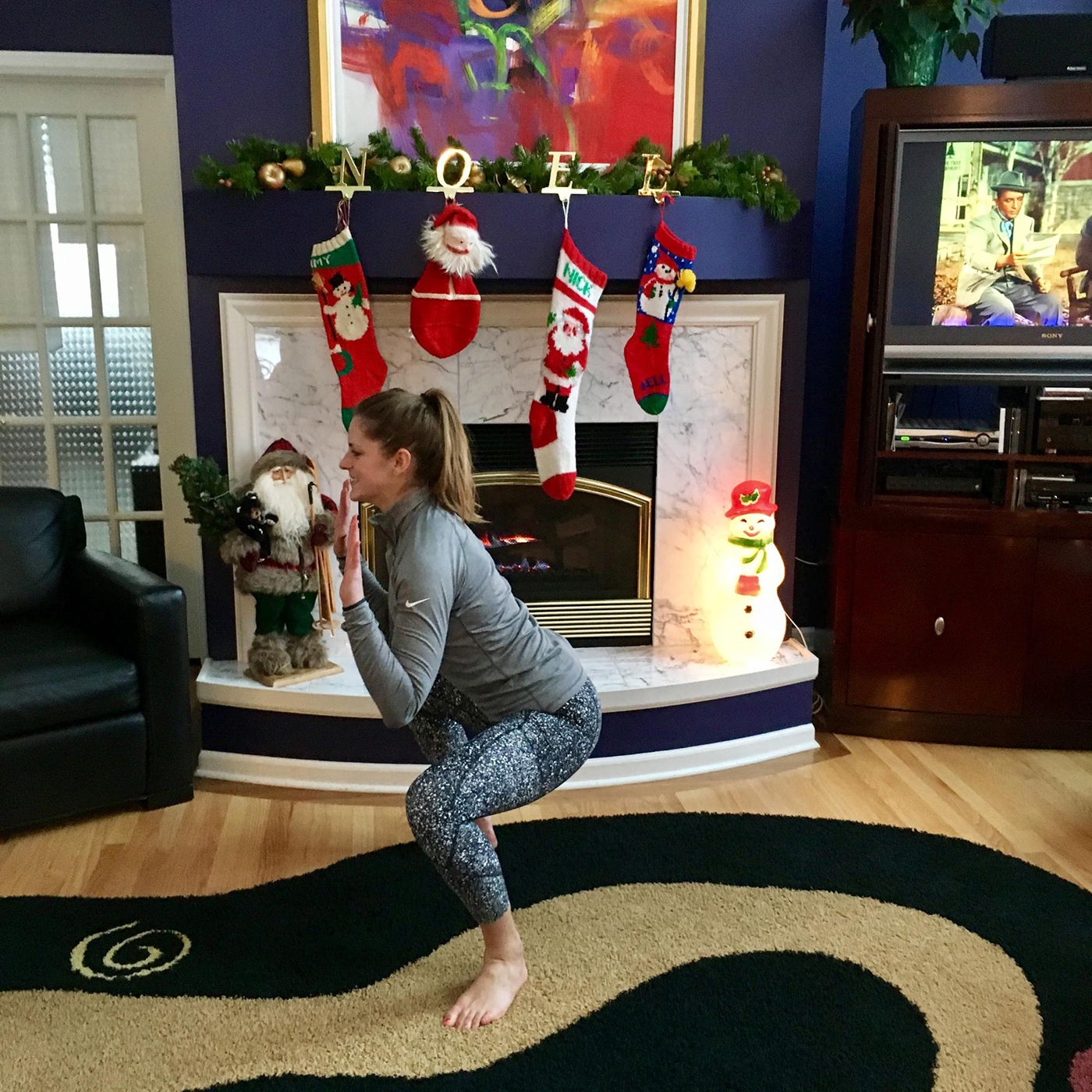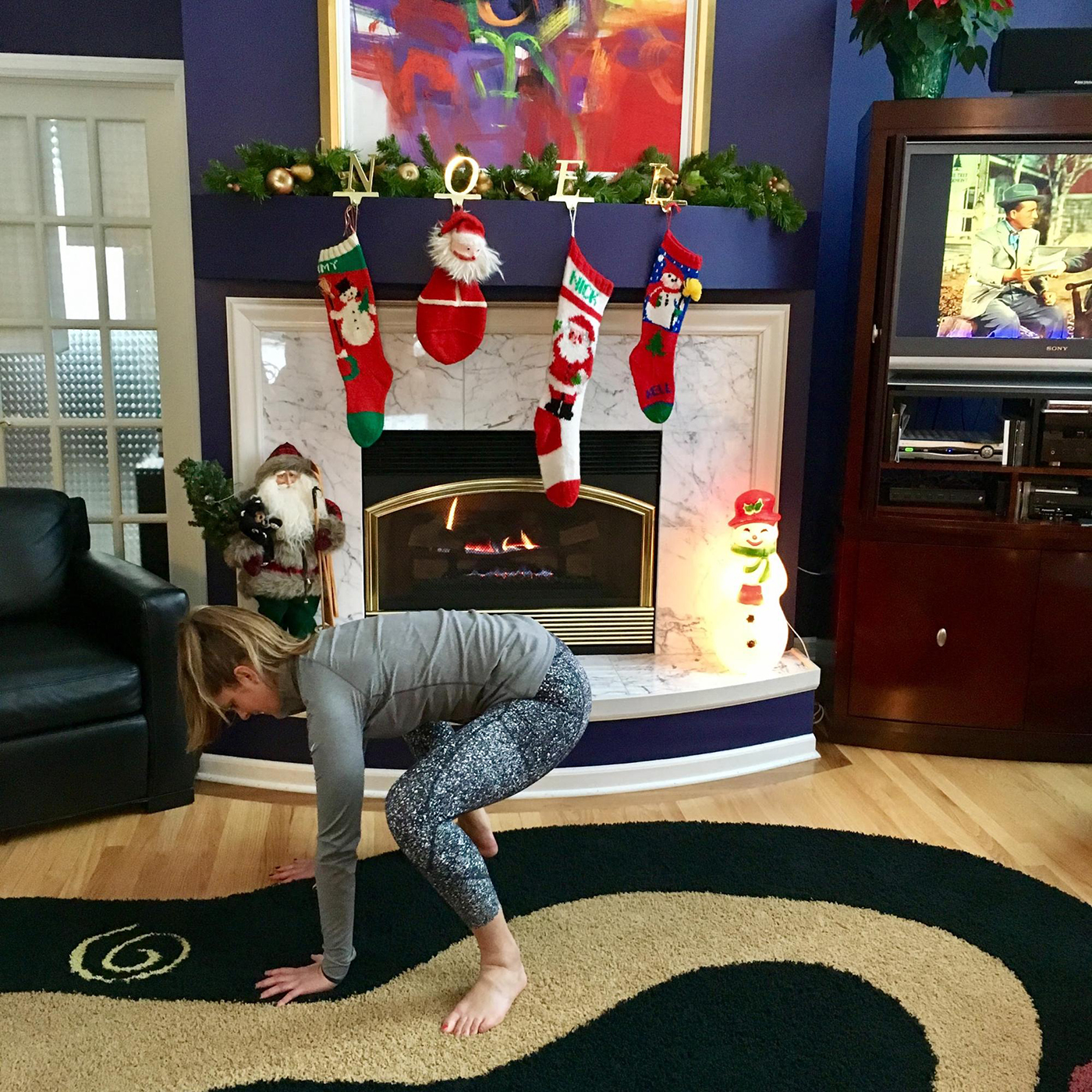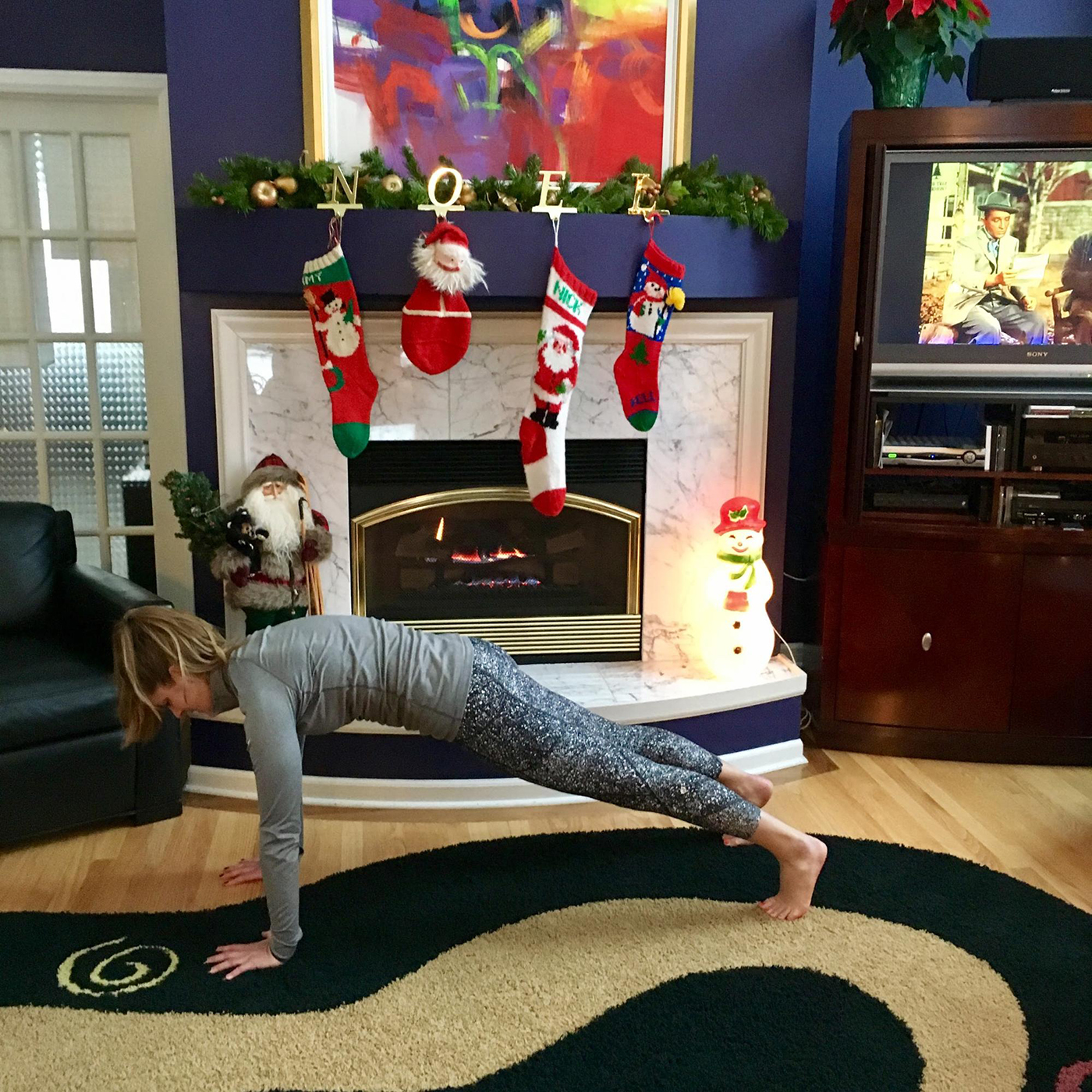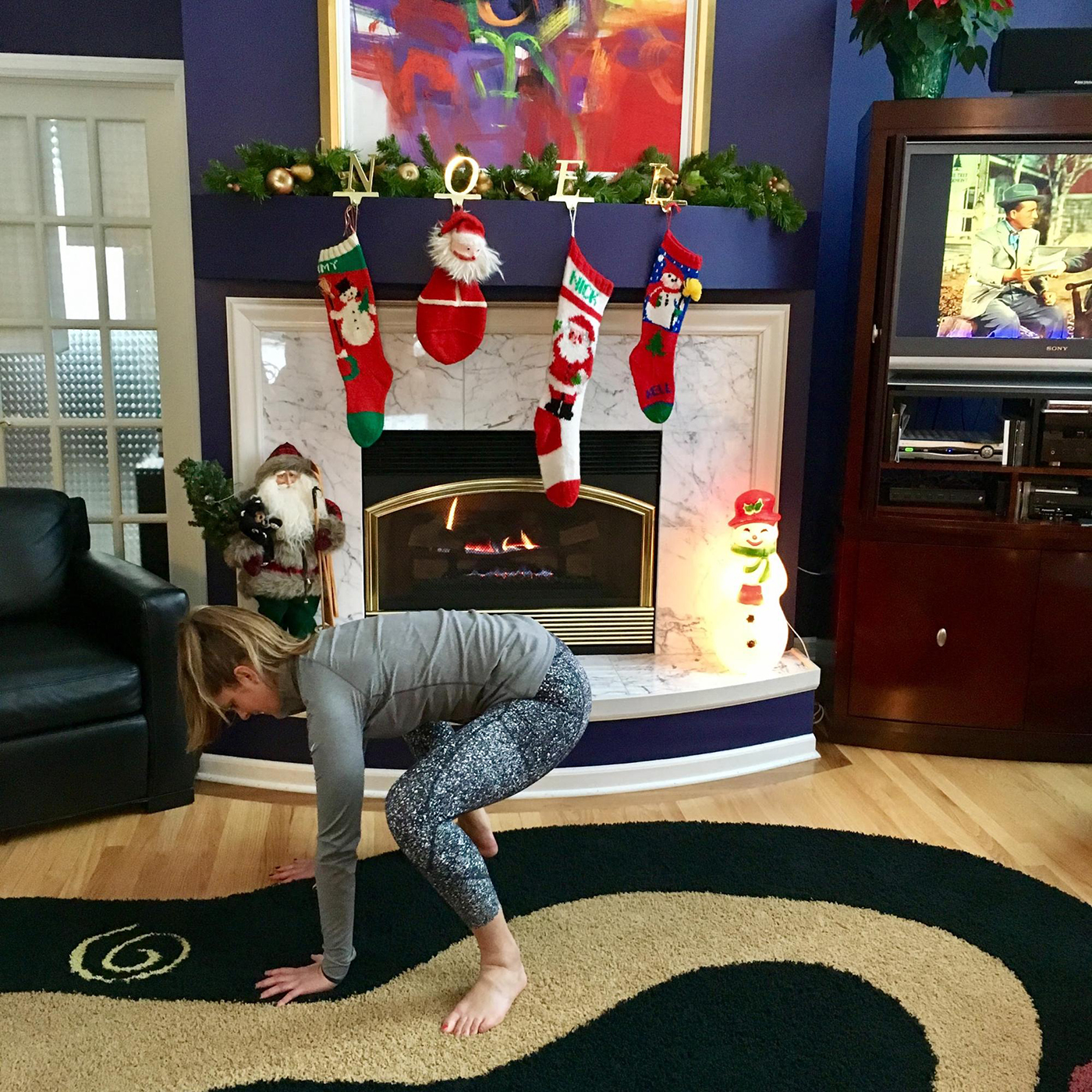 Butterfly sit-up: Lie on your back with your feet in a diamond shape and your arms overhead. Exhale to sit all the way up, keeping your feet together, open your arms out wide and reaching forward towards your feet. Lift your feet up as you reach the top of your sit-up. As you lower, bring your back down one vertebra at a time and move your hands through the center of your body and back up overhead.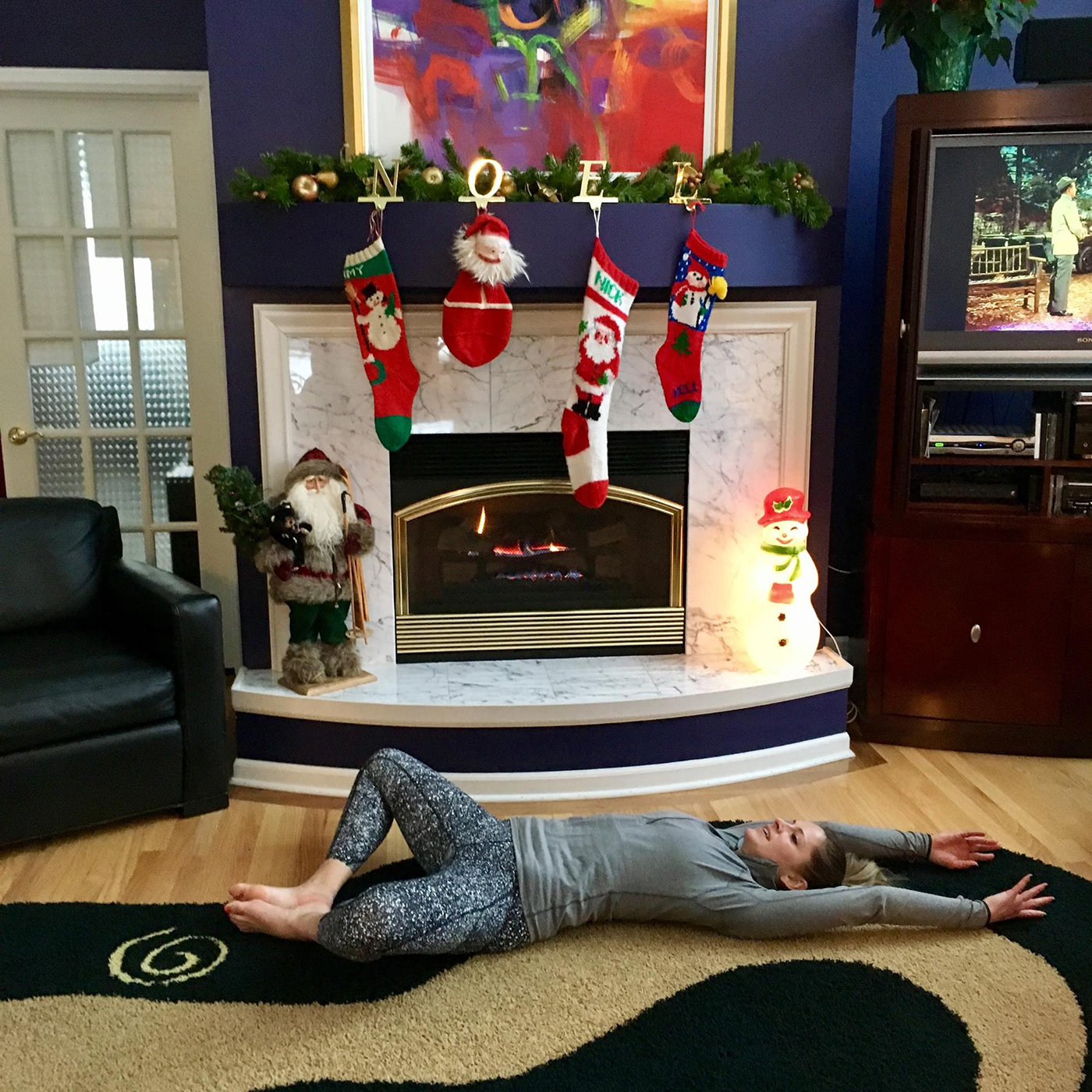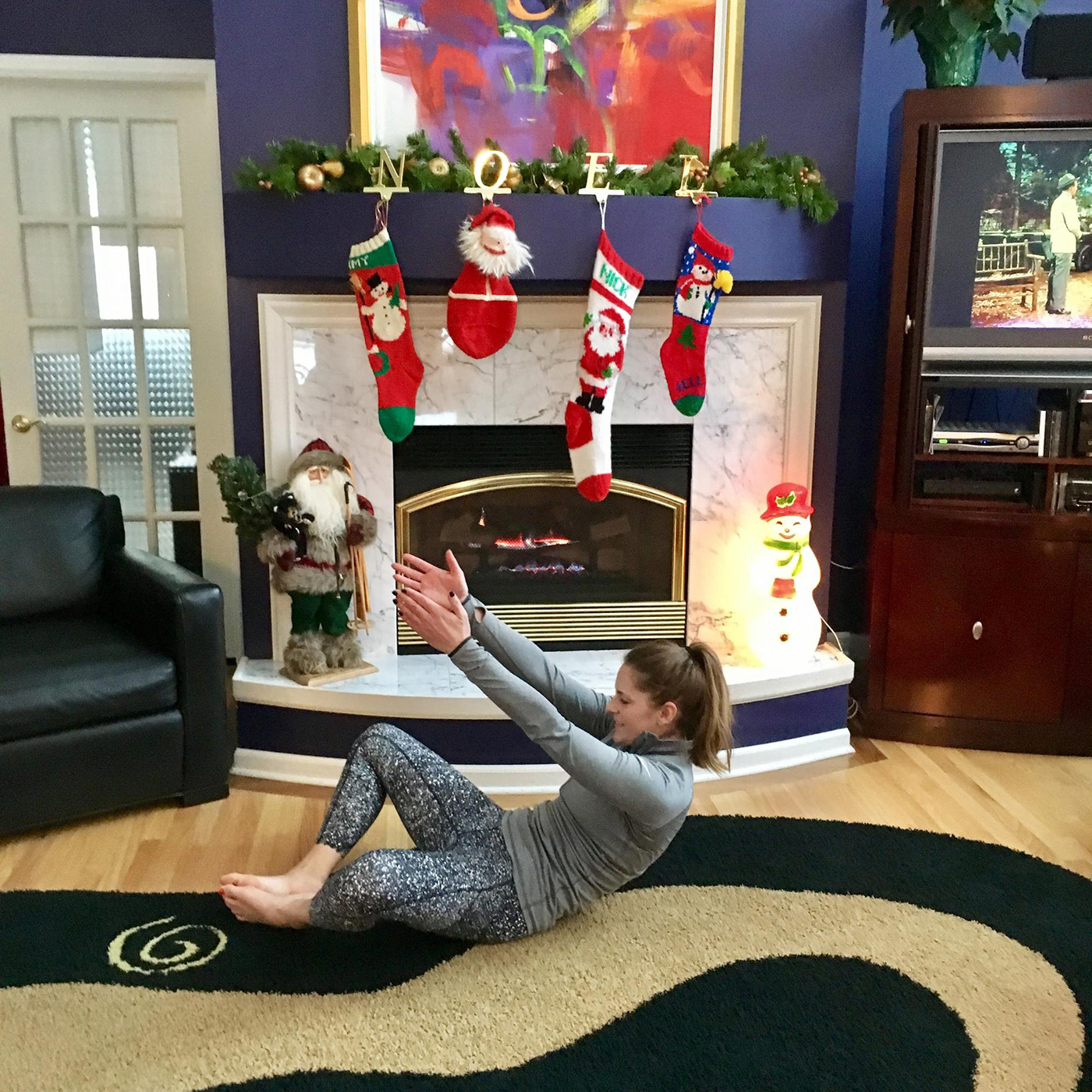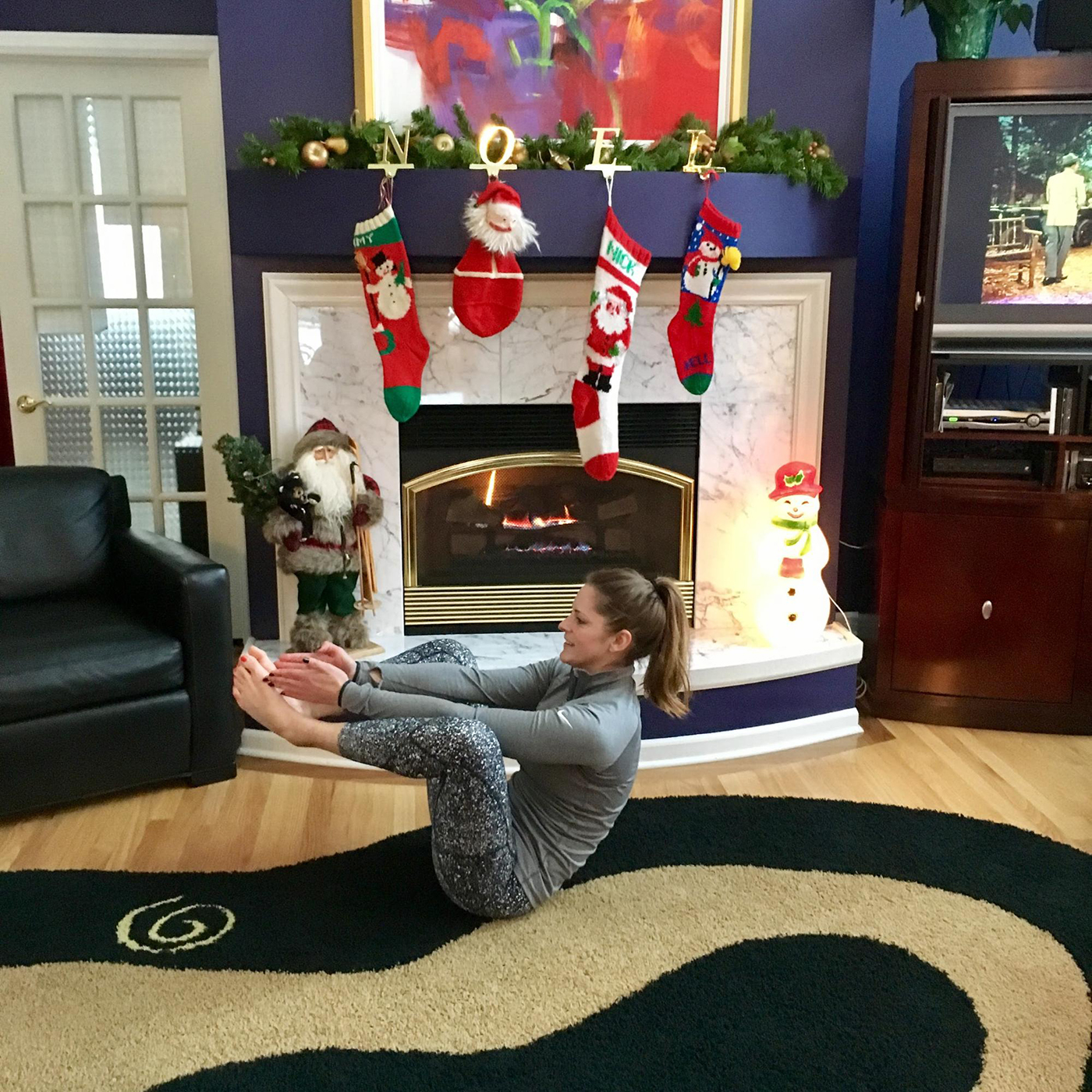 Final savasana: For five minutes, lay on your back with your eyes closed. Let your legs lay wider than hip distance, and your arms out wide with your palms facing up to receive all the positive energy this season. Take up space and feel heavy on the floor or your mat. Do this after you've completed the circuit on both sides.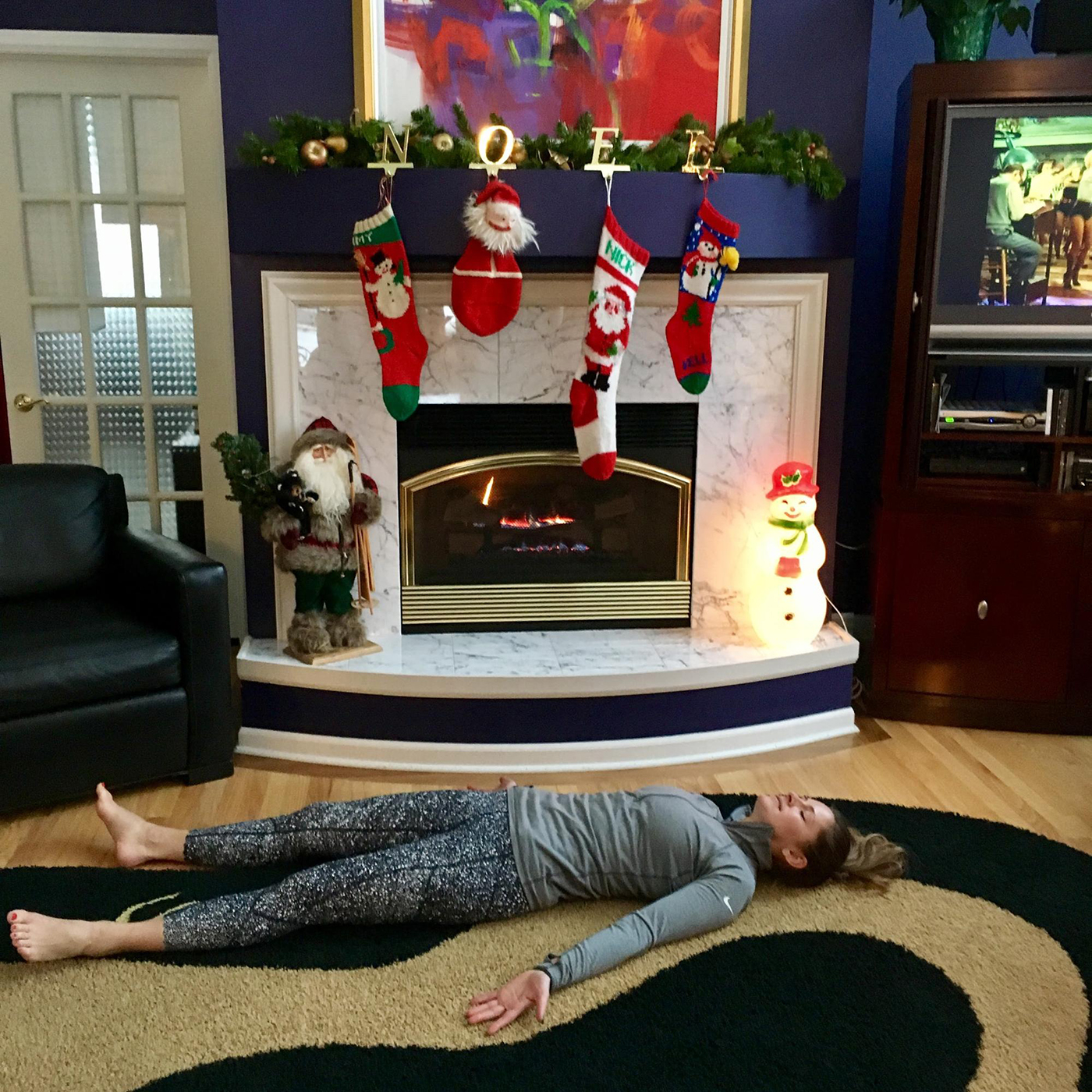 (Disclaimer: This workout is not intended for the treatment or prevention of disease, nor is it a replacement for seeking medical treatment or professional nutrition advice. Do not start any nutrition or physical activity program without first consulting your physician.)
Let us know!
Did this post help you get closer to achieving one of your goals?