Equinox's Pure Strength Class Brings the Gym Floor to You
A great divide exists among fellow citizens of the world today. Among your family members, co-workers, even best friends – there is a simple defining factor in the way we live our lives that says a lot about who we are. You know what I'm talking about. You either work out alone or you take group fitness.
Your friend who works out alone by hitting the gym floor and cranking out his or her own rep-based work rarely will take you up on a HIIT class in a group fitness studio – and vice versa. But there are benefits to both kinds of workouts, in the type of exercise performed in both and the environment that each type of workout presents. There needs to be some method of cross-over to marry all these benefits and Equinox's new Pure Strength class is exactly that.
"While conditioning based classes address cardiovascular needs, which are vital to health and fitness, this is only a piece of the puzzle," Dennis Rittenhouse, Equinox trainer, boxing, martial arts and grappling extraordinaire and co-creator of Pure Strength, said. "Pure strength training has benefits beyond just burning calories and pumping your heart. It gives you confidence in knowing your body is capable of more than just moving quickly. In 13 years of training, few things are as satisfying as seeing someone complete their first pull-up."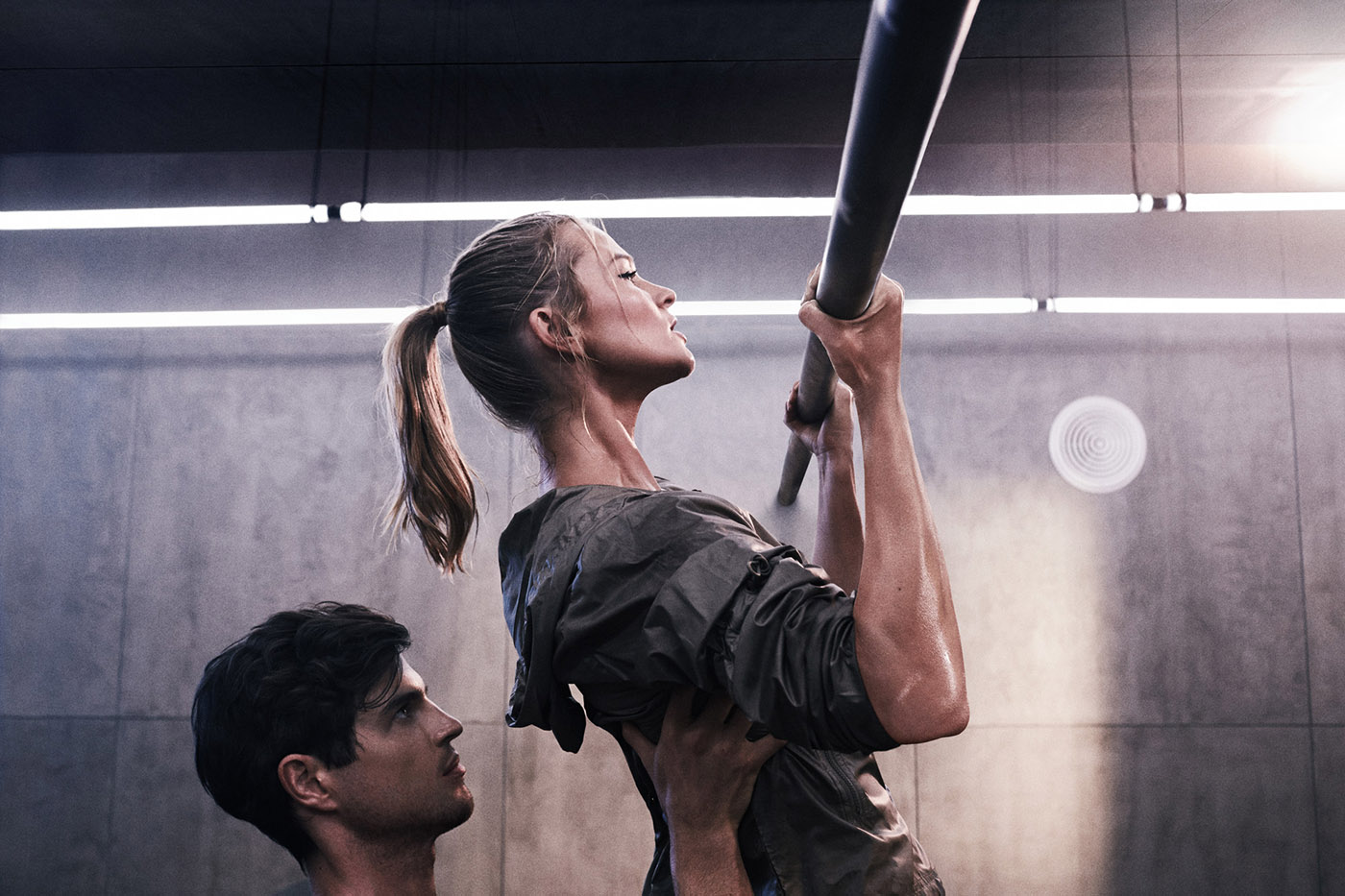 In setting foot into the group fitness room set up for Pure Strength at Equinox's Lincoln Park location, I assessed the situation throughly. There were four rows of equipment already in place and I knew right away that I was about to embark on a totally different group fitness experience. One of the stations was made up of portable pull-up bars. Another was a line of reclined benches with dumbbells no less than 25 pounds each next to them.
I asked Rittenhouse what was the method to the madness in creating a hybrid heavy strength yet group fitness-based class.
"In order to increase your strength and proficiency for a given movement one must keep the reps low and the rest periods longer than your average class," he told me. It sounded a lot like what one might do when he or she uses various equipment on the gym floor alone.
"To that end we keep the heart rate up while simultaneously keeping your mind and body engaged with challenging core specific moves," Rittenhouse continued. "We pair four strength movements with their own complementary core movement. Each pairing has been meticulously thought out so that the core movement won't interfere with a trainees ability to complete the prime objective: strength."
Now that sounds like a smart workout to me. And most likely something I couldn't come up with by myself.
My Pure Strength class with Julie Bellis and Tonya Dugger was just that methodically planned. The movements were simple but we worked together on teams by tagging each other out when we finished our shorter rep sets. The simple movements activated every muscle group in the body and the core and plank work in between added an additional strength-building element that made me work more efficiently every time I was working with heavy weights.
Because this class is so safely and meticulously designed, it takes the guessing game out of how to incorporate different kinds of heavy weight exercises in a logical sequence for a workout. This was something I alway struggle with when attempting my own workouts.  "It can be daunting walking out on to a gym floor wondering if what you are doing is correct or will lead you closer to your strength goals," Rittenhouse echoed my concerns. "With our class you won't have to wonder."
We know all too well that variety is the spice of life. I'm guilty of sticking with the things I'm good at and comfortable with, especially when I'm on a time crunch. I want to make sure I know what I'm getting out of the time I put into a workout, which leads to getting stuck in habits. Obviously, there are less healthy habits to try to kick than going to yoga six days a week, but the functional benefits of incorporating strictly strength exercises to my daily routine are undeniable. Rittenhouse laid out just a few.
Heavy weight exercises, guided by a coach who's attuned to making any necessary form corrections throughout your workout to keep you safe, "increase muscle mass while warding off bone loss, help prevent a myriad of illnesses (diabetes among them) and increase a person's motor skills and overall feeling of well being," Rittenhouse said.
Whether you're new to lifting weights or want some tips on how to improve your current workout, consider Equinox's Pure Strength a resource to help you in any of your fitness endeavors.