Do These Three Sets Two Different Ways in Today's 30-Minute Workout
Is it time to work out yet? That's the question I generally ask right before I pull a 30-minute workout from aSweatLife's stash.
Depending on how you spent the rest of your week, Fridays are either an opportunity to coast into the weekend or an all-out sprint to get the rest of your to-do list done. For me, it's almost always a sprint.
There comes a point in the day at which I look at my calendar and wonder, where, exactly, I'm going to shoehorn a workout in.
On days like this, when I shift my perspective from trying to schedule a 60-minute workout to a 30-minute workout, busy Friday workouts seem much more attainable. During especially busy weeks, my workouts are even more important as I look to them to help me manage stress and feel human.
If this workout helped you out, let us know by taking this this short survey!
Here's your workout!
In this 30-minute workout, you have three sets of two exercises that you're going to work through two different ways. You'll start with a timed variation (described in-depth below), doing each set before you go back to the top for a rep-based variation.
Timed, 4 times on each exercise: do :45 of work and rest for :15. Do each exercise four times, then move onto the next set. Give yourself 1 minute to transition from set-to-set.
Rep-based for 3 min: You'll do 10 reps of each exercise on repeat for 3 minutes (except for the sprint – you'll sprint to .1 mile). This is a short AMRAP, but try to do each exercise at least three total times. Give yourself 1 minute to transition from set-to-set.
Set 1: 
Sprint (when you do the set for reps, sprint to .1 miles)
Goblet squat to lunge
Set 2:
Set 3:
Here are your moves:
Sprint: On a treadmill or a track, sprint for :45 your first time through and sprint to .1 miles during your rep-based set. If you're on a treadmill, make sure there's enough space between you and the front of your treadmill for your arms to drive forward and keep a slight forward lean as you run.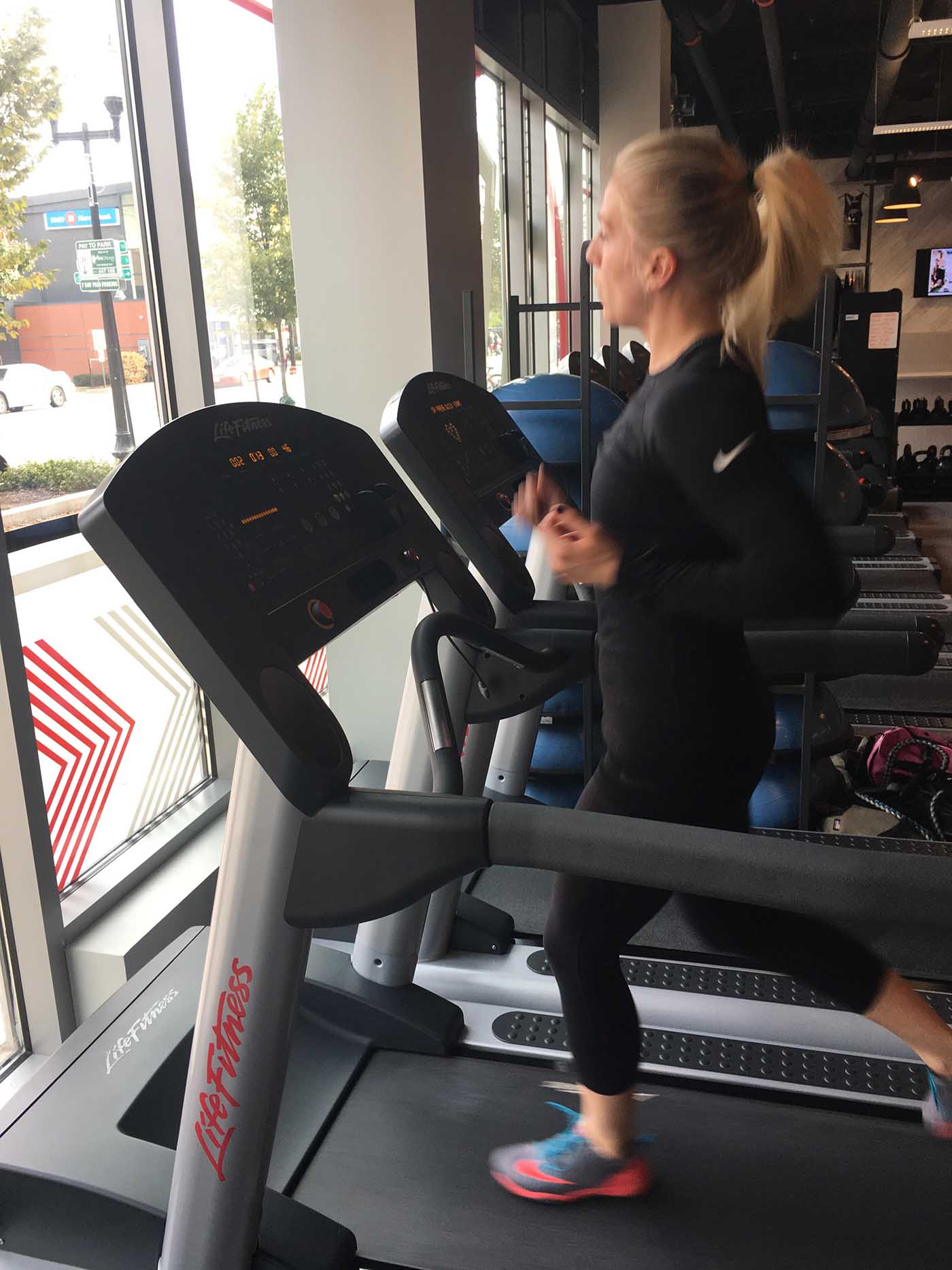 Goblet squat to lunge: Holding a weight at your chest, squat down, keeping your weight in your heels and sitting your butt back and down. Never stand up from this position. Step your right foot back into a lunge, dropping your right knee towards the floor. Then step your right foot back to its starting position and repeat on the other side.
Arnolds: With one weight in each hand, start with your elbows bent at 90 degrees, your elbows at shoulder height and your palms facing towards your face. Keeping your elbows bent at 90 degrees, rotate your elbows out to parallel with your shoulders and parallel with each other. Then rotate your palms forward and press up overhead. Return to your starting position, following the exact same flow in reverse. Keep a soft bend in your knees for the duration of this move.
Burpees: Squat down, placing your hands on the ground and jump back into a plank. From there, lower down to the ground with your body in a straight line. Push back up, jump back forward and stand or jump at the top.
Full sit-ups: Start lying on your back, pressing your feet firmly into the ground. Engaging through your core, sit up and raise your arms overhead. Lower back down to your starting position with control.
Push-ups: Starting with your hands under your shoulders and your shoulders, hips and heels in a straight line, lower down by bending your elbows. Press back up to your starting position. Remember, you can drop down to your knees at any point, but be sure to keep your body in a straight line there.
(Disclaimer: This workout is not intended for the treatment or prevention of disease, nor is it a replacement for seeking medical treatment or professional nutrition advice. Do not start any nutrition or physical activity program without first consulting your physician.)