Quick and Easy Light Chicken Salad Recipe
Generally, I'm a healthy, well-balanced eater. Dinners in our house usually include a lean protein of, more often than not, chicken or salmon, tons of vegetables (read: kale on kale on kale with a side of whatever is seasonal) and whole grains. We grocery shop almost daily, which works since we live in a big city and have three grocery stores within a couple blocks of our apartment. But when it comes to lunch, my inability to plan can be a major hang-up. I often end up eating granola bars, almonds and other snacks laying around our office – not exactly healthy.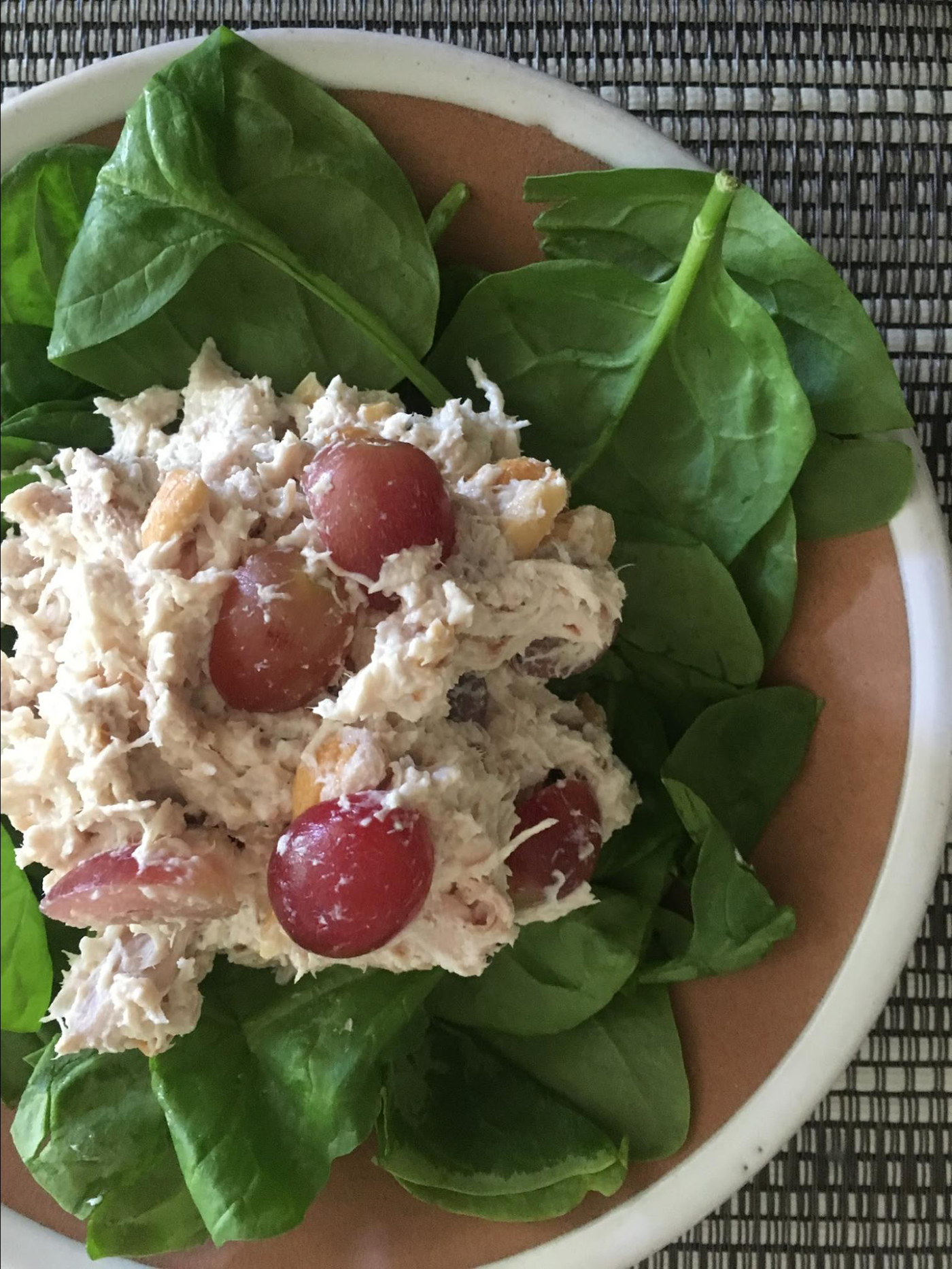 The key to success is finding an easy, delicious and healthy meal that I can pull together on Sunday and enjoy for most of the week. One of my favorite go-to meals is this lightened up chicken salad which I adapted from the mayo-heavy version my mom made growing up. For the chicken, I either boil leftover boneless chicken and shred it or simply buy a rotisserie chicken and shred it as soon as I get home, discarding the skin and bones. I enjoy it over a bed of lettuce or between slices of sourdough bread (my favorite).
Light Chicken Salad
3 cups cooked, shredded chicken

¾ cup grapes

½ cup roasted cashews

⅓ cup fat free greek yogurt

1 tbsp mayo (optional)

1 tbsp lemon juice

½ tsp salt

½ tsp pepper

Spinach or bread for serving
In a large bowl, lightly toss the chicken, grapes and cashews. Add greek yogurt, mayo, lemon juice, salt and pepper and mix until well incorporated. The chicken will continue to shred as it mixes. Serve over a bed of spinach or on toasted bread for a sandwich.
Have any other healthy twists on delicious homemade meals? What other recipes from your family's kitchen do you still like to make?