Running With College Pride at the Big 10K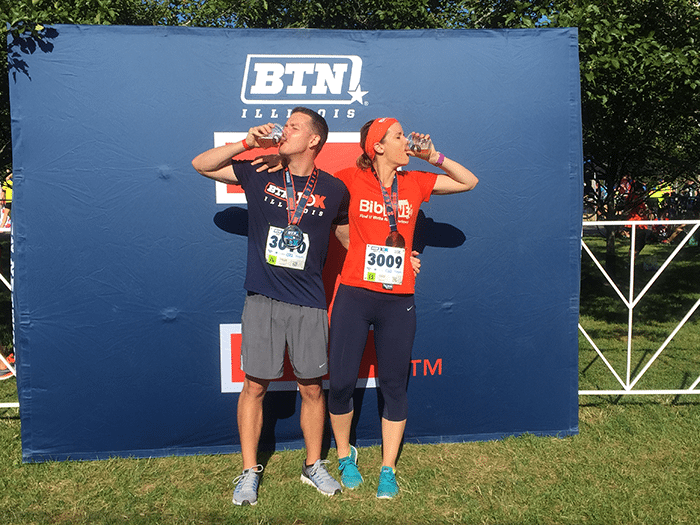 (Disclaimer: I received an entry to run the BTN Big 10K to review as a BibRave Pro. Check out Bibrave.com to learn more about becoming a BibRave Pro (ambassador) and also to find and write race reviews! As always, I only discuss races that I would recommend. You can check out my BibRave review of the Big 10K here)
The 10K is one of my favorite racing distances. It's short enough to push yourself to fast speeds, but long enough for a lot to change over the course of the race and get a nice calorie burn. It doesn't require the long-run training discipline of a half marathon, but it does require some speed work if you're trying to get a personal record. If you're doing it right, 10Ks can hurt, but it's a good pushing-yourself-to-the-limit kind of pain.
Then there's the Big 10K, which brings a little more relaxed atmosphere to the popular race distance. "The [Big 10K] race is widely accessible because of the distance," said fellow Illini runner Tyler Ziebel, "it's as tough or as casual as you want it to be."
If you went to a Big Ten school and live in or around the Chicagoland area, the Big 10K is an event you need on your calendar. I say "event" instead of "race" with purpose: it's a perfect run for people who are new to the sport as well as seasoned veterans. With a 5K (3.1 mile) and 10K (6.2 mile) option and a laid-back and casual atmosphere, this event is a perfect opportunity to get your feet wet in the world of racing.
Tyler James chose the Big 10K to be his very first official race. He attests, "It was a great feeling crossing that finish line! I'm kind of new to running and I'm happy I chose this race as my first. Everyone was out there having fun, supporting their schools and enjoying a few drinks afterwards. What's not to love?"
The race itself is well-managed with easy packet-pickup, a (new) course with scenic views of the skyline, and great school-specific swag.
However, I have a confession: my favorite part about the Big 10K isn't the race at all.
If the Big Ten knows how to do something well, it's how to celebrate after an athletic event. The post-race party is unlike any other post-race party in the city. I enjoy my post-race beer as much as anyone else (probably more than most), but after a race I often find myself scrambling to drink my beer, get my stuff organized and head home as soon as possible.
The Big 10K is the only race I consistently look forward to sticking around at – there are games, good beer (thanks to Goose Island) and great food. There's even a slip-and-slide mid-race, which I admittedly have yet to go on (… next year). The whole experience feels like a huge tailgate, except I actually get along with Ohio State fans there.
"The post-race scene was much more lively than I anticipated. They did a great job creating a college game day atmosphere with the food, drinks and tailgate-type games," Tyler James said.
If I'm being honest, it's not always easy to be an Illini fan. Aside from a good basketball run in 2004-2005 and a short and sweet Rose Bowl appearance in 2008, I don't have too much to brag about on the ILL-INI athletics front. Still, wearing orange and hanging out at the Illinois tent after the race still filled me with pride for where I spent my college years.
I loved running a race surrounded by fellow alumni and will be back again to represent the Illini next year. Until then, I'll keep my eyes open for more 10Ks to add to my racing schedule so I can prepare to beat more Michigan and Iowa fans to the finish line next time.