Making Healthy Choices on Door Dash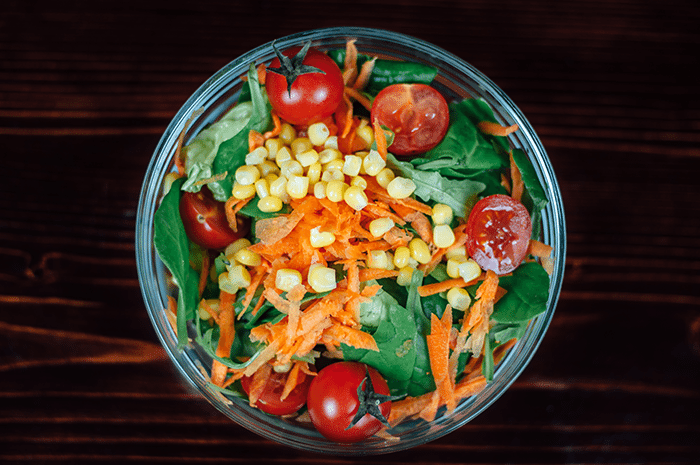 Before everything – including food – was on-demand, if I wanted to eat food from a restaurant and have it carried directly to my door, my options were limited to pizza or Chinese food.
I'm baffled (and impressed) by the sheer number of ways to order healthier meals directly to my door at all hours.
I don't like to make a habit it out of ordering delivery (because it makes my wallet so sad). Having those healthy delivery options in the palm of my hand is a great fallback plan in case I'm stuck somewhere with a case of the hangries.
With the crazy variety of restaurants you can order food from on delivery sites like Doordash, it takes a while to weed out the healthiest options in a sea of treat yo' self.
We sifted through Doordash to pick out the healthiest choices among their list of over 20 categories of food and hundreds of restaurants. 
These picks are the result of scouring each category for options I've tried before and know are filling and healthy enough for me. The next time you're in a bind or feeling particularly averse to spending time indoors cooking during the precious Chicago summer, use this to narrow down your mealtime decision. And if any of these make it into your DoorDash cart, you can use the promo code ASWEATLIFE for $5 off your order of $20 or more. 
Ordering in doesn't necessarily mean eating poorly – something I often forget.
Lyfe lists the nutritional content in each item right by its description, which I appreciate. The Mahi Fish Tacos are my favorite on the list of items you can order via Doordash (although the Quinoa Crunch Bowl is at the top of the list when I'm in store). I like to add an extra taco to that order to make sure it's filling enough.
You can't go wrong at Native Foods Cafe. It's all vegan, so don't be fooled by the meal descriptions that say "meatballs" and "chicken." The Sesame Kale Macro- is grilled tempeh and kale and brown rice with a ginger sesame sauce, served with sauerkraut. The cucumber seaweed salad on the side is maybe my favorite part. And this one is gluten-free!
Meal hack: Order the half chicken in either the mango & lime or spicy sauce (depending on your palate for spicy foods) with a double order of Macho Peas on the side. This order is way more than a serving size so you can either split it with someone special or save half the chicken and peas for later and you've just ordered yourself two meals.
The Grilled Salmon entree with kale slaw is simple and delicious. If you'd rather have a salad you can also order the Fresh & Simple Salad, which also comes with salmon.
Grab the Southwestern Chicken & Avocado Power Lunch – It' has protein. It has avocado. It's a great portion size. And, my favorite part about this Pret lunch: it goes great with the restaurant's Chimichurri vinaigrette.
You can't go wrong with the build your own salad option. I'm picky about my toppings, opting out of cheese in favor of other toppings, so the BYO option for a salad is perfect for me. There are 27 toppings to choose from to make your perfect salad.
The Teriyaki Twist bowl doesn't come with a protein, but it has all the hearty veggies I want to keep me full. And you can add a protein on top of the order- I usually go with tofu since it soaks up the flavor of the dish so perfectly.
The Build Your Own Bowl option on Doordash is perfect. Again, it's a way to customize my order so I get the most bang for my buck. BrightWok is only in the loop so I almost never order it, but it's one of my favorite quick go-to options. And the Live Bright Golden Miso Bowl (a menu item that's already built for you) is also delicious, in case I don't want to make decisions myself.
I'm a sucker for Mana's rice noodles – they're vegan, gluten-free and pack a flavorful punch with curried sweet potatoes, green beans and chili peanuts. It's a perfect meal to pair with the restaurant's baby kale salad (I usually just order a large and save some … or not).
Chicago Raw has a huge selection on Doordash. From sandwiches to condiments and spreads to dehydrated snacks and sweets, you can basically grocery shop here. If I'm going to order anything from Chicago Raw, you better believe I'm going to be ordering a Kitchen Sink Cookie along with it. In fact, the Signature Sampler Platter offers the top-rated entrees and comes with a dessert, so, win-win.