Four Ideas for a Fitness Bullet Journal
You can't scroll two times on Instagram right now without seeing the latest colorful and photogenic trend: bullet journaling. While the name may sound a little confusing, and the intricate layouts by people with handwriting infinitely better than mine yours are intimidating to start (how do so many people on Instagram know calligraphy?!), at its most basic, bullet journaling is this:
A planner.
Yep, after hours of research and Pinterest and Buzzed articles explaining "WTF Is A Bullet Journal," that's what I came up with. Bullet journaling is a planner. I guess if you want to be more specific, the neat thing about bullet journaling is that it distills daily to-dos and long-term goals into easily visualized chunks, in a completely customizable format. You can lit-rally (Rachel Zoe voice) use a bullet journal for anything, including but not limited to:
Work items
Exercise goals
Food tracking
Books you want to read
Habits you want to break or instill
Daily, weekly, monthly and yearly goals
Donut shops around the country you want to visit and which specific types of donuts you want to try
Plus, research backs up the idea of bullet journaling. One study showed that people who write down their goals accomplish significantly more than those who don't. And as for all the #BulletJournalInspo you see on the gram? Don't be shy to share your own bullet journal progress; another study found that publicly sharing your progress can help motivate you to accomplish your goals (think weight loss before/after photos, or a gloriously color-coded planner page with all of the items perfectly crossed off).
In my own anecdotal research, I found that taking a significant amount of time to write my weekly goals in my best handwriting using fancy pens made me more likely to follow through. After all, I spent all that time and energy making my journal look gorgeous; I'd feel like a fool if I didn't actually use it after everything I'd already invested (not to mention the $50 I spent at Paper Source for *essential* supplies, like golden washi tape and rainbow pens).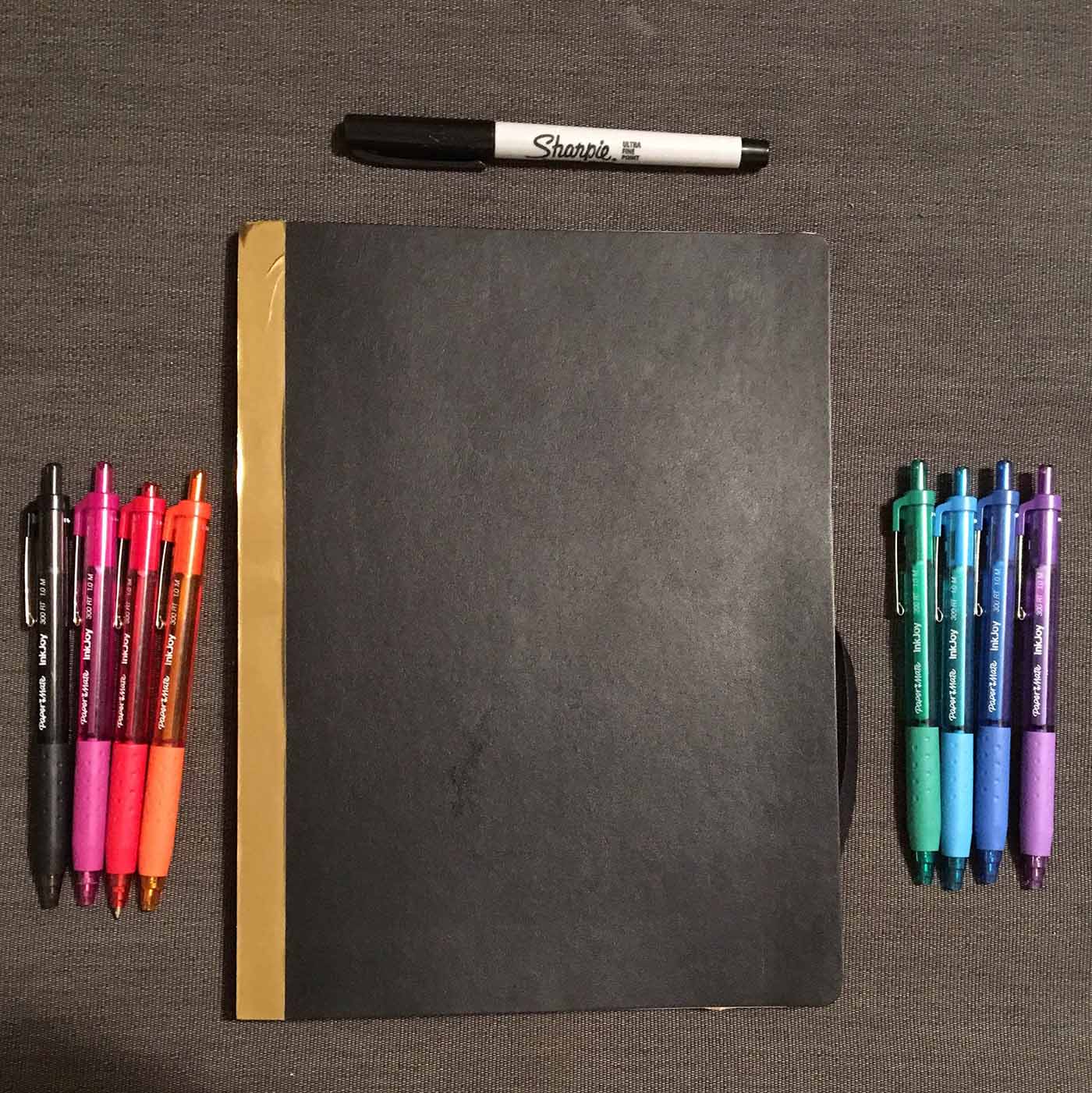 Like I mentioned earlier, you can take full advantage of the Internet for bullet journal ideas and layouts. To keep things simple, I'm just going to present three ways that you could use a bullet journal for health and wellness.
Weekly Wellness Goals
Tell me if you do this, too: every Sunday night, you tell yourself, "I'm going to do better this week." Maybe your idea of better is saying no to the free breakfast pastries at the office, or drinking more water, or walking around more. With a bullet journal, you can create an easy goal-tracking chart to keep you accountable for what you say you're going to do. Here's an example: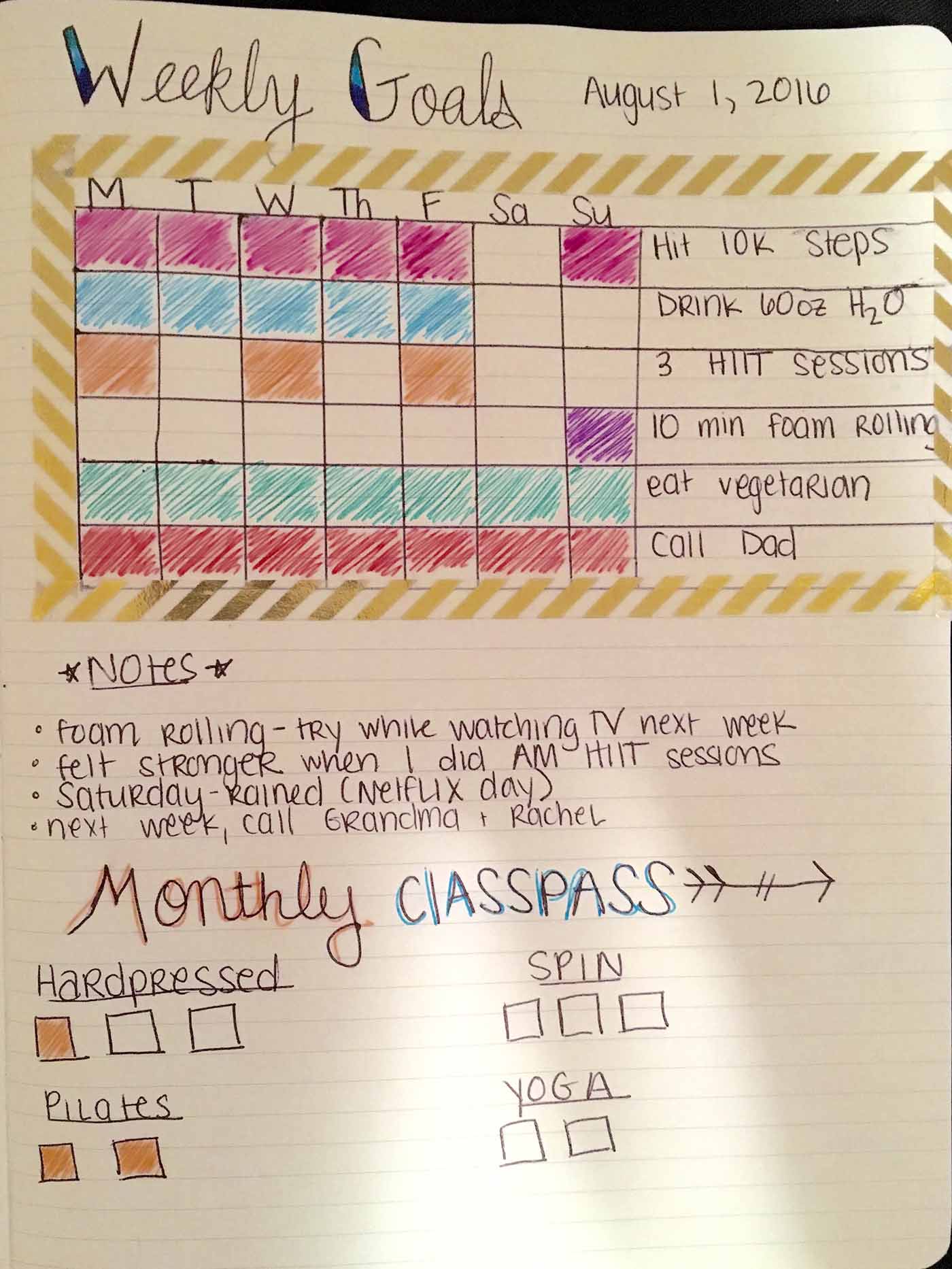 Monthly Fitness Classes
I'm incredibly guilty of this: every month once my ClassPass auto-renews, I swear that I'm going to use three of those ten classes for yoga. But, it's not really easy to see on the ClassPass app how much I've done in a month, and how many classes I have left. Enter this little chart (at the bottom):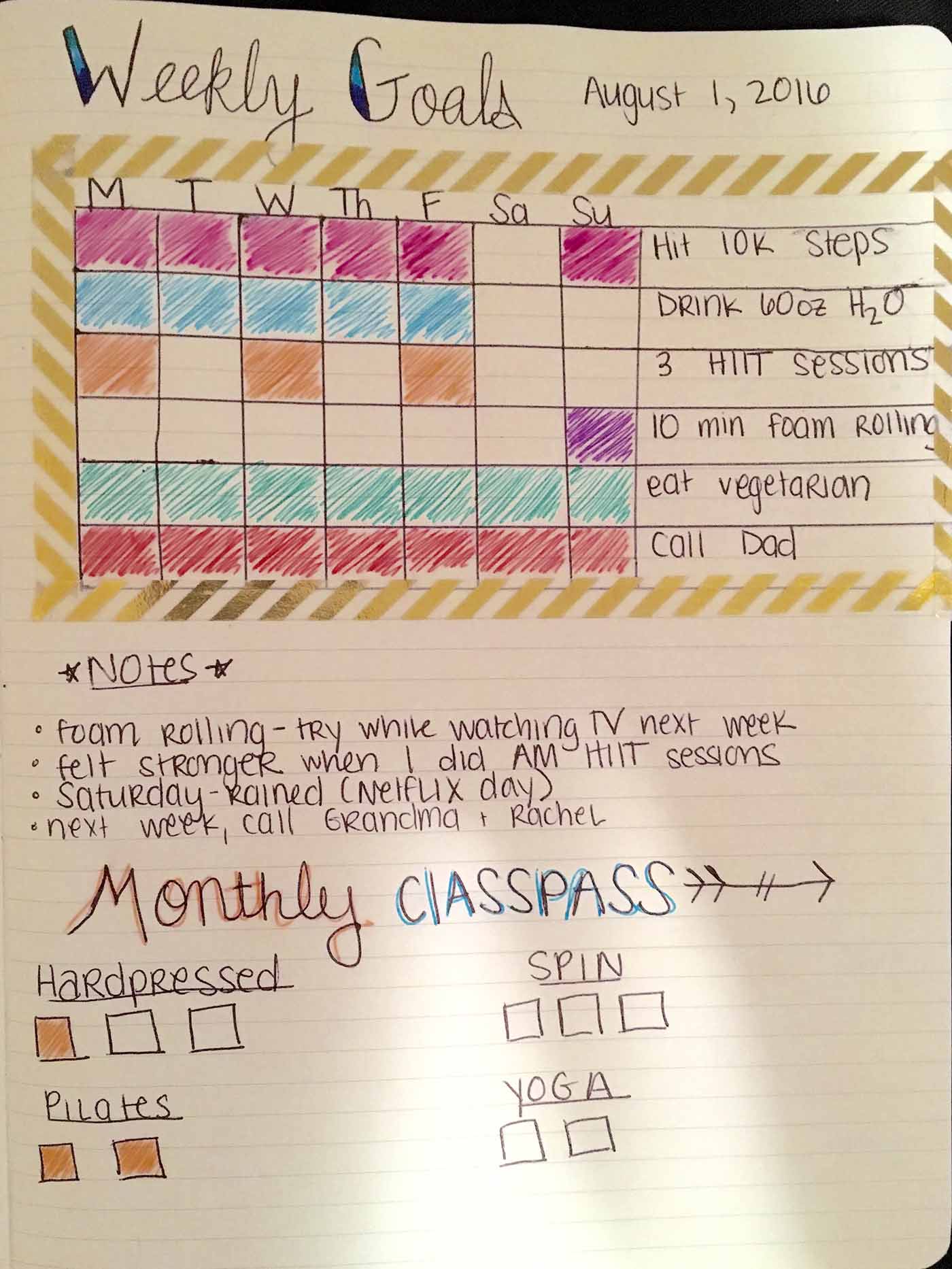 Not into ClassPass? You can still use this to track how many types of classes you took each month, how many times you ran each month, or anything of the sort.
Three Daily Micro-To-Dos and One Grateful Moment
Trying to instill a habit? Make a separate box on each day of your bullet journal listing what I call "micro-to-dos"- small items that are really easy to do, and also really easy to ignore (think flossing, making your bed, that kind of stuff).
I'm also big on gratitude notes and taking time to consciously recognize the best part of my day so that I can be thankful for it. Take the time to jot it down – you'll love looking back at past days once a couple of months have passed.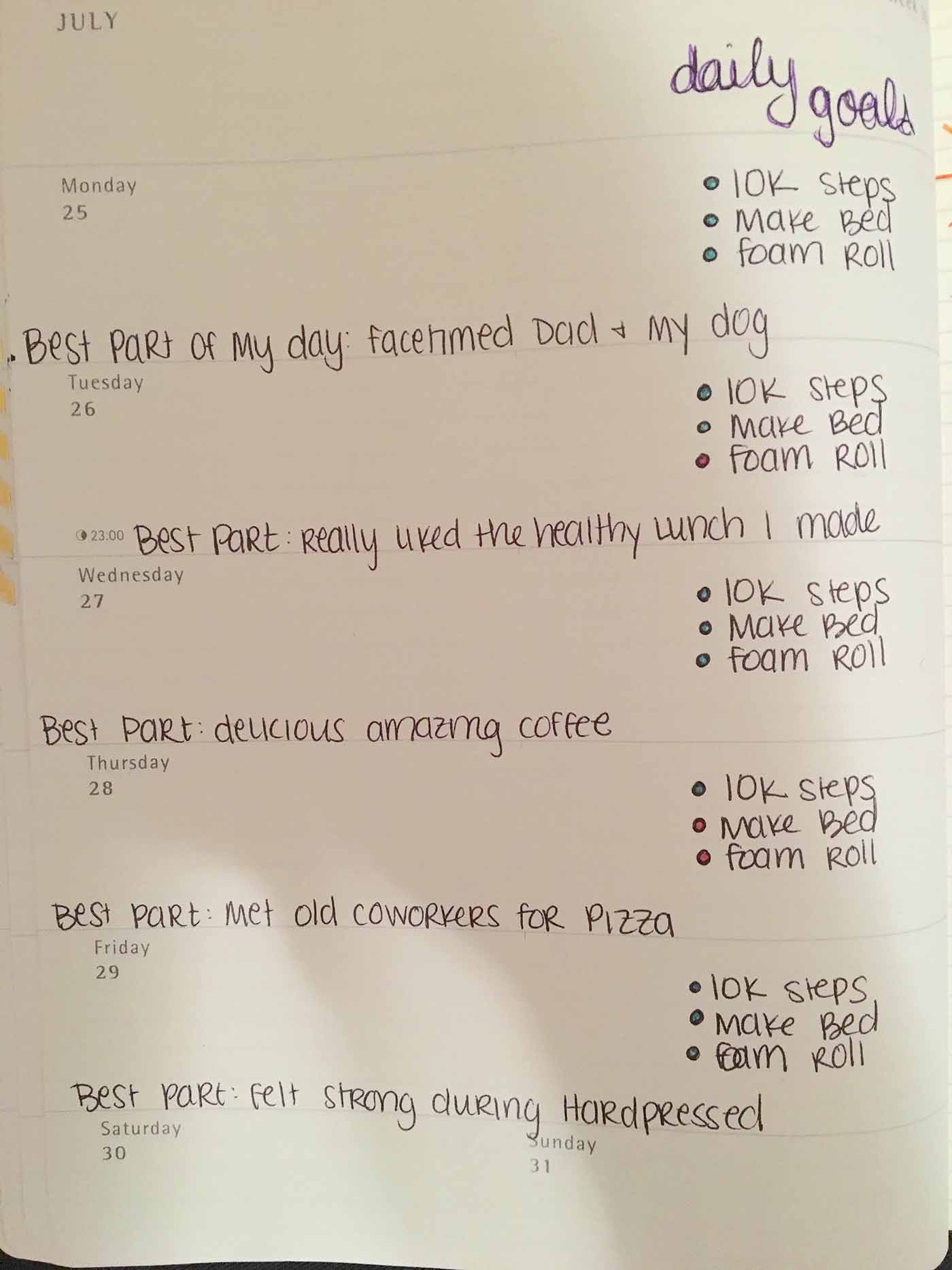 Mental Health Tracker
I love this idea for trying to figure out exactly what triggers a good mood, a bad mood, or random physical symptoms. For example, if you think you might have food sensitivity, you can spin off this chart to track how you feel after eating certain foods. This layout is also helpful for learning how many hours of sleep leaves you feeling your best, how many drinks you can have without a hangover in the morning, and how many minutes of exercise you thrive with. It's all about getting to know your body so that you can make the best choices.
Not to be lost in this chart is the mood tracker. We all have off days, and while sometimes it's easy to point the finger at your boss or an annoying roommate, there are also days when you just wake up on the wrong side of the bed and have no idea why you're in a bad mood. By creating a history of your moods each day, you can look back and piece together what you do on days you feel the happiest, and maybe start to pinpoint where things go south on not-so-good days.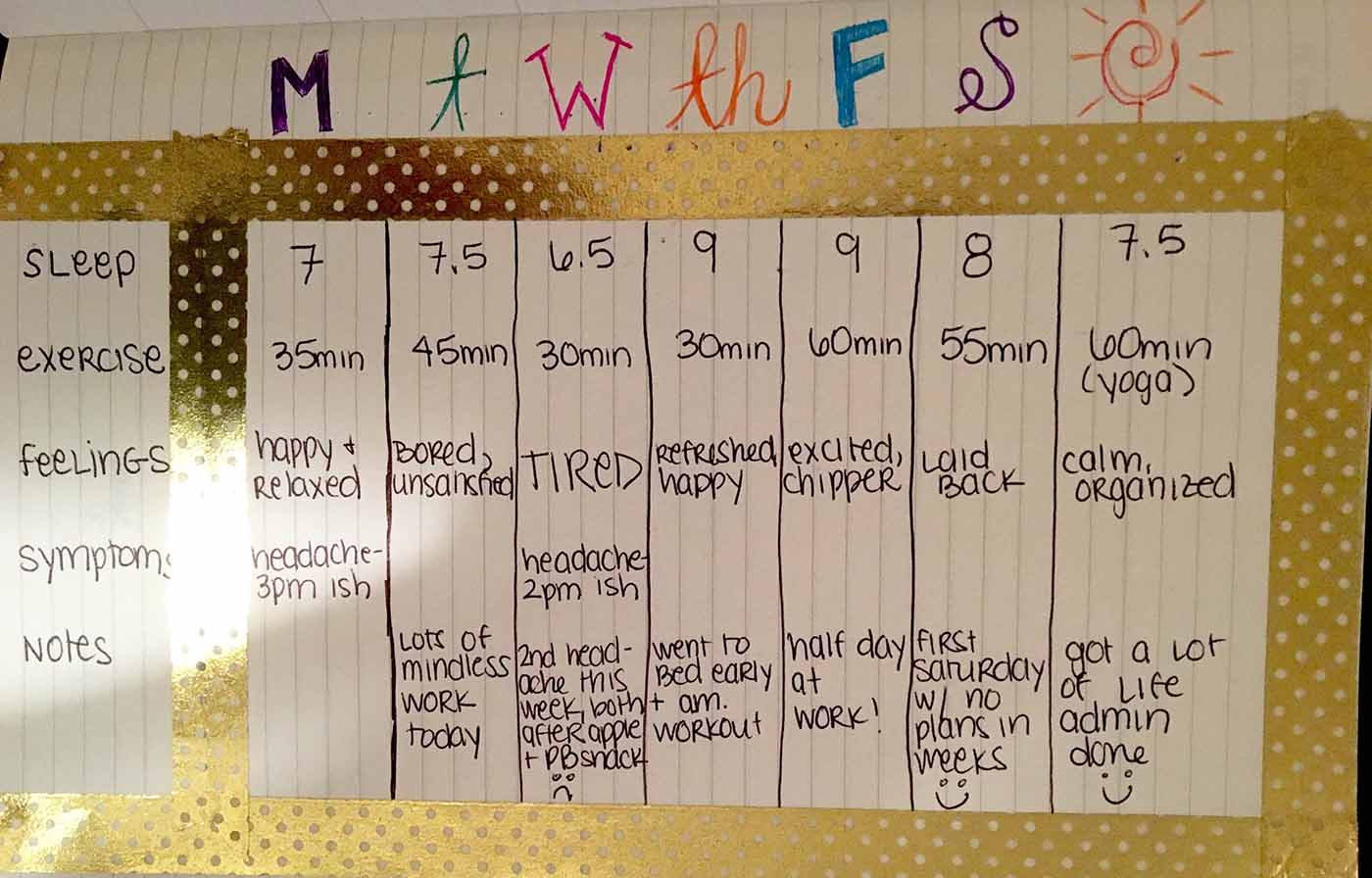 Ready to take my hand and dive down the bullet journal rabbit hole? How will you use your bullet journal? Tag us on Instagram @ASweatLife and show us!