Diving in Head-First to Adult Swim Lessons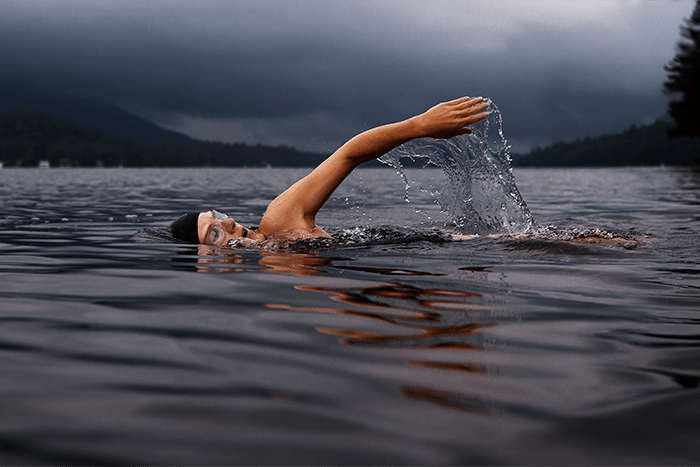 When you think of adult swim lessons what comes to mind? Sexy, athletic, experienced?
Me neither. And that wasn't the impression any of my friends had when I told them I signed up for swim lessons. I got a lot of looks of doubt and confusion, many, many laughs, and the most common response was a simple, "Why?
So, why take adult swim lessons? These are the three benefits I gleaned from a round of summer session courses, as well as some tips to rock the lesson and suggestions on where to go in the city of Chicago.
It's a solid low-impact workout
As mentioned in previous posts, I am an avid runner and could run every day of the week (barring it isn't as unbearably hot as it is right now). However, after a lot of pestering from my grandma, I have finally acknowledged that pounding the pavement every day is not good for my knees and may eventually cause some problems in the long run. With that in mind, I've been trying to vary my workouts (with the help of #Sweatworking events!) to do more classes that still get a cardio boost in without the pressure on my joints.
Enter the ultimate low-impact workout that still packs a punch: swimming. Even after just the first lesson, in which we did a lot of practice kicks and working on form, I felt great about my accomplishment. It was an odd sensation to have my body feel toned and a little tired, but not worn down like I sometimes do after a run. Also, according to the International Journal of Sports Medicine, swimming is actually better than just resting for exercise recovery – a useful bit of information if you're training for an upcoming race.
It helps to build confidence
My roommate can attest that after every lesson I came back more confident than the last. Not just in my swimming abilities, but it also provided a content that I've only found when getting in the zone on long runs. Something about pushing through the water gave me a peace that made me feel strong and accomplished (even if it wasn't the most smooth stride (ok, it wasn't smooth at all)).
Thinking beyond swimming, this experiment made me want to try out more new exercises, as it was really satisfying to notice improvement week-to-week, something that has been lacking since I've plateaued in most other athletic areas. Plus, there is something so bad-ass about wearing a one piece. It is extremely flattering and makes me immediately feel athletic, which is funny because my 11-year-old self definitely just felt awkward and uncomfortable in my Limited Too one piece – and that even had sparkles!
It opens up options for other races and activities
I have always shied away from Triathlons because of the swimming portion, fearing the unknown and having visions of getting crushed in the water. However now after taking swim lessons I know that not everyone is Michael Phelps, and am looking forward to a new challenge that is a little different than the standard (though lets be real, Marathons are "standard") long distance race.
I found that even as a beginner veering towards the intermediate level, swim lessons helped so much with being comfortable in the water, building endurance and feeling a little more willing to try swimming in open water without fear of drowning. On the topic of open swim, Kelly Magnus provided some quality tips on how not to die, here. In addition to the competitive side, feeling confident in the water allows me to potentially do cool things like swimming with dolphins, racing to a buoy in the middle of the lake or snorkeling in Australia. Obviously I see being an all-star swimmer as just one step closer to a dream vacation …
Tips for kicking-butt in swim class:
Come prepared with a comfortable one piece, goggles and swim cap.
Be careful what you eat beforehand. Similar to running, find something that satisfies you but doesn't make you too full.
Have fun! Don't take yourself too seriously and embrace the learning process.
I signed-up for swim classes at the local YMCA, but during the summer the Chicago Park District also offers a large variety of swim lessons in different locations.
Anyone else brave enough to take lessons? What is your favorite part about getting in the pool?
Let us know!
Did this post help you get closer to achieving one of your goals?