Tips to Conquer the Open Water Swim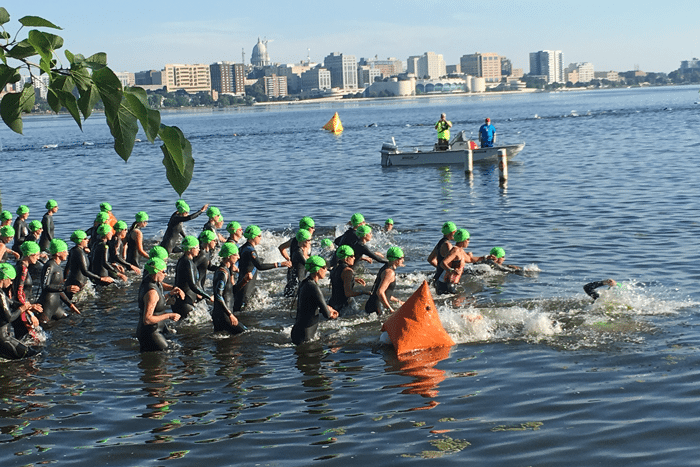 For many, tackling a triathlon sounds reasonable when it comes to biking and running. It's the dreaded swim that prevents most people from diving into their first race.
An open water swim can be intense and nerve-racking – kicking in close quarters, swimming in deep water, waves, weeds and cold temps are just a few of the reasons why.
As a triathlete who breast-stroked the entire way of her first sprint triathlon; to now, a two-time half-Ironman finisher (1.2 mile swim), I know the swim leg of the race is something you can train for and tackle with confidence no matter your swimming abilities.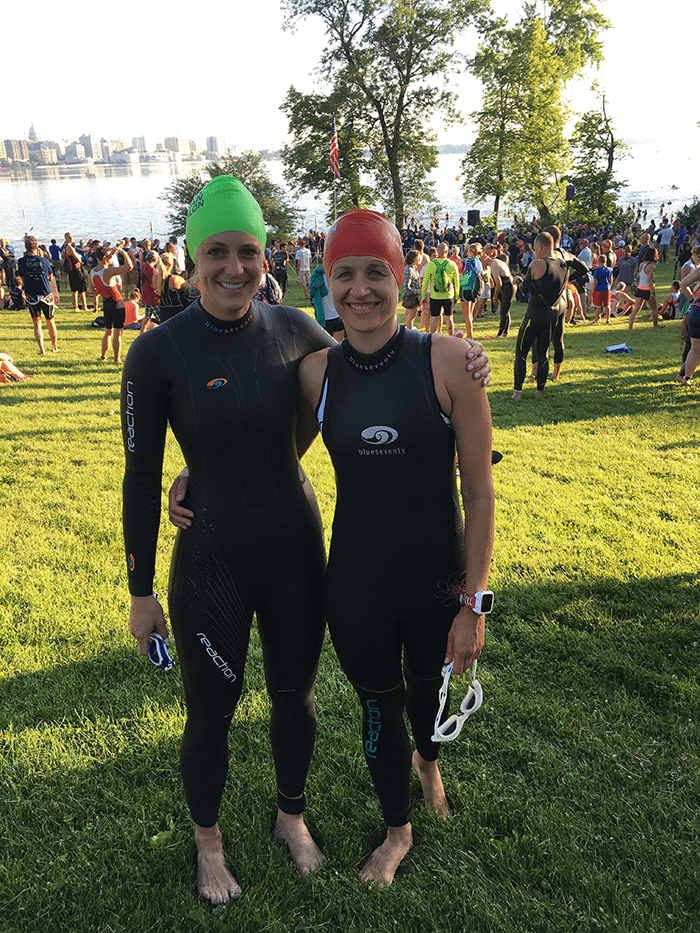 Over the years, I've developed a sense of ease getting into the water, and I'd even go as far to say that the swim was my favorite part of my last race, The MilkMan 70.3, in Madison, Wisconsin.
Post-race, I took the time to reflect on my 1.2 mile swim to understand what made me cool, calm and confident in the water. From my experience, here are a few tips for those who fear the open water swim, and how to avoid the panic:
Swim
Yes, actually train to do what you dislike doing most. Your brain is so powerful that it can actually sense when you're under-prepared. That's why your nerves kick-in standing at the starting line. Before tackling an open water swim, get in the water at least once a week.
Take a dip
Before the race, test out the water. Get in, check your goggles, adjust your wetsuit, swim around a little bit. This really helps me relax before diving into the water when the horn goes off.
Patience
Don't go hot out of the gate at the start of the race. Be patient, take your time. You can always pick up the pace once you find your rhythm.
Spotting
Open water differs from a pool in that you don't have a line on the bottom of the lake telling you where the next buoy is. Pick an object on the horizon line ahead of you. Every few strokes, look up and check-in to make sure you're not veering off-course.
Know your pace
If you've been training for the swim, you've probably been swimming laps solo in a pool. Just like in a running race, know your pace and stick to it. Don't let the speed of the pack get the best of you.

Breathing Mantra
Mental stability is a huge part of the open water swim. Staying calm when you feel a bit of fear or panic set in is important. I stay focused by connecting a reinforcing mantra to my breath and stroke, "calm, confidence." It keeps my head in a positive space.
Don't let the dreaded swim be the reason you haven't attempted a triathlon. Get started by exploring options for swimming classes at your local gym, and visit your local triathlon store. Often times they host FREE open water swim clinics and seminars specifically for beginners.