From Ella Holman to Ella Fistgerald: One Rollergirl Shares Her Story
For many of us, roller derby is a crazy, intense sport mainly reserved for movies like Whip It. But for those in the sport, it's one of the most exciting games and strongest communities out there. One of the stars of the DC Demoncats and member of the DC All-Stars, Ella Holman – better known on the track as "Ella Fistgerald" – helped me break down the sport and told me about her journey to becoming a Rollergirl.
Thanks for chatting with me! A lot of our readers have never seen a game of roller derby before. Can you tell me a bit about how it works?
The DC Rollergirls (DCRG) league is part of the Women's Flat Track Derby Association (WFTDA), the international governing body for the sport of women's flat track roller derby. Flat Track roller derby is a fast paced full-contact sport where five players from two teams skate on a flat track (hence the name) at a time.
A game is broken into two-minute sessions called "ams. During a Jam, the designated "Jammer" on each team tries to pass as many of the opposing players as they can for points. The "Jammer" is designated by a star on their helmet, which looks like a soccer pinny for your helmet but is more commonly known as the "panty." While the Jammer is skating around, the remaining players, Blockers, try to help their Jammer score points while simultaneously blocking the opposing Jammer.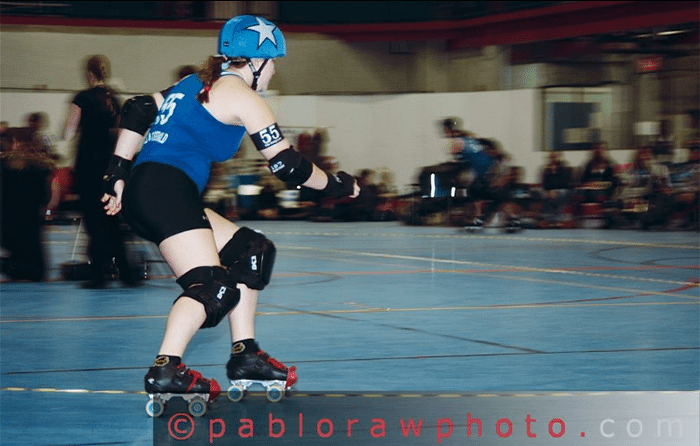 (Photo by Pablo Raw)
If the Jammer gets stuck in the pack and can't get out to score points, they have one opportunity to pass the "panty" or star off onto a designated teammate – called the Pivot denoted with by wearing a panty with a stripe on it. This can only happen one time during a Jam, so it's very strategic when to make this move. Once the Pivot has the star, they are the Jammer for the rest of the Jam. There is a ton of strategy involved, along with the obvious athletic skill needed to beat your opponents around the track!
Confused? Check out this helpful video from WFTDA.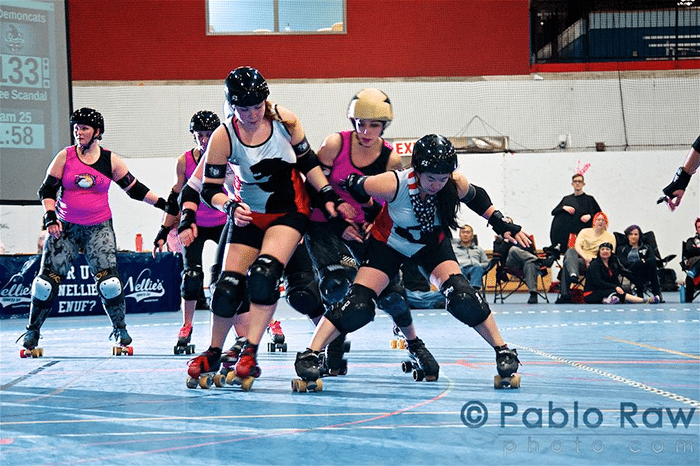 (Photo by Pablo Raw)
How did you get involved in Derby?
I played rugby in college at American University and attended a DCRG bout with my teammates. Something about the sport mesmerized me and I got the itch that I needed to play. I turned to my teammates and told them as soon as I graduated I was going to quit rugby and play roller derby. They thought I was crazy, but I was committed.
The summer after I graduated, I attended one of DCRG's bootcamps. The bootcamp teaches you everything from how to put on your pads, to how to skate, to how to hit or take a fall, to strategy. I always played sports growing up and most sports came to me naturally, but derby, specifically, skating, did not. I hadn't skated since birthday parties in elementary school and I was awful! Even though I was fit, it required using totally new muscles and balance, and learning as an adult was much harder than learning as a kid.
But I stuck with it, leaving nights out with friends early to attend bootcamp for two hours at 8 am every Saturday morning. There were only two places I could train – one was an outdoor rink in Anacostia, DC, and the other was a birthday-party style rink on the Southwest border of DC that had weekday 70s-style skating. Often times I was the only girl there with all of my padding on learning how to skate. Local jam skaters who frequented the rinks eventually began to recognize me and offer me tips on how to adjust my skates, and cheer me on as I got better.
Derby attracts women from all different backgrounds, from those who had never played a sport in their life to those who grew up ice skating or speed skating. After a year and a half, my skating skills improved and I was able to leverage my athletic background, strategy and communication skills, and fearlessness for contact sport to grow to be a strong player. Everyone has different strengths when they begin their journey, but no matter who you are, there is a place for you in derby.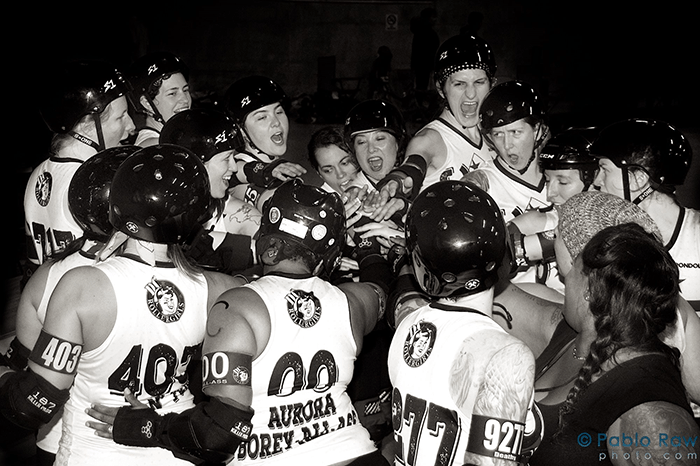 (Photo by Pablo Raw)
How did you transition from Derby Bootcamp to joining a team?
After bootcamp, the league holds tryouts, which test if you meet the WFTDA minimum safety skills assessment to work towards to join the league as an official member. They make sure you can do simple things like a variety of stops, turn around, complete 27 laps within a 5 minute time limit, etc, to make sure it's safe for you and others to have you on the rink. It took me two tries to pass tryouts due to nerves and refining my skating skills. Once I passed, I worked hard to become a member of the league.
Unlike many sports, derby is by the skaters, for the skaters. That means there is no administration running our league – everyone in the league has a role to keep it running and using their skills to assist in areas of need. For example, our lawyers help us refine our policies. I have a background working in human resources, I am passionate about helping the league with recruitment of players and volunteers, and establish our community relationships. Just as everyone uses their natural strengths on the rink, we use our professional talents to run the league as well.
As a members of the league improve enough to be scrimmage-eligible, you're then eligible to join the draft pool (called Skaters on Tap) for one of the four home teams: DC Demoncats, Scareforce One, the Cherry Blossom Bombshells and the Majority Whips. (We pride ourselves in our punny names!) You can also try out for one of our travel teams. I'm currently a member of the DC Demoncats, and I'm on the DC All-Stars travel team.
What type of training do you do? What would your typical workout look like?
With my derby teams, our practices are often two to three hours. People think I'm crazy after working eight or nine hours to go to practice, but for me it's a combination for hanging out with my friends and working out, which is what I'd do after work anyways. We have a standard warm-up we do and then we do a lot of high intensity interval training (HIIT) or circuit training when completing off-skate workouts. Tonight, we did all workouts focused on explosiveness. We started with a long run and typical plyometrics for warming up, followed by three different circuits. In one circuit, we did twelve minutes of squats, jump-switch lunges and skater jumps to focus on explosive movement. In another, we focused on muscle building with planks, straight lunges, reverse lunges, and burpees.
On my own, I like to focus on recovery workouts to take care of my body as well as strengthen it. I love to do hot yoga to help me release muscle tightness. If I don't have time for a class, I like to do Flat Mat Derby, which is an online yoga program designed for derby players. I've had two knee surgeries, so I like to focus on lots of spinning to work on endurance and keep tone in my quads without putting too much pressure on my knees. When I'm traveling, I like to do Roller Derby Athletics, which offers online training videos that are more similar to my derby workouts.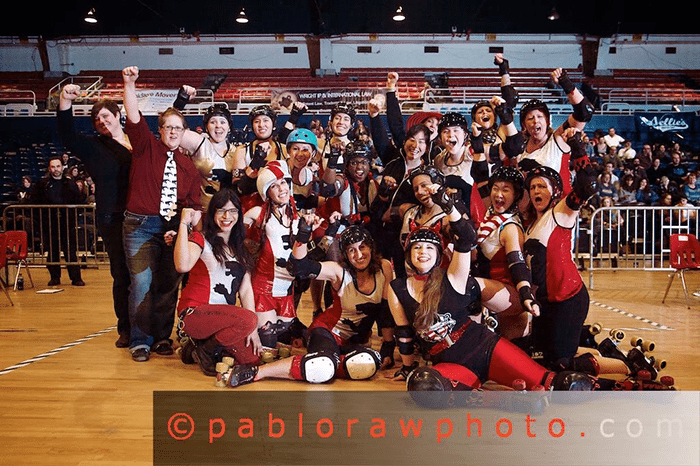 (Photo by Pablo Raw)
What is the community like in Roller Derby, both within DC and beyond?
Derby is the most accepting community I've ever been a part of. You can be wearing a roller derby shirt and be halfway across the world, or walking through an airport and people will stop you to tell about their friend or daughter who plays derby, and you'll have an instant connection. Anywhere you go there is a derby team and they're so accepting no matter what. Through our travel team, I've had the opportunity to meet teams from across the world and even though they come from far away, immediately you feel like you know the team because you have a common love for the sport and a baseline of respect. When I played rugby, we always had a social after a game with the other team, but in derby there is an unconditional love for the strong women that we are.
Where can people go if they want to learn more about derby?
Find your local roller derby league! Roller girls are everywhere; the sport has grown a lot even in the four years I've been aware of it. See how to get involved if you want to skate, or find their schedule become their biggest fan. You can volunteer, or learn to be a ref or non-skating official as well. Derby has opportunity for any kind of involvement you're interested in, and it is so welcoming to new people. If you just moved to a new city and need friends, or are just looking for something new, there is a place for you. Our league has everyone from empty nesters to people with little kids at home who need a place to escape. There is a saying in derby, "Derby Saved my Soul." Everyone found it for their own reason, but for everyone it fills some sort of void.
In DC? Go check out Ella and the DC Rollergirls at an upcoming match. WFDA also offers a full list of teams in your area, including the Chicago Outfit Roller Derby League and the Windy City Rollers here in the Second City.