Find Me at Wanderlust 108 Chicago With Cottonelle®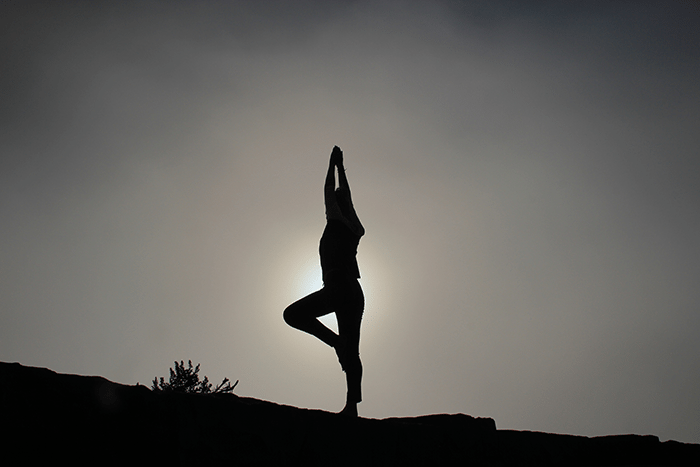 Disclosure: This post is sponsored by Cottonelle®. As always, we only write about the products and experiences that we love and all opinions are my own.
May has been a month of transition and a great time to celebrate around aSweatLife HQ. A year ago, I quit my job to run aSweatLife full time and to build the team that makes it go. The year that followed was nothing short of an adventure.
But when I quit, I transitioned out of my job in a way that only another workaholic would understand – teaching around 20 hours each week of classes. My days started at 5 am and went until at least 9 pm. They also usually ended with me requesting total silence from my loving Hubs as I finished up some emails. Luckily, I listen very intently to my favorite shark in all of the tank, Mark Cuban, who tells any entrepreneur in front of him that they have to focus on their dreams or they're just a Want-trepreneur.
I spent the past six months putting the pieces in place to allow me to focus on this sweaty baby of mine. When I came up for air after whittling down to just a handful of classes, I saw the bags under my eyes as a sign that it was time to not only focus on aSweatLife, but to invest in my own health.
I've been spending May focusing on three basic things that science says have a big impact on mind, body and recovery. If you look hard enough you could find at least three examples of posts I've written prescribing this stuff to you …
Sleeping at least seven hours six days a week
Drinking less coffee and more water – I'm going after a lofty goal of a gallon of water each day
Doing more yoga for its mind/body benefits
It's been a week and some change and I've already noticed a difference in my mental state. The bags under my eyes are a just a shadow of their former eye-cream-resistant selves. My get-up-and-go in the morning is back up to a level of not wanting to throw my phone and its ringing alarm out the window.
Yoga has had a huge impact on my overall mindset, reminding me to go back to my breath – both on and off the mat – when things get challenging.
So when Cottonelle® asked me to be a brand correspondent for Wanderlust 108 Chicago, the answers was, "Om shanti shanti, YES!"
Wanderlust is giving your brains and bodies a boost with this year's mindful triathlon. Attendees will do a 5K their own way (Wanderlust suggests running, jogging, walking or prancing), do yoga and take time to meditate.
Here's what's on my Wanderlust 108 schedule:
8 am – 5k run
10 am – Tribal body marking and Movement
11 am – Yoga + dance party
12 pm – Picnic lunch
2:30 pm – Acro Yoga 101
3 pm – Metta Meditation
Throughout the day, I'll also be hanging out at Cottonelle's booth in the Wanderlust marketplace with my girl Susie from SuzLyfe.com. If you've ever been to an outdoor festival, any elevated bathroom experience like this is welcome, but this one also comes with Cottonelle® products and a mat washing station to get you extra clean 😉
For a day packed with that much activity, I'm packing a bag of fitness essentials: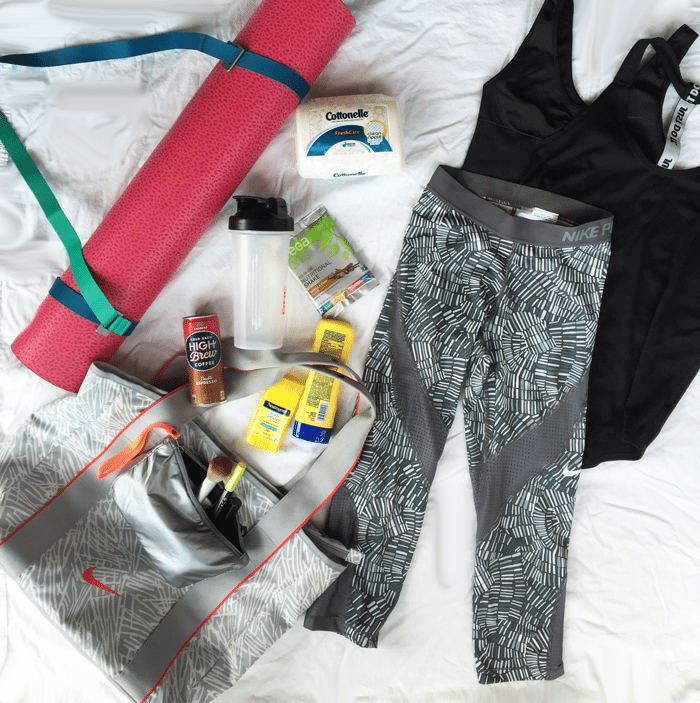 The proper SPF: Starting at 8 am and going until 4 pm, I'm going to need to apply and reapply sunscreen to get me through the day without any skin damage or sunburns. I love La Roche-Posay Face and Body sunscreen in SPF 60, but I'll take anything above an SPF 45. This stuff is my pale-person jam.
A few beauty essentials: Dry shampoo, lip balm, mascara and my favorite concealer to cover the last little bit of the bags under my eyes – we're at about a handbag under each eye rather than a full checked suitcase. Progress.
A change of clothes for after the 5k: I'm planning to run the 5k and I'm a sweaty human, so I'll hop into some fresh yoga clothes after.
A coffee, just in case: I'll pack a High Brew – a can of wonderful. I didn't say that I wasn't drinking any coffee …
Protein powder: Lunch is included with Wanderlust (and it looks scrumptious), but when you're trying to be mindful, hangriness is not an option. I like to call this my emergency snack.
My blender bottle: Until I need the bottle for a protein shake, I'll fill and refill with water.
Cottonelle® FreshCare wipes: Between the 5K run and classes, I'm going to try to stay fresh and Instagram-ready. You guys, I'm getting a spray tan, a mani/pedi and some tribal body marking, so it is clearly ON. But when you're working out literally all day, you need to stay fresh from head to toe – I'm talking about your bum, people. The Cottonelle® FreshCare wipes keep you feeling super fresh and only Cottonelle® has CleanRipple Texture designed to clean better – so you're clean enough to go commando, if that's your thing.
Will I see you at Wanderlust 108? Follow along with me on Instagram and SnapChat (aSweatLife) – I'll be posting throughout the day using #cleanconfession and #GoCottonelle.