Kick off Your Summer With #SweatworkingWeek June 6 Through 12
(Get your unlimited ticket to #SweatworkingWeek here)
We say this month after month, but greeting you at a new studio or gym for #Sweatworking, working out next to you and sharing a snack with you after a killer sweat is the highlight of our day, week and month.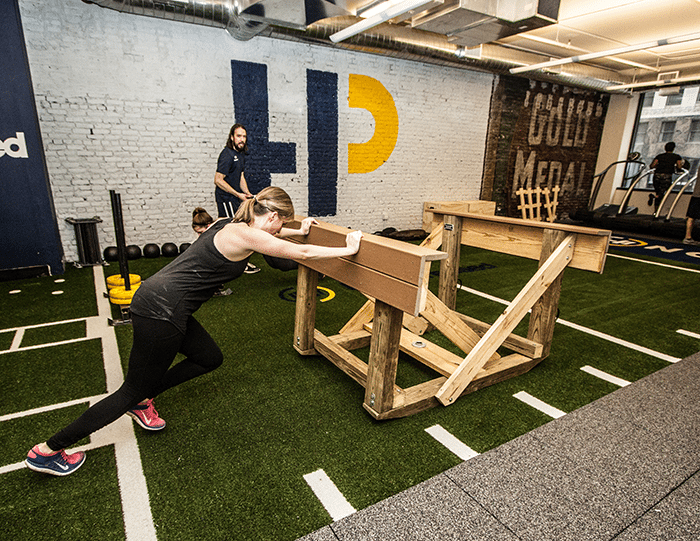 As we looked back over more than two years of working out as a community, we thought, "why not make a week of it?" June 6 through 12, we're kicking your summer off with a week dedicated to #Sweatworking. Consider this to be a restaurant week for fitness with one big closing party at FFC West Loop, where we'll take over the rooftop pool and bar area. If you choose to imbibe, your first drink is on aSweatLife to celebrate a week of hard work.
And we will call this #SweatworkingWeek.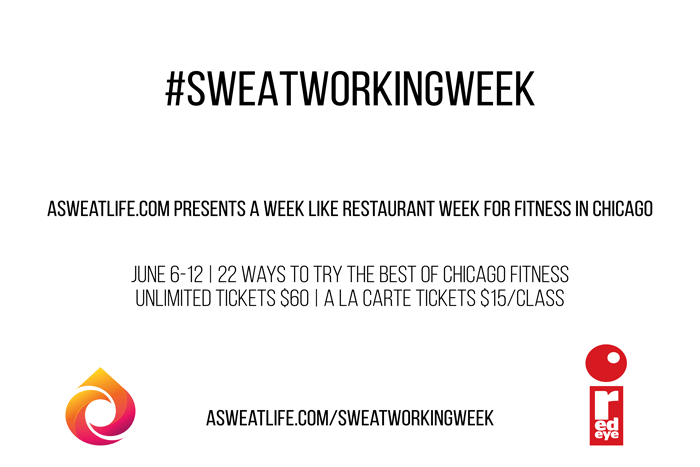 Over the course of this week, we're partnering up with some of our favorite gyms across the city to offer at least three classes each day that are completely dedicated to #SweatworkingWeek attendees. You'll know that in every class, you'll see or meet some friends along the way.
We're working with our exclusive media partner RedEye to spread the word and they'll be giving away some complimentary tickets before the week starts, so keep your eyes peeled.
You can purchase the unlimited ticket for $60 now, and get in as many classes as you want that week OR you can purchase each class as a la carte for $15 a pop.
Here's what you get with an unlimited ticket:
A Full 24 hours of access to booking your classes on the #SweatworkingWeek schedule before anyone else
As many #SweatworkingWeek Sessions as you can handle!
We want to take this week when the temperatures are starting to rise (we're guessing here, because at this rate, it could be 80 degrees or it could snow) to encourage you to keep up with your studio fitness routines in a way that keeps your outdoor routine strong and injury-free all summer long.
What's on the schedule?
While this may change ever so slightly, we don't anticipate it changing much.
We want to take a week together to continue to build this community and to start our summer fitness off with a bang – and because everything is better together.
And – on a serious note – we know that networking and making friends as adults isn't the easiest thing. We want you to come into this week knowing that this is a great opportunity to find or build your community.
Also, we're crazy, what can we say.
How many classes can I take during #SweatworkingWeek?
As many classes as you'd like!
How will #SweatworkingWeek work?
Step 1: Get your ticket to #SweatworkingWeek here 
Tickets to #SweatworkingWeek will run you $60 (plus Eventbrite fees) and will get you unlimited access to #SweatworkingWeek classes across the city!
Step 2: two weeks before #SweatworkingWeek starts, we'll release sign-ups privately to #SweatworkingWeek ticket-holders. When you book each class, you'll be required to pay a booking fee. You'll pay just $1 to book, all booking fees will be donated to Bright Pink.
Step 2.5: If you choose to buy tickets a La Carte, you'll be able to grab your spots 24 hours after the unlimited ticket holders for $15 a pop.
Step 3: Sweat your way through #SweatworkingWeek June 6-12.
Step 4: Share your fitness adventures in social media using #SweatworkingWeek. We'll give away daily prizes from partners to those who share and we want to see where you end up!
What should I do during #SweatworkingWeek?
Everyone who participates in #SweatworkingWeek will be challenged to do four things via their #SweatworkingWeek Passport:
Try something new
Sweat somewhere that kind of scares you
Do something you think you should do more of (cough, yoga, cough).
Meet someone new and do a power pose with them
What are these prizes you speak of?
Here's what we can tell you!
| | | |
| --- | --- | --- |
| Partner | Prize | Giveaway Date |
| Equinox | A one-month membership | 6/6/2016 |
| AIR Lincoln Park | 2 one-month memberships | 6/7/2016 |
| Hardpressed | 30 day unlimited classes at Hardpressed Conditioning and two 4 intro pack of strength (new clients only). | 6/8/2016 |
| CorePower Yoga | One month of unlimited yoga | 6/8/2016 |
| Brick | One-month membership | 6/9/2016 |
| Barre Code | Barre Code Merchandise | 6/9/2016 |
| [email protected] | One-month unlimited membership | 6/10/2016 |
| ENRGi Fitness | FREE Month Trial ($75 value). 1st time offer, new clients only. | 6/10/2016 |
| Title | One 10-class punch card with a starter kit (gloves, hand wraps and a gym bag) | 6/10/2016 |
| Floor Lab | A two-week package to everyone who instagrams about Floor Lab | 6/11/2016 |
| Pure Barre | One 10-class pack | 6/11/2016 |
| CrossTown Fitness | 3 30-day passes to CTF | 6/11/2016 |
| ENRGi Fitness | FREE Month Trial ($75 value). 1st time offer, new clients only. | 6/10/2016 |
| Yoga Six | One 10-class card + a Yoga Six branded t-shirt | 6/12/2016 |
| Sweat | A One-month membership and private class for you and 20 people | 6/12/2016 |
| Nike | Nike water bottle and a pack of Nike headbands to every person who completes the #SweatworkingWeek passport | 6/12/2016 |
Chicago, are you as excited as we are for #SweatworkingWeek?