Get in a Quick Workout at Home With This Cardio Core Circuit
The mercury is rising and that means your calendar is about to get full. Warmer temperatures are an opportunity to carpe the sunshine-y diem, but that usually amounts to weekends full of travel, weddings and outdoor activities.
We're all for all of that stuff because humans who spend time forming connections with other humans are happier and happier people are healthier in a lot of ways. That doesn't mean that you should stop working out just because you've got this rooftop happy hour thing DOWN.
We're firm believers that a quick workout is better than no workout at all. So when you're feeling stretched or like you don't know when you'll find time, this bodyweight workout will give you a quick HIIT of what you need.
You'll alternate between cardio moves and core exercises, because beach season. Disclaimer: it's important to keep your core strong year-round because it helps with general fitness, injury prevention and activities of daily living. We totally understand that sometimes you just want to feel confident in a swimsuit. But now is a good time to point out that your body is good for tons of stuff outside of looking sassy in a two-piece.
As always, make sure you warm up for five minutes before you get started. Don't know how to warm up? Grab the N+TC app and use the "Total Body Warm-Up" or "Dynamic Warm-up." Click "find workouts" then "get focused" then click on either warm-up.
Here's your workout – you'll do each of the exercises listed below for :45 seconds and transition for :10 seconds, if you're ready to go faster than that, good for you.
Forearm plank hold
Squat jumps forward and back
Ankle reaches
 Jump rope in place
Modified V-Sits
Speed skaters
Leg lifts
Forearm plank hold: shoulders, hips and heels in a straight line here. You can drop to your knees to modify!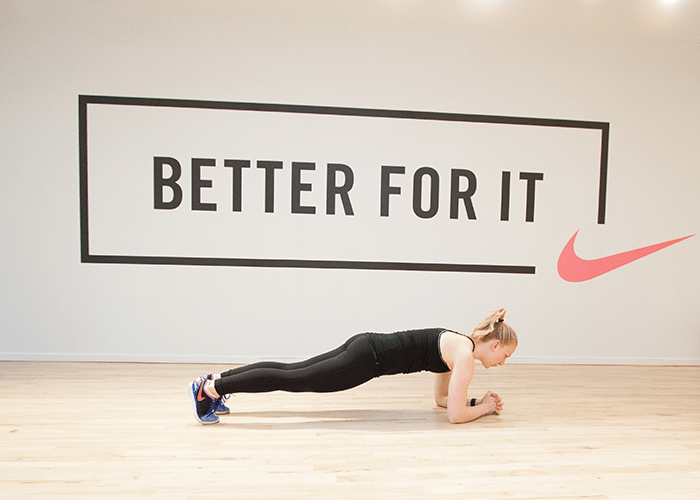 (all photos in this post by Christiana Basso)
Squat jumps forward and back: In a squat position, broad-jump forward and land with a soft-knee into a squat position.
Ankle reaches: Laying face-up, place your feet on the floor in front of your hips. Lift your shoulder blades off the floor and reach from your right ankle to your left ankle.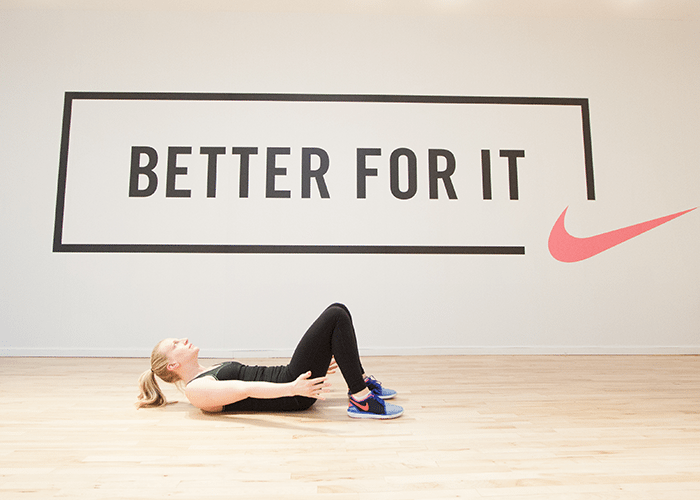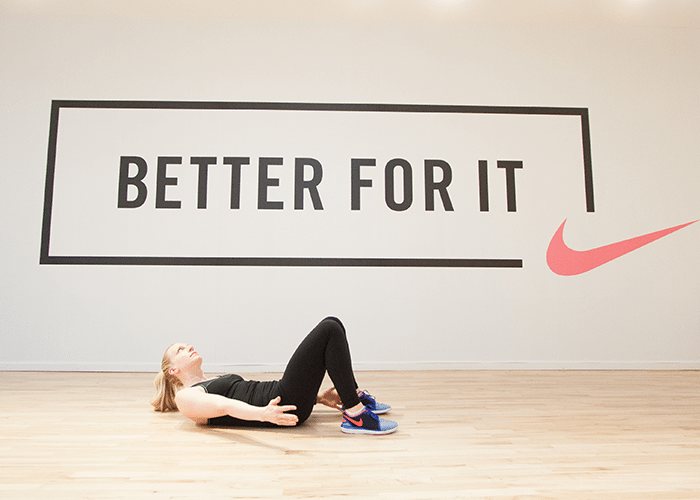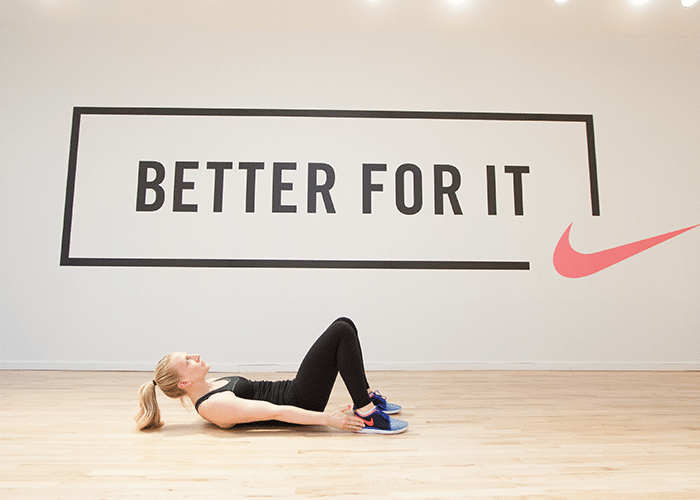 "Jump rope" in place: Pretend like you're jumping rope. If you want to use a real jump rope, you must be feeling fancy.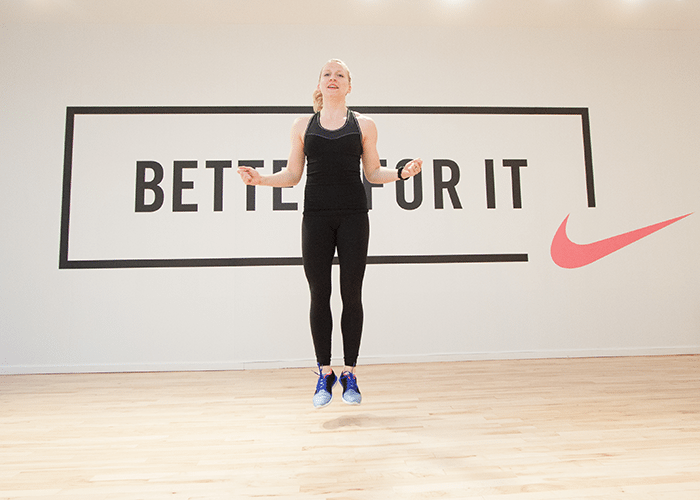 Modified V-Sits: With your body in a boat position – flat back, knees bent with your heels lifted off the floor – place your hands behind your seat. You'll lower your back towards the floor, never actually touching the floor and you'll kick your legs out, floating just off the floor. Return to your starting position, exhaling as you bring your knees towards your chest.
Mountain climbers: Place your hands under your shoulders and drive your knees towards your chest one at a time.
Speed skaters: As if you're speed skating, start with your right foot planted and your left leg reaching back and behind your right. Then push off of your right foot and jump-switch your weight onto your left foot, bringing your right leg back behind your left.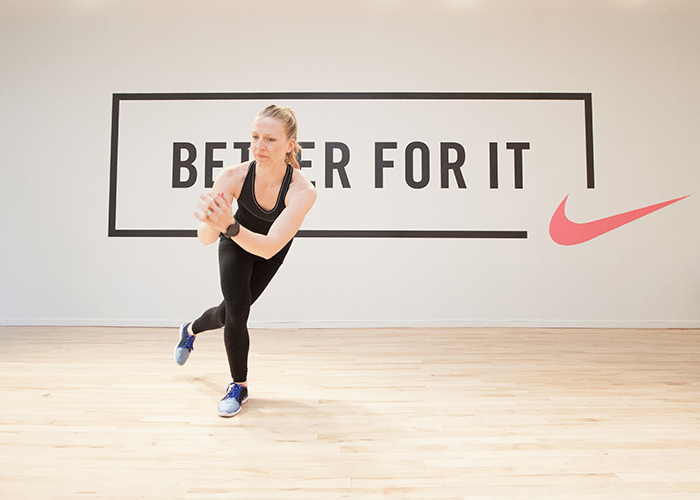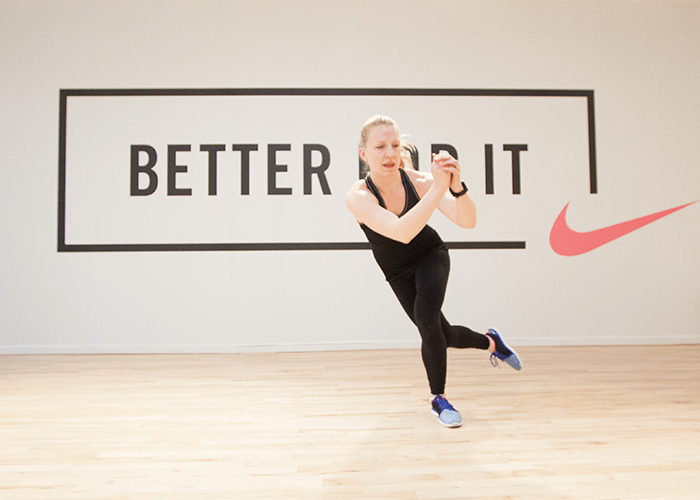 Leg lifts: With your low-back pushing down towards the floor, start with your feet above your hips. Lower your legs down with control without allowing your feet to touch the floor.
(Disclaimer: This workout is not intended for the treatment or prevention of disease, nor is it a replacement for seeking medical treatment or professional nutrition advice. Do not start any nutrition or physical activity program without first consulting your physician.)