Brewers' Workout with Goose Island and West Loop Athletic Club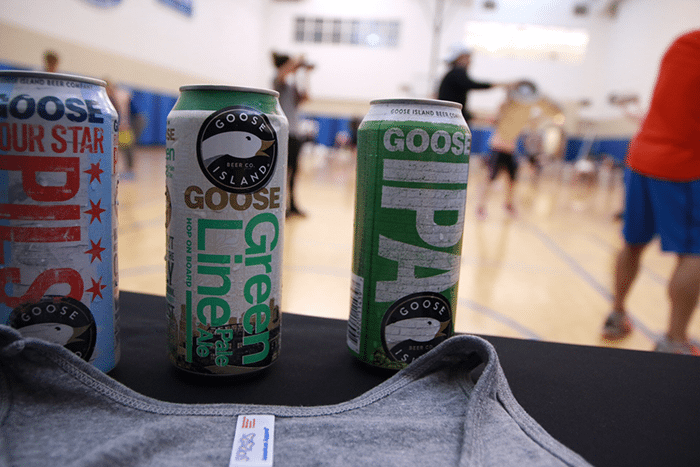 (Photo by Lakeshore Bev)
I'm just going to say it. I love beer. My good friends know that bringing me a bottle of wine means I'm probably going to cook with it, but bringing me a nice sour beer is the true way to my heart.
When I'm in a new city for vacation, I set my sights on the best breweries to visit first. Which is why we're so lucky to live in Chicago, where awesome microbreweries seem to be popping up almost daily, and even the big brewers – like Goose Island – serve special small-batch varieties just for us.
When I saw that Goose Island was partnering with West Loop Athletic Club for a workout inspired by the hard day-to-day work of the amazing people who brew the delicious beer, I was stoked to sign up. The event was the kickoff to Goose Island's West Loop Migration Week, the first of four weeks celebrating neighborhoods around the city (Lincoln Square, Pilsen and Logan Square, you're next!) and was held on WAC's indoor basketball court.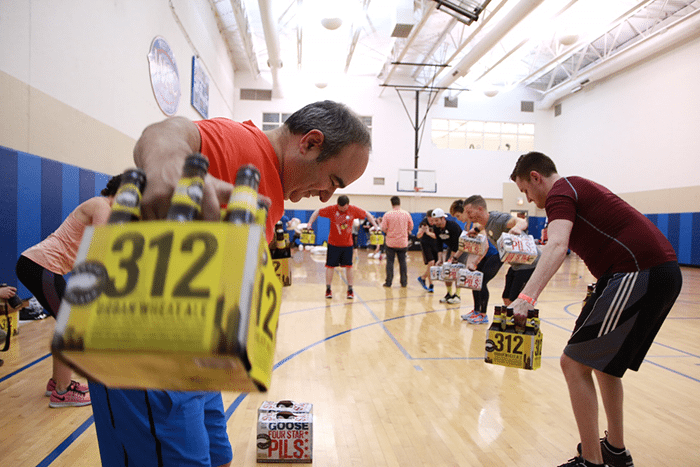 (Photo by Lakeshore Bev)
I was sort of expecting that we'd be using regular gym equipment and just mimicking the motions of working at a brewery, but I was quickly proven wrong. The court was scattered with empty kegs, pony kegs, 25 kg bags of grain and cases of beer, which would serve as our fitness equipment. I realized this was the type of workout that would have me well prepared to bring fitness to the next tailgate I attend in Ann Arbor. With a DJ pumping music, we broke up into teams (I was on the Green Team aka Goose IPA) and got ready to work out.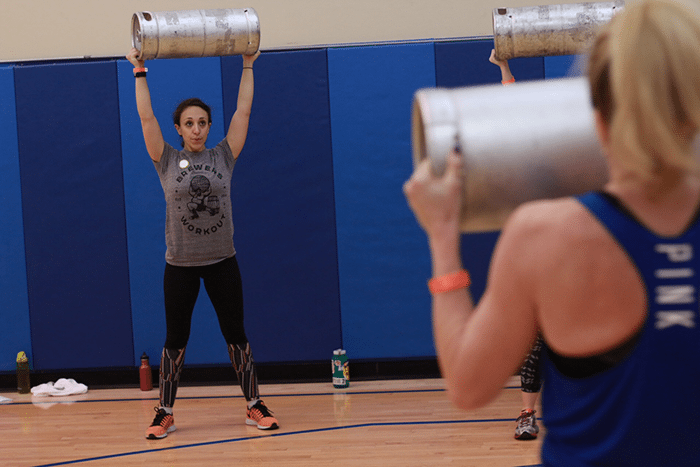 (Photo by Lakeshore Bev)
The amazing Chicago Athletic Club Instructors led us through circuits of one minute on and thirty seconds off, with four stations – each station's exercise was repeated twice. After a one-minute wall-sit challenge, we were back to our first station for a second set. Then we knocked out some burpees before doing a third and final circuit.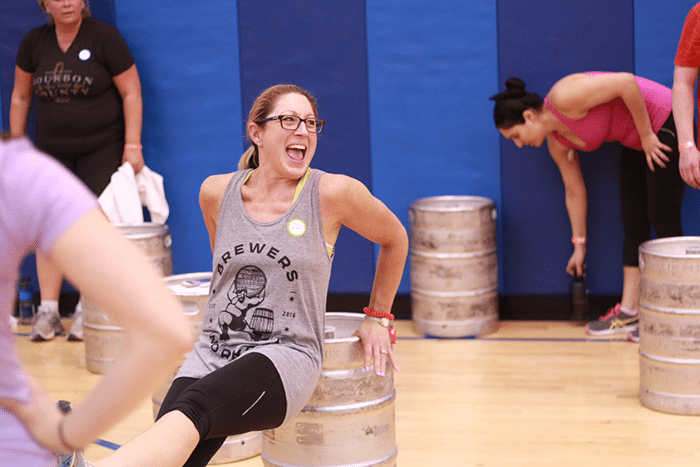 (Photo by Lakeshore Bev)
We fully utilized the brewing equipment for decline push-ups off a keg (a hilarious adaptation of a keg stand), pony keg woodchoppers, and alternating lateral and front raises holding cases of beer. The hardest moves were the grain-bag pushes (think plate pushes but with a 25kg bag of grain!) and "grain-bag flips," which were sort of like a ridiculously heavy and awkwardly-weighted clean. While many of the moves made me laugh, it was actually really challenging and a great workout. I learned that pony kegs are a great substitute for a ViPR!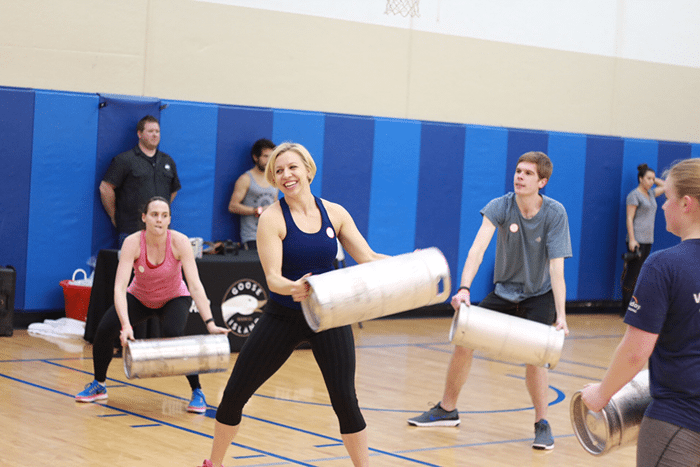 (Photo by Lakeshore Bev)
When the workout was over, we were rewarded with Goose Island beers and snacks. While I don't see many gyms adding kegs to their regular fitness equipment, it was great to see the trainers thinking outside the box to come up with challenging workouts with items you wouldn't normally find in the weight room. It gave me some inspiration for adapting household items for driveway workouts next time I visit my parents!
#Beerathlete for life.