TRX, the Versatile Home Gym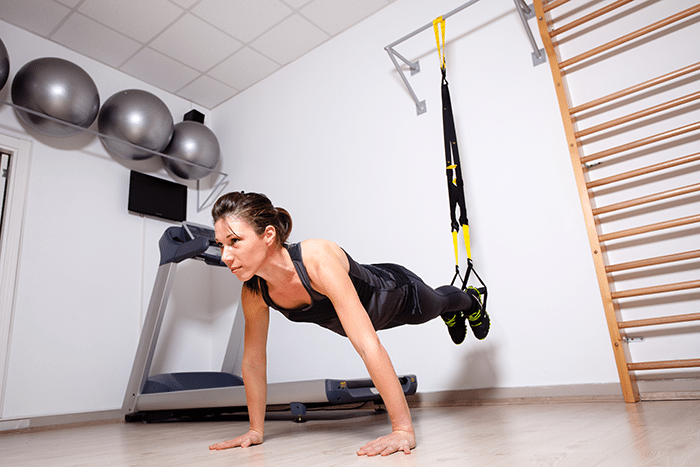 I first began hitting up the weight room when I was an athlete in high school. Dips … I hated dips, but I could love me some bench press. My coaches set a good precedent, that all athletes needed to build their muscles – and it did not mean getting bulky – encouraged me to hit the weight room three times a week, and instructed me on good form.
I took this appreciation for keeping toned into many years of Strictly Strength classes at Lifetime Fitness and Yoga Sculpt classes at CorePower, but when I moved abroad, these were no longer options. As fortune would have it, new friends in the Southern Hemisphere introduced me to something pretty nifty, a traveling gym, if you will: the TRX.
Originally founded and developed by Randy Hetrick, who was serving as a Navy Seal, TRX, the total body resistance exercise, is a portable suspension training system. It's brilliant. And it is likely you have seen it at your local gym. I did not stumble across it until I was working out with my new pals, both former athletic trainers, in my equatorial environment. Taking one look at Alli and Charles, you'd sign up for their program too.
With the TRX, I have been able to continue a weight regime simply using my own body weight while developing "strength, balance, flexibility and core stability simultaneously" … on my open-air terrace, in the park with fragrant Eucalyptus trees and on the beach. It takes up little space in my traveling backpack and weighs less than two pounds, making it a great buddy for a frequent traveler. In a 30-minute session in a myriad of exotic locations, or from the convenience of my own home, I get a total body workout, rotating exercises between my upper and lower body. I usually do four different exercises, 25 reps each, three times through. Then I complete a second block with four new exercises. For a 15-minute session to start your day, end your day, or energize yourself in the middle of the day, follow this kick-ass Essentials Workout from My Trainers:
If, like me, you prefer someone else build your workout for you, there are many additional resources. You can purchase a TRX kit which comes with a hardcover booklet of many complete workouts, but there are also free options available, because, you guessed it, there is an app for that. And then there is that easily accessible YouTube, with a myriad of TRX workouts, some better than others, but certainly some gems among them, like ACEfitness´s TRX Workout with Inventor Randy Hetrick or BodyFit by Amy´s 25 Minute TRX Workout Combining TRX Suspension Training with a HIIT Workout.  
From time to time I still miss working it out to some good JT or Rihanna with a couple dozen other sweaty gym-goers, but the versatility of the TRX is pretty fabulous. It makes me think of Dr. Seuss, actually, and Oh, the Places You'll Go. The excitement and energy behind the line  "Congratulations! Today is your day. You're off to Great Places! You're off and away!" is the very energy I can feel drumming in my veins and thrumming through my muscles when I am TRXing as the sun rises over the mountains near The Black Sheep Inn, or as the sun sets on the Pacific Ocean.
If my TRX hit the land and sand on the equator, imagine the places it'll find to set up in Asia. What I know is, "It's opener, out there, in the wide, open air … You're off to Great Places! Today is your day! Your mountain is waiting, So … get on your way!" So, Great Wall of China, here the TRX and I come!