Relax and Revitalize with this Cardio Yoga Workout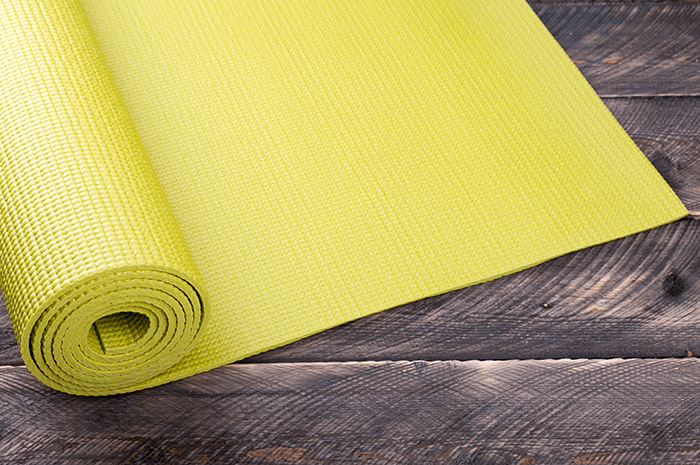 Balance all of your hardcore (and often monotonous) cardio workouts with one that combines classic yoga moves to strengthen and lengthen and dance music to boost your metabolism.
Looking to put your yoga moves to the test? Look no further than Rooted Self Expression Center's "Techno Yoga." This new take on a classic workout class encourages participants to jump out of their comfort zones and let go of their stress in an unexpected format.
Techno Yoga was first introduced to me by my very fit and hip friend who somehow always seems to be in the know of fashion and fitness trends. At first I have to admit I was a little doubtful – I'm more of an Indie / Pop fan than EDM and as mentioned in an earlier post, I am not very gifted at yoga. But as a new barre instructor, I trust my friend's guidance on which workouts are worth trying, so I convinced my ever-supportive and equally un-coordinated roommate to come along for the ride with me. With the enticing promise of glow sticks, we were soon completing the online registration and promising to each other that we would try to not be too embarrassing.
Upon arrival, my worries of embarrassment were immediately erased. And that's not because I suddenly had a new sense of yoga expertise (or because of the happy hour drinks) but instead due to the calming nature of the intimate studio. As soon as I walked in the founder and instructor were at the door to help me check-in and to deck me out with glow sticks. They were welcoming without being too pushy, which was with an appreciated sense of sincerity. This was maybe my favorite part of the experience because I am one of those people who dreads the uncomfortable stroll into a restaurant or gym when you don't know if you need to check-in, or can just keep walking, or if the front desk person is wondering if you're a crazy person who just got lost and ended up there … this sunny welcoming with simple and straightforward direction about where we needed to go was a huge relief!
The whole vibe of the studio was more about total wellness than just fitness. The entry way had comfy couches to hang out on while waiting for a friend, and the walls had chalk-board signs with markers where anyone could write on; answering questions like, "How are you feeling?" and "Where in your body do you hold the most stress?" Though some answers were a little silly (hello person that wrote, "Fingernails!!") these questions did set the tone for the session, and as we started off, I was thinking about which part of my body I wanted to work the most, and what stress I was hoping to release during the session. This is notable because honestly before a workout class I'm usually already thinking about what I am going to do when it is over.
Eat salad or pizza? The endless dilemma.
The session started off slowly, flowing through basic poses in a rotation I was relatively familiar with from other yoga classes. As the class went on, the music beat and volume increased, and the instructor encouraged everyone to create their own flow that naturally came from the music. If you continued with the poses we had been doing, awesome, if not, great too. At first I was extremely apprehensive. I am very much a rule-follower, so it was hard for me to just "feel the music" as they say. A big positive of the techno environment, though, is that the room is dark. So if you look like a fool, no one can really see you all that well. After a few flows of trying to stick with a routine, I slowly came out of my comfort zone and started pretending like I was a teenager at the Perry's Lolla stage. YOLO all day long. Though a little silly, I have to say it was cathartic.
Despite the fact that I was at first a little doubtful, I ended up leaving the class with having had a good stretch, worked up a bit of a sweat, and had a solid dance session. I think this class works for all levels, because at the end it is more about feeling the beat of the music and moving and stretching what feels right for you. Techno Yoga definitely fulfilled Rooted's goal of overall well-being, tapping in to the mind, body and soul through a strange and unexpected format.