Gym Bags Unpacked: Must-Haves for an Independent Gym-Goer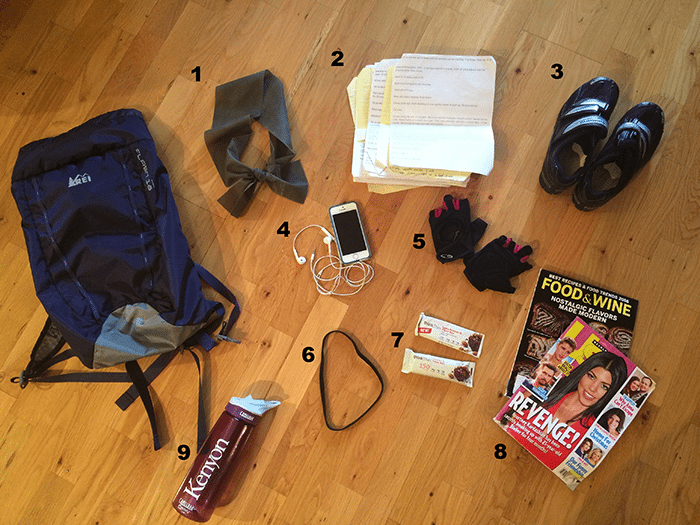 I stock my eggplant purple REI Flash 18 pack with all my gym essentials so I can pop home after work, grab a quick snack and head out the door. Take a peek inside to see what I can't live without.
1. Resistance Band
It may look like a boring circle of stretchy rubber to you, but to me … okay, it looks like a boring circle of stretchy rubber to me, too. But when my left knee started acting up a year ago, I learned the sad truth that my hip was too weak to keep my knee aligned. Enter exercise band. On lifting days, I sidestep down the length of the gym a few times, following that up with "monster steps" – huge steps to the left, then the right. It's not pretty but it has worked wonders for my knee, so this limp gray band never leaves my flash pack.
2. Workouts
See that tattered pile of papers? Those are my tried and true strength-training workouts. After each monthly session with my trainer, I record what we did and add it to the mix. Basically, this prevents me from messing around here and there at the gym with no real plan. It's the opposite of a get-out-of-jail-free card. However, given the danger of water stains and rips, I really need to get these bad boys into a binder or notebook.
3. Spinning Shoes
These Shimano spinning shoes are my third pair. (My first pair was stolen and the sole cracked on the second pair.) Hopefully, third time's the charm. Luckily, these snazzy clip-ins are my favorite pair yet. There's just nothing like the satisfying click of locking your shoes into the pedals and getting ready to rock out on the bike.
4. iPhone and Earbuds
I'm not one to listen to music while exercising. Believe me, I wish I could, but every time I try, I end up with the earbud cord wrapped around a weight or yanked out of my phone when it falls out of the waistband of my pants. It's just too much of a hassle. That said, I always use my iPhone for its handy timer feature. Whether I'm doing a 60-second wall sit or a 30-second one-leg plank, it's key. So why the earbuds? It's those pesky planks. Sometimes I like to get a good song going to push me through to the end. I also like listening to podcasts when I cool down on the treadmill.
5. Workout Gloves
Confession: I feel like a badass when I wear these gloves while lifting, even if I'm just feebly curling 10-pound dumbbells. I know they're kind of dorky, but whenever I pull them on, I think, "yeah, let's do this!" Also, I don't want to scratch my rings.
6. Hair Band
I used to have assorted workout headbands in aqua, orange, black, pink and white, but then I chopped off my hair and they just didn't do the trick anymore. Now I pull back the small section of hair that still stays in a ponytail and use this simple skinny black band to keep the flyaways from sticking to my face.
7. Think Thin Protein and Fiber Bars
When I bonk, I reach for these bars. I've sung their praises before, so I'll keep it simple. Chocolate. Almond. Brownie. Three of the most delicious things together in one chewy bar. I stash them in every bag and purse I own.
8. Magazines
My cool down walks on the treadmill come with a side of magazines, usually Health (hello motivation), Us Weekly (guilty pleasure), Food & Wine (inspiration) or Conde Nast Traveler (dreaming of beaches). When I'm done with an issue, I always leave it at the gym for someone else to enjoy – minus the workouts and recipes I've ripped out. Sorry fellow gym-goers!
9. Water Bottle
I accidentally left this water bottle on a spinning bike a few weeks ago, but I can confidently say I'm the only person at my gym to carry this exact water bottle, so it was easily recovered. That's an unforeseen perk of being an alumna of a small college in rural Ohio – how many other people in this huge city own a Kenyon-branded water bottle in its signature purple hue?
What essentials do you keep in your gym bag? Let us know in the comments section below!
Let us know!
Did this post help you get closer to achieving one of your goals?