Trainer Inspiration with Chicago Yoga Instructor Cassandra Justine
About three months ago, I was hosting an influencer dinner for my employer. The candles were lit, the food was cooking, and the wine was being chilled, all with about 10 minutes to go before "cocktail hour" officially started. I was feeling pretty pleased with myself, when all of the sudden I heard light footsteps on the stairs and turned around to be enveloped in a warm hug by a tiny, yet surprisingly strong female with a mass of wavy brown hair. Before I'd said more than 10 words, this force had proclaimed that I had incredible energy, she liked my vibes and everything was adorable. I decided then and there that I would keep her and befriend her.
This was my first introduction to Cassandra Justine, a Chicago yoga instructor and Lululemon ambassador with a big voice and an even bigger heart. As I've gotten to know Cass over the past few months, I've learned a little more about her than just "wow, this girl REALLY loves yoga." In fact, she's found a way to bring together two of her passions: yoga and helping others.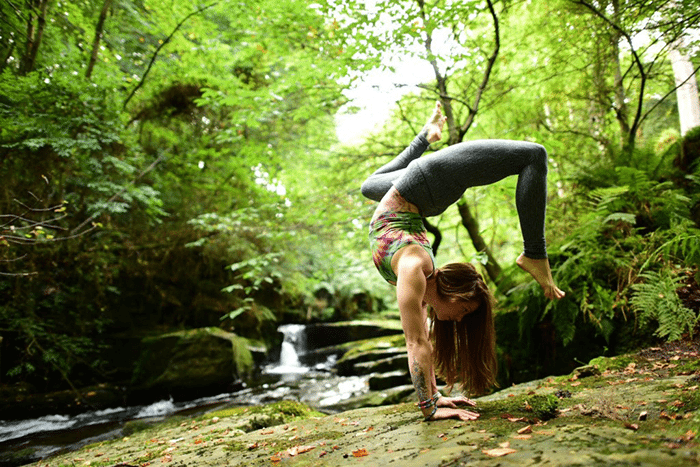 Hi Cass! How's your day been so far?
It's been a lovely. Lots of yoga, tasty jams, good vibes and cat lady moments. LOL.
I'm not entirely sure if tasty jams is referring to music or fruit-based spreads, but I support you either way. Now, from what I know about you so far through our interactions, you're a very bendy person who loves sweet potatoes. Can you fill in the blanks about your background a little bit more?
Haha. I love it! I'm a total family girl and I love my hubby and our kitty Felix. Movement has always been in my life, my mom was a former ballroom dancer and exposed me to yoga as a child. I was always moving and still am. I have been teaching yoga for 7 years. This past summer I began the process of branding my own style; Vibe Yoga, a creative collaboration of movement, breath and music. I love to inspire and to be inspired! I'm all about good vibes!
How did you make the transition from being a part-time yogi to making it your full-time passion?
I coached gymnastics for 8 years and about 2 years ago I made the choice to let it go. My body was barking at me for the years of heavy spotting and it was time to fully transition into my yoga career. The universe was in complete support of this! So many opportunities sprung up as soon as I let it go. I nannied for a few months to help me transition, but now I'm a full-time teacher with weekly classes, monthly events, retreats and private lessons. I couldn't be happier with my choice, it has been a game changer!
What's unique about your particular style of yoga? 
Vibe stands for vinyasa, invert, breathe, explore. These four elements represent the roots of Vibe Yoga. I have developed a free yet structured framework to design expressive yet supportive sequences that facilitate the creation of harmony amongst the body, mind and spirit by colorfully weaving together the creativity of vinyasa flow, the art of inverting and the power of the breath while providing an environment where students can feel comfortable to self-explore. The healing vibration of music is definitely an important part of the experience. To seal the practice I offer a Reiki Energy Adjustment during Savasana.
I have no ability to do a handstand or any type of inversion, really. Can we still be friends?
Haha, of course we can! Yoga isn't about handstands, that's just one tiny part of the picture. Yoga is about surrendering to the flow of the universe, stepping into your personal power, and joining together as a conscious community.
So, in addition to teaching all over the city and being a Lululemon ambassador, you have a more meaningful project coming up that you're taking on in February. Can you tell us a little more about that?
I'd love to. February 15-25 I will be going to Kolkata, India through The Village Experience to help with the human-trafficking crisis. Trip leaders Nadine and Rev. Dahn Gandell have arranged for us to work firsthand with the Women's Interlink Foundation, Puresa Humanitarian Organization and Made by Survivors. My heart is full with this opportunity to give back.
How did you first hear about this cause and what made you want to do something?
My soul was seeking deeper work. So I began research socially conscious yoga retreats and came across The Village Experience. I connected with their mission right away and was immediately drawn to this particular trip. I'm passionate about human rights and the issue of human-trafficking is no joking matter. As a yoga teacher I've always wanted to go to India and I thought, what better way to travel to India than to give back to a spiritually rich culture that has given me so much?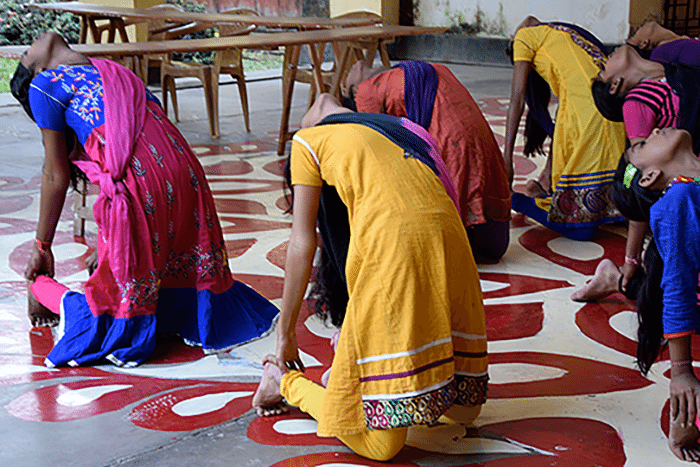 This may be a bit of a stretch, but have you found any connections from practicing yoga and getting more involved in helping others, whether it's in your backyard or across the world?
Simple answer – YES! In fact, my students, family, friends and my yoga communities both in person and on Instagram (@cassyoga) helped me raise the $5,000 I needed to go on this selfless service trip. I'd like to send a special shout out to Kelly, the owner of Ahimsa Yoga Studio in Oak Park and my #AhimsaFamily for all your love and support during the fundraising process. The experience truly revealed to me the power of community and the reality of contributing to positive change!
What will you be doing exactly during your trip?
We will be partaking in daily yoga classes with our trip leaders to prepare for our days of volunteer work with the Women's Interlink Foundation, Puresa Humanitarian Organization and Made by Survivors. I am looking forward to working with Made by Survivors. They will be teaching us how to make jewelry. Made by Survivors provides jobs, education and shelter to over a thousand survivors. I feel honored to have the opportunity to work with these inspirational organizations.
How can our readers get involved with your cause? Along the same lines, where can we find you teaching so that we can introduce ourselves by creepy way of, "Hi, I read about you on the internet once"?
Visit the Village Cooperative on crowdrise! Our trip leaders Have been working with Sanlaap in the red light districts of Kolkata for many years now. Money raised will be going to the most pressing needs at Sanlaap's drop-in centers and shelter homes throughout the city. Click here to help us fight human-trafficking. No donation is too small. Learn more about specific causes being funded on the crowdrise page. Thank you kindly.
Visit my website; cassandrajustine.com to find my classes, events and retreats! I'd love to meet you! You can also find me on instagram ( @cassyoga ) where I share daily inspiration. I look forward to connecting. xo