First Ascent Climbing and Fitness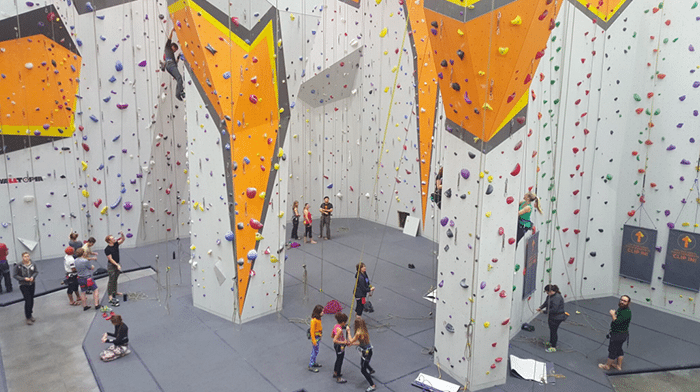 Though I've climbed a few times, I am not a climber. However, I was still intrigued when First Ascent opened a climbing gym near my apartment in Uptown. Not only do they offer climbing, but yoga and fitness classes as well.
First Ascent has two locations; One in Uptown and one in Avondale.
In terms of climbing, the Uptown location (4718 N Broadway) only offers bouldering, which doesn't require harnesses or belaying to navigate their 15 foot walls. While they have a workout area, they currently only have one group fitness class on their schedule, but there are two yoga classes almost every day. Lockers are also available, but no locker rooms.
The Avondale location (3516 N Spaulding Ave) offers both bouldering and sport climbing. For the latter, you can climb walls up to 60 feet with no prior experience using their auto belay system. Of course, there are also harder routes to navigate while belaying with a partner. This location also currently offers at least one group fitness class Sunday through Wednesday, as well as a few yoga options daily. They also have a large locker room with several showers.

Fitness
I took Jeremy's Urban Playground class in Avondale because running around like a kid sounded like fun. It began downstairs near the climbing walls with us crawling across the mats on our hands and feet, keeping our knees close to the ground. We then performed forward and backward shoulder rolls, full body rolls, and cartwheels along the same space. Moving upstairs to their workout area, we did a circuit of kettle bell thrusts and squats, inverted rows with TRX straps, push ups and sit ups. By the time we were done, my legs shook with each step I took down the stairs. I did my best to avoid stairs for days afterwards because it hurt so much to descend.
First Ascent also offers Speed & Strength, TRX Training, Core Conditioning and Original Strength Training classes. In addition, there are treadmills, free weights, barbells and a Movestrong Quad Functional Training System (pictured below) available to use on your own.

Climbing
Since I was already there for the Urban Playground class, I opted to get a few climbs in. Jeremy thought it was a crazy idea after our deceptively intense workout, but I wasn't the only one who attempted it. I didn't climb for long though, due to the fact I've apparently developed a fear of heights. After clipping in to the auto belay, I'd get halfway up the wall, look up to see how much farther I had to go and then inch my way back to the ground. At least I could say I tried.
Yoga
Though First Ascent offers a few different types of yoga classes, Yoga For Climbers piqued my interest. And while, again, I'm not a climber, or a dedicated yogi, I found the class beneficial as someone who is athletic and likes a challenge.
For this class, I check out the Uptown location. My instructor, Kris, who approaches Yoga for Climbers like another sport, focused on wrist strength, balance and opening the hips. We started off with a few flows that required a lot of balance and moved on to some very twisty and challenging poses that I'd never done before. They required a lot of upper body strength and movements that were out of my comfort zone, like placing my forearms on the floor, while trying to kick my legs up against the wall. The physicality of it made it feel like more of a workout than most other yoga classes I've taken.
Other classes at First Ascent include Power Vinyasa Flow, Yoga Sculpt, Rise and Shine Yoga, Yoga Groove and Energizing Yoga.
An $18 day pass will cover climbing and bouldering, as well as yoga, fitness classes and the use of their workout equipment. All together, climbing gear (shoes, harness, chalk bag and belay device) will cost $10. In addition, there are bouldering and climbing classes available, as well as a few different membership options should you become a regular First Ascent visitor.