Workout in 30 Minutes with a Chair
It's been about a week since you made your resolution. How are you doing with it? If you resolved to get more fitness into your life but you've found yourself starting to worry that you're too busy to workout, this workout in 30 minutes can help you get in your prescribed sweat-session, even when you feel strapped for time.
One thing that I always think about with things feel too crazy for my fitness routine is this concept: some is better than none.
What I mean by that is if you've got your heart set on an hourlong workout, but your demanding schedule only allows for 30 minutes, it's better to fit in what you can rather than skipping it entirely.
And, if you work really hard for those 30 minutes (high-intensity exercise), you can experience the same benefits as you would if you were to workout for longer at a moderate intensity. According to the 2008 Physical Activity Guidelines for Americans, it's recommended that one gets at least 150 minutes (2 hours and 30 minutes) a week of moderate-intensity, or 75 minutes (1 hour and 15 minutes) a week of vigorous-intensity aerobic physical activity (or a combo of those two intensities).
For this workout, you'll only need a chair. I used a plyometric box, but you can imagine this with a chair. You'll work for :50, and rest for :10. Do the full set of these moves three total times (after warming up for three to five minutes):
Squat to a chair and explode up
Split lunge (right)
Split lunge (left)
Toe taps
Push-ups
Triceps dips
Face melters
Want a playlist for while you work? Borrow this one!
Squat to a chair and explode up:  With your feet hip-width distance and your weight in your heels, squat down to the chair and tap your butt to the seat explode up and squat back down to the chair.
Split lunge: In the lunge position, with your front knee behind your front toe. Place your back toe on the chair (make sure the chair is stabilized against a wall). Bend your back knee to lower down. Keep your shoulders stacked over your hips.
Toe taps: With your chair stabilized against the wall, gently and quickly tap your toes on the edge of the chair.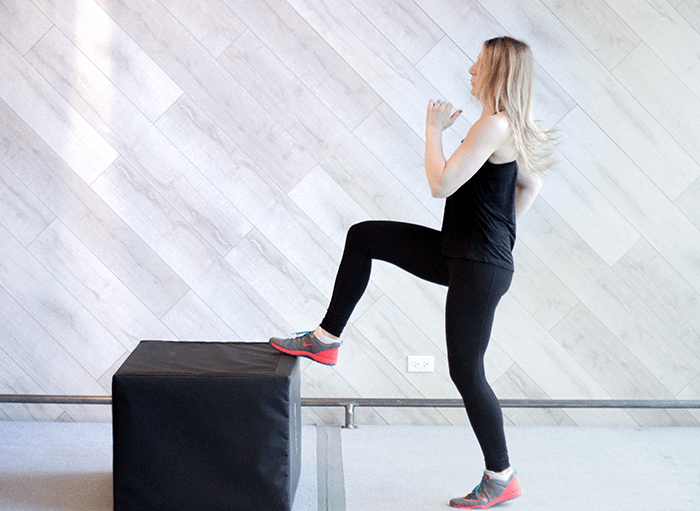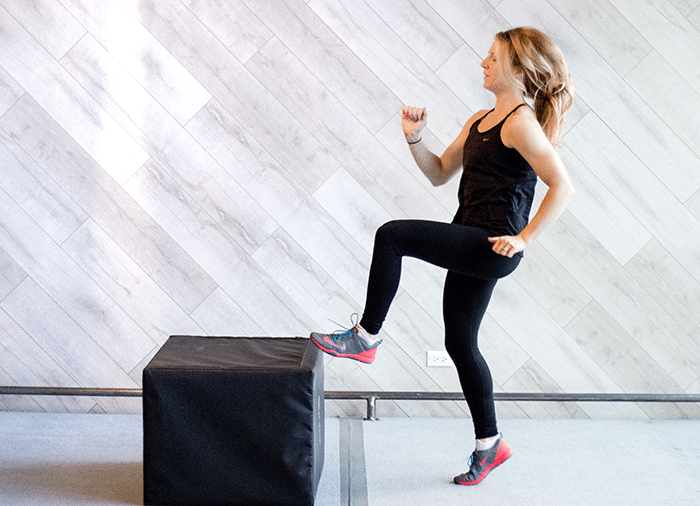 Push-ups: With either your toes on the chair (stabilized against the wall) or your hands on the chair, keep your body in a straight line as you lower your chest by bending your arms.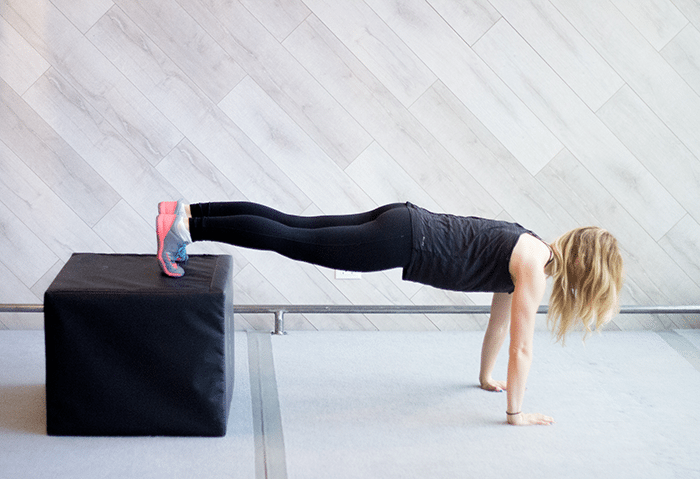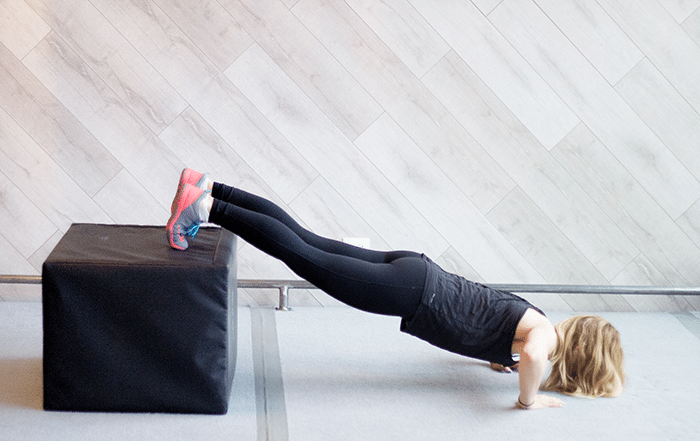 Triceps dips: With your fingers pointing towards your glutes, bend your elbows to lower down and straighten your arms to lift back up. Bend your knees to scale it down and keep your legs straight for more of a challenge.
Face melters: Place your toes near the edge of the chair (stabilized against the wall). For the duration of this exercise your entire objective is to keep your shoulders over your hands. Step your right toe down, then your left then put your left toe back on the chair then your right. Switch your lead foot each time.
Doesn't make sense? Just watch this boomerang!
(Disclaimer: This workout is not intended for the treatment or prevention of disease, nor is it a replacement for seeking medical treatment or professional nutrition advice. Do not start any nutrition or physical activity program without first consulting your physician.)