Two Days Of Health And Wellness In Los Angeles
I've visited my sister in the Los Angeles area many times. Although we've gone on a hike or two, we decided to make things a bit more fitness-centric than usual during my latest trip out west.
Unfortunately, four days before I left, I injured my back in a jarring getting-up-from-the-couch accident. It was bad enough I could barely walk for two days, but I couldn't even tell people I did it by attempting great feats on the trapeze or jumping over a wall in parkour. Nope. I just spent hours bingeing the third season of "Orphan Black" and tweaked my muscle going on a bathroom break.
Regardless of how I did it, I worried I wouldn't be able to participate in the two days of health and wellness in Los Angeles my sister Jenn and I had planned. After three more days of couch lounging, regular heating pad sessions and popping prescribed pain meds, I was able to move without wanting to cry every two steps. Though I felt better each day, I still thought about scrapping our active itinerary, but, as my dad told me before my first half marathon, we are all capable of more than we know.
With that in mind, I decided not to use my injury as an excuse to avoid exercise and tackled our plans head-on. While there are too many fitness opportunities in the L.A. area to cover in one weekend, Jenn and I chose a few places close to her home in Eagle Rock, located on L.A.'s northeast side. With the aid of a few modifications and my trusty heating pad, I was able to enjoy a perfect weekend of fitness and relaxation with my big sister.
LAKO Boxing Club & Training Studio
After being energetically welcomed by LAKO Boxing Club's owner Ian, we got our hands wrapped, were given gloves and were thrown into the boxing class's warm up, consisting of cardio and shadow boxing. We then moved on to hitting the heavy bag and ended on a circuit of planks, burpees (push-ups for me due to my back), wall sits and V-sits (my feet stayed close to the ground) while passing a weighted ball side to side.
It was a good workout without feeling overly taxing or jarring on my back. It all took place in a comfortable atmosphere filled with men and women of various athletic abilities. Our instructor Rene was upbeat, approachable and took his time showing the class which combinations to throw at the heavy bag while helping with form. The regulars all seemed to jump into the warm up with no explanation, but my sister and I had no idea what to do. Luckily, a kind soul named Gregor took us under his wing and showed us the ropes.
LAKO is on ClassPass, but also gives first timers who live in the area a free class. In addition to standard boxing classes, they offer "fun controlled" sparring sessions, which I totally want to check out next time I visit.
One Down Dog
With locations in both Eagle Rock and Silver Lake, One Down Dog's website promises to not be a boring, traditional, competitive or pretentious take on yoga. That, coupled with merchandise scattered around with sayings like "[email protected] Your Fears," made me pretty confident I would like this place.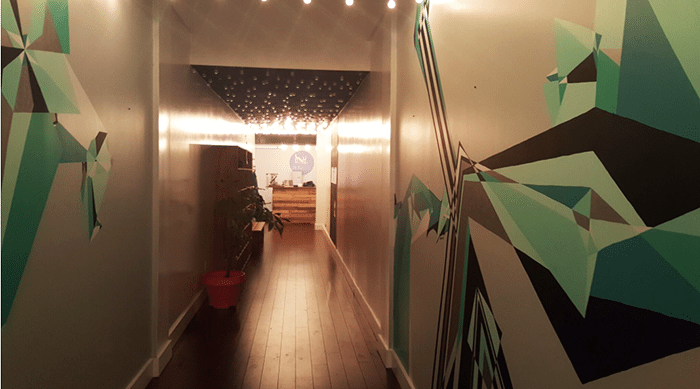 I took their Sweat class, which lived up to its name. The room was warm to begin with, which may have contributed to all the dripping that occurred, but it was also a high energy, cardio focused session. In addition to the vinyasa flows, the instructor, Audrey, led us through planks, burpees (again push ups for me), jumping jacks and quickly switching feet while in a low lunge.
The lights stayed on, the music stayed loud and fun ("No Diggity" was an inspired choice) and no one felt the need to speak in hushed tones. Don't get me wrong, I love relaxing into a final shavasana pose (the only time the lights went off), but other than that, I don't need to be introspective or set my intentions. Just give me a good workout. One Down Dog did just that and Audrey, who periodically checked in on my back, helped me stretch out at the end of class. I left feeling the best I had in a week.
One Down Dog is also on ClassPass and offers a $40 unlimited month of yoga to new members.
Wilacre Park
There is no shortage of places to hike in the Los Angeles area. But since getting across town in L.A. can be a nightmare and taking our injuries into consideration (Jenn was still healing from an ankle sprain from the last time I visited), we chose a moderate hike at Wilacre Park in nearby Studio City.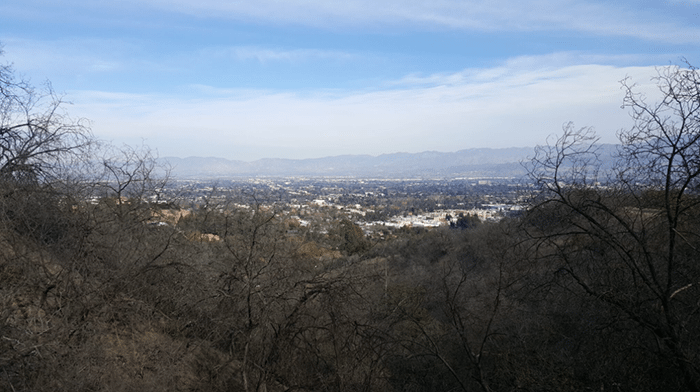 Otherwise known as Fryman (at least to my sister and her friends), for one of the streets it borders, the roughly three-mile hike starts with an incline that produces heavy breathing until about half way through. It then levels out a bit, offering a few side trails to take advantage of as well. It was the perfect level of difficulty for two people on the mend from injury and seems like an ideal trail for runners who want to kick up their workouts.
For a more strenuous hike, check out Brand Park in Glendale. Their steep inclines have often made me wish I never made the attempt.
rA Organic Spa
No fitness weekend is complete without a trip to the spa. Actually, no trip period is complete without one and rA Organic Spa is the perfect place for those seeking a little pampering.
rA is the total experience: dim lighting, near silence, calming music, tons of peaceful nooks with overstuffed chairs to sink into and – something I never thought I'd enjoy – a sauna. With ice-cold towels to cool off with, a few minutes sweating it out in the intense heat is now a must-have during my spa visits.
As for my facial, which is my standard treatment of choice, my esthetician Jessica rubbed Eminence organic products over my face, performed some of the least painful extractions I've had and gave my hands a paraffin treatment. All of that was relaxing and good for my skin, but the highlight was how much attention she paid to the massage portion of the hour. My neck, shoulders, arms and hands were given a lot of love, more than once. My face even felt as if it was being massaged and not just slathered with anti-aging and acne treatments.
I've visited several spas in other cities and while I've enjoyed many of them, not one has compared to what lies beyond rA's store front in downtown Burbank. It was the perfect way to end the perfect wellness weekend.
With so much to visit in the Los Angeles area, what are your favorite fit destinations in this west coast city?
Let us know!
Did this post help you get closer to achieving one of your goals?