Studio Three Chicago Opens Three Studios in One River North Space
Studio Three's presence is hard to miss on Clark and Superior – it's an entire building devoted to fitness that's spent more than a year being gutted and restored. As the scaffolding comes down and the final details are put in place, the building that's revealed is just as charming as it was when its exposed brick walls, high ceilings and wood floors were first unveiled decades ago.
There are three distinct fitness entities on the three floors within this massive 16,000 square foot building – A floor for interval training, a floor for cycling and a floor for yoga. Each floor, features its own check-in station and set of lockers, so if you only care about interval training, you never have to venture up to the yoga floor.
Teaching the classes, you'll find an all-star line-up of instructors who have relocated from other big-name gyms to help build the Studio Three Chicago community. As the studio prepares to open its doors November 18, I stepped in to try all three studios, floor-by-floor.
Interval training in the basement
The interval training studio is packed with equipment that is used for this particular studio's signature class – F.L.EX, which signifies that you'll be doing Functional, Loaded and EXplosive movements. Depending on the letters next to F.L.EX, T3 or R3, you'll find different equipment in the room. T3 means that you'll "tread, TRX and torch" and R3 means that you'll "run, rep and rip."
Boiled down, that simply means that you'll find yourself using three stations of equipment featuring TRXs, treadmills, steps, rowers and more.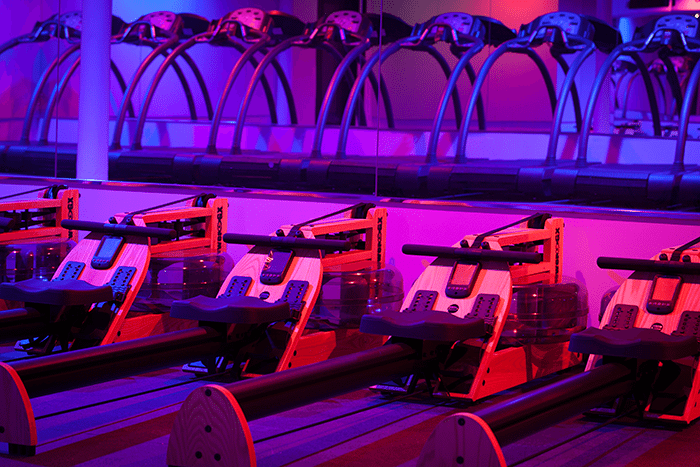 I took F.L.EX R3 with Jenn. Jenn is a lot of things like motivational and knowledgable, but she is most notably intense. From her demands of her classes to her facial expressions. You want her to smile? Pick up some heavier weights.
Jenn had the room broken into treadmills, decks and water rowers. On the treadmill and the decks, there were four one-minute intervals, three at a high intensity and one meant as a recovery.
On the treadmill, we started the first minute at about two MPH below our personal best. Our second minute, we took it up 1.5 MPH on a flat road. The third minute, Jenn called for us to hold onto our pace and increase our incline. After a recovery, we repeated. By the end the 12 minutes spent here, everyone found themselves reaching for a towel and working to catch their breath.
On the decks, we had our choice of weights for three moves. First a biceps curl and press, then a bent over row and finally, a pistol squat. The recovery featured my very favorite stretch – a hip opener – then we went right back to the top.
On the rower, we spent our time rowing to 500 meters as quickly as we could three times. That takes anywhere from 1:40 to 2:40, depending on fitness level. After that heart-rate raiser, we each started a slower, recovery row. This was no easy feat, especially given Jenn's challenge to meet or exceed the previous round's 500-meter time.
Peloton on the first floor
Studio Three's cycling studio occupying the first floor has things we've come to expect from cycling studios like free shoe rentals and ample towels. But the studio cycling space some new amenities to offer the cycling-inclined.
This cycling experience is created by Peloton, a brand of cycling that can be experienced in New York City, Chicago and via a streaming membership.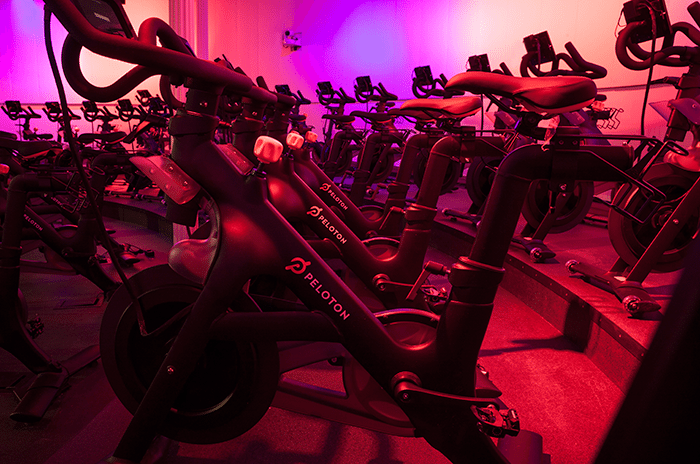 With Peloton, technology is abundant. When you love data and crave information on your own performance  (if you're a fitness nerd like I am), you'll feel your heart flutter when you walk into the dark cycling space to find that each bike is equipped with its own tablet.
When you get to your bike, you can sign in to your Peloton account (free and easy to create), which allows you to track your data over time. The tablet on your bike makes it easy to follow your instructor's directions like, "take your resistance to … " and shows how you stack up to everyone else who is logged in and taking the class.
Around the room, you'll notice cameras pointed at the instructor. That's not just to check on your trainer –  every Peloton class is live-streamed and at-home Peloton users can log in and take the class too. So as you're looking at the leaderboard on your tablet, you'll see everyone in the room who has logged on as well as everyone at home playing along.
My class was led by Jeanine. With her hair piled on top of her head, she sweat right alongside us and pushed us to climb our highest hills and sprint faster than we thought possible.
Her energy was contagious, you should probably get in there to try to catch what she has.
Yoga on the top floor
Climbing the stairs to the top floor, Studio Three takes on a noticeably calmer vibe. The yoga studio at the top of the stairs is large, airy and comfortable. Outside of spacious studio, you'll find enough yoga mats for everyone – so if you forget to bring yours, you're covered.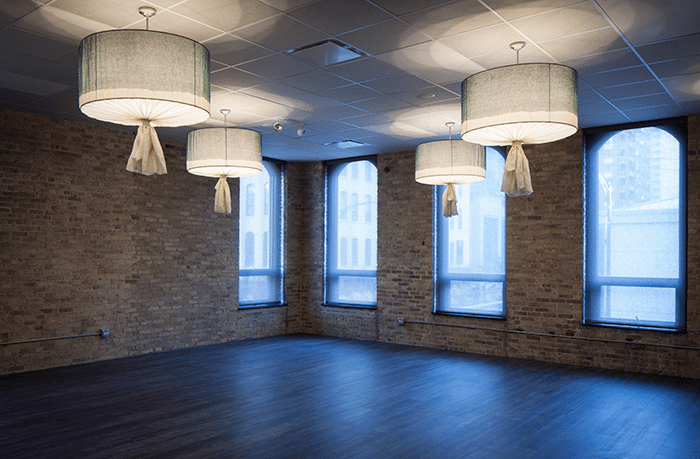 Within the studio, you can find a number of different ways to practice with classes focused on hot yoga, vinyasa flow, Forest yoga (you can thank Allison English for bringing this practice to Studio Three) and a restorative practice that Studio Three calls Fix-It Flow.
I found myself in the corner cursing my aching hips at the beginning of the restorative yoga practice with Brian. About halfway through this practice focused on healing and stretching the body's connective tissue, I felt my hips open back up, just in time for my favorite pose: pigeon.
By the time we wound down for the final resting pose, savasana, I could have gone to sleep for the night right there on my mat.
Want to try Studio Three for yourself? After the space opens its doors November 18, here's what you need to know:
Where: 648 N Clark Street
Cost per class: $26 for a drop in, $13 for your first class
Let us know!
Did this post help you get closer to achieving one of your goals?