Hardpressed Strength and Conditioning Adds to the Gym's Arsenal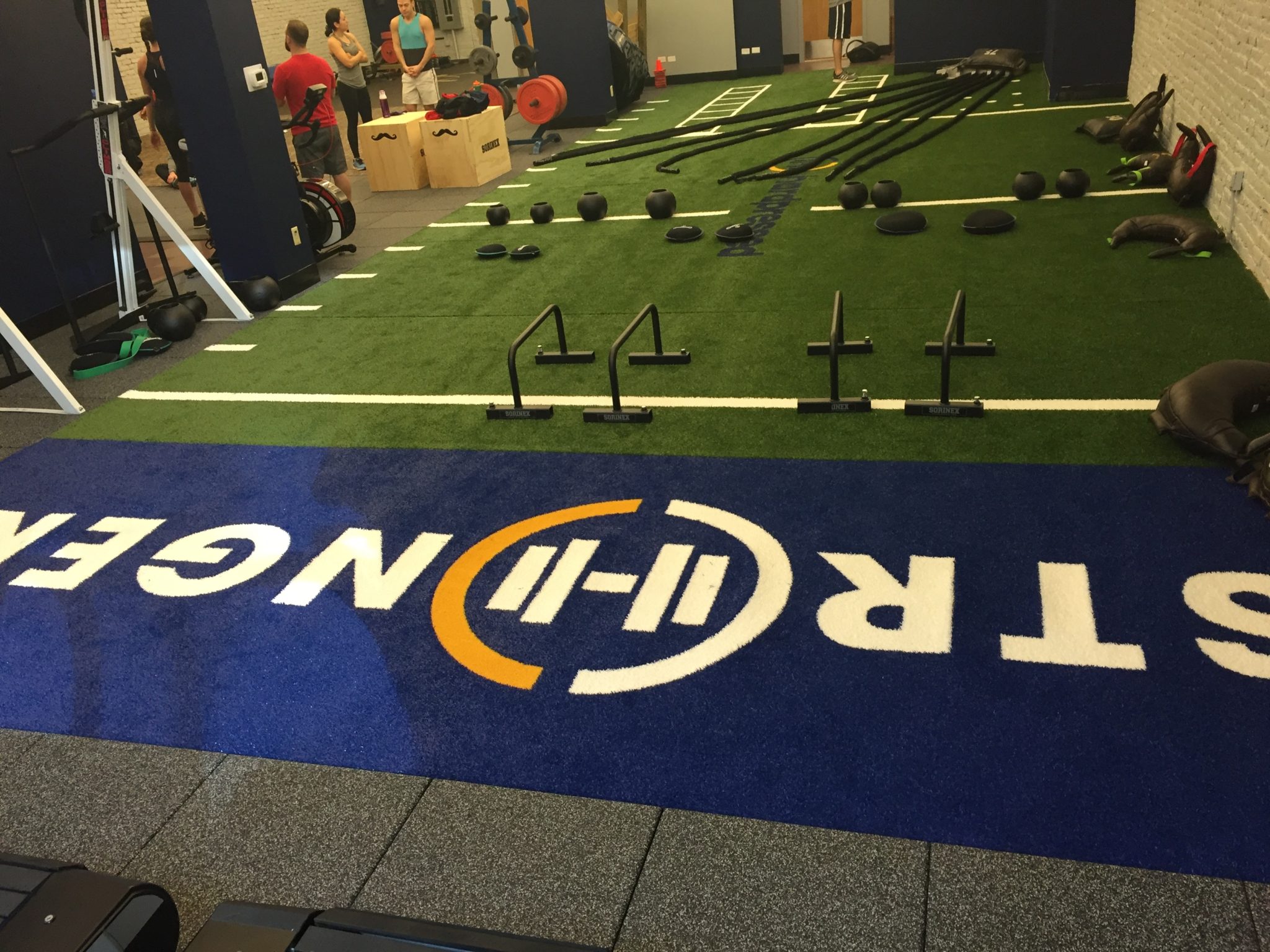 If you're familiar with Hardpressed or have spoken with someone who frequents, you've probably already been recruited. As Chicago's premier strength training facility, Hardpressed offers one of the most intense, physically demanding workouts in the entire city in just 30 minutes. As such, it remains one of the more addictive gyms in the city where patrons push themselves to the limit under the direct supervision of a collegiate style strength coach, lifting heavy weights every rep to the point of exhaustion. Most of the aSweatLife team has been initiated into the cult of Hardpressed — It's been covered here quite a bit (none better than the incomparable Cass Gunderson chronicling her first visit). Chances are your favorite trainer at your favorite group fitness class is also in the cult.
Hardpressed's addictive nature comes from its style, its ability to show measurable results in short amounts of time, and from its cult of personalities inside the gym (Where my #DogPound at?!). I often leave the gym in complete shambles both mentally and physically and question my sanity for paying people my hard-earned money to intentionally make me feel this way. Only after I've safely made it to my post-workout destination (and stopped shaking) do I realize what a great workout I just put in. I've repeated this love/hate relationship one to two times per week for the past year.
Now HardPressed is offering new ways to feed your addiction with conditioning classes at their newest facility located at 324 North Michigan. Hardpressed Strength and Conditioning offers small, hands-on, group classes that include the usual HIIT gems (treadmills, ropes, medicine balls) as well as some new toys (sandbags, sleds, tires). Hardpressed has always been about maximizing your time and your money, so not surprisingly classes are only 30 minutes.
A quick warning to those that might think that because this class is only a half the time of your typical group class you won't need to work as hard. This line of thinking will likely leave you battered and broken as it couldn't be further from the truth. Like all things Hardpressed, you will unapologetically get your ass handed to you regardless of your fitness level and you'll be surprised how long 30 minutes can feel.
One thing that stood out was how hard you can be coached with such a small and intimate class size. In our aSweatLife preview class, I was paired up with resident Warrior Princess, Jeana, who smoked me in just about every exercise past the 10 minute mark. Colin was able to fluidly switch motivational styles and exercises between the two of us and adapt each of our remaining workloads to whatever we had left in the tank. This falls in line with Hardpressed's one-on-one training philosophy, which is "give them the hardest workout they can handle that day," something you're not likely to get at other studios where there are 30 other people in a class.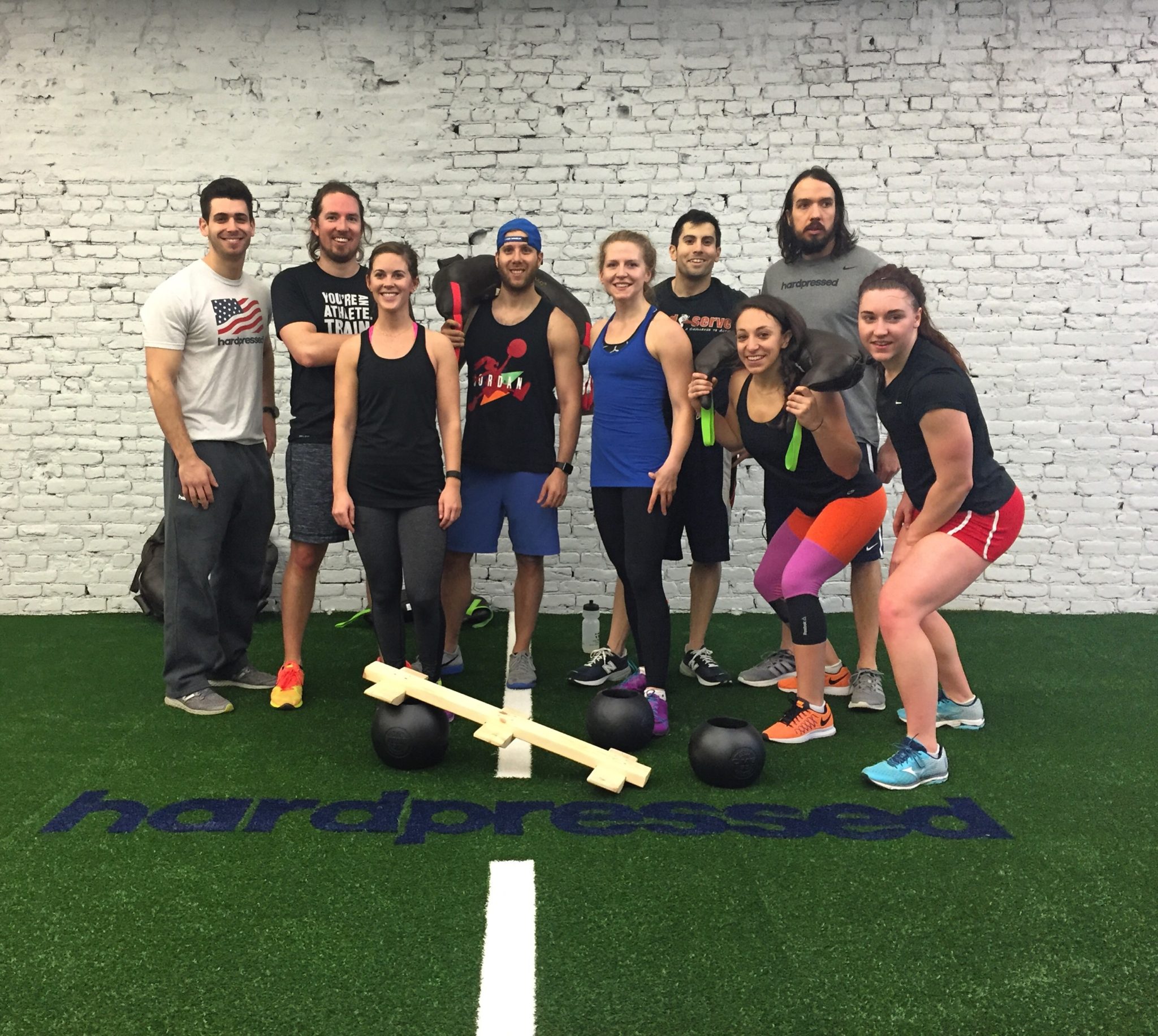 Another thing I noticed was how complimentary this workout will be to my weight training. As with any workout, your body gets used to the same activities over time. You need to continue to shock and confuse your body to continue getting more fit. These group classes are the perfect way to confuse your body from the weight training you've been doing. Additionally, I often notice the first thing to go out the door in my one-on-one sessions is my endurance, which impairs the number of reps and exercises I can complete in a session. Incorporating Hardpressed's conditioning classes along with my Hardpressed strength training should net greater gains in both. Now the only thing missing from the Hardpressed workout arsenal is an active recovery plan, though I don't see Max or Tevah rolling out the yoga mats any time soon.
As an introduction to Hardpressed Strength and Conditioning, new clients (anyone who has not taken a Hardpressed Conditioning class yet) are eligible for the New Client intro 4-pack for $40. After that classes are available in 12-packs ($240), 24-packs ($420), or drop-In sessions for $25. For more information you can visit the Hardpressed website and founder Dan Geraci's latest blog post highlighting the specifics as well as the differences between this and the original Hardpressed.