Five Tips for Those Who are New to the Gym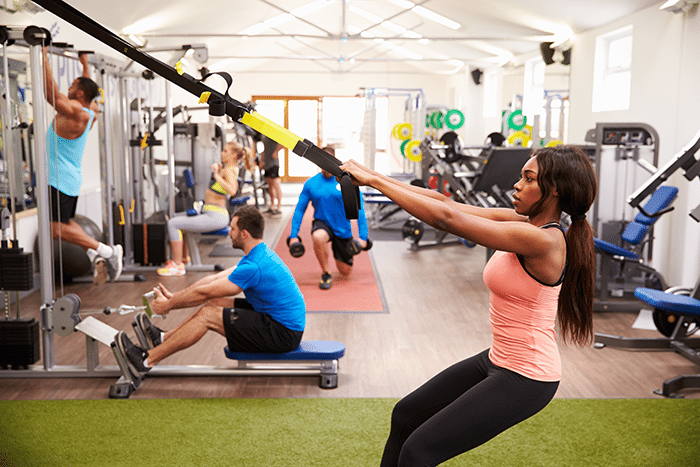 Did your New Year's resolution include a commitment to getting in shape? Did you recently join a gym? If so, let us be the first to applaud you. There's no better time than the present to start setting and keeping fitness goals.
Now that you've signed on the dotted line, perhaps you're feeling a bit apprehensive. All those fit people rushing in and out, sucking down protein shakes, grunting as they lift – it's enough to intimidate even a seasoned athlete. But there's no need to fear. Follow our five tips below, and you'll be a pro in no time – even if you're new to the gym.
Arrive Early for Group Classes
You don't want to slink into the back of a group exercise class as it's starting, especially if the class requires equipment. Show up at least 10 minutes early to give you plenty of time to find a spot and prepare your bike, step, mat, weights or whatever else you may need. Don't forget to tell the instructor that it's your first time in the class; he or she will make sure you're set up correctly.
Ask for Assistance
It's perfectly acceptable to ask another gym-goer how to use a certain machine or where to find the stretching area. After all, everyone was new at one point, and people are usually happy to lend a hand. That said, if it looks like someone is very focused, attuned to their iPod or in the middle of a set, maybe consider approaching somebody else.
Train with a Trainer
Many gym memberships include a few free sessions with a trainer. Even if you don't think you'll continue with this service, take advantage of the opportunity to learn how to use different machines, practice correct techniques for lifting and figure out appropriate weights for your strength level.
Stretch and Hydrate
Take at least a few minutes after every workout to stretch your muscles. Reach for your toes, do a few side twists, drop into a runner's lunge and flex your foot against a wall. Remember to hydrate throughout your workout and continue to do so after you've finished.
Be Confident
Who took the awesome step of signing up for the gym? You did! Be proud of yourself. Walk in with confidence – pull your shoulders back, smile, get to know the front desk staff and leave any lingering doubts in the locker room. Pretty soon, you'll be the one newcomers are approaching for help.