Go From the Studio to Street with Our Winter Style Guide
Looking good in the latest athleisure-wear trend isn't just about impressing your fit-friends. Studies suggest that the clothing we wear changes the way we think and act – so, thank you new tank for the confidence boost and killer workout! Based on the research (look good, feel good), we compiled our fit-fashion favorites for the season to keep your mood-boosted and workouts revved so you can tackle those New Year's resolutions as you go from studio to street.
Winter Style Guide: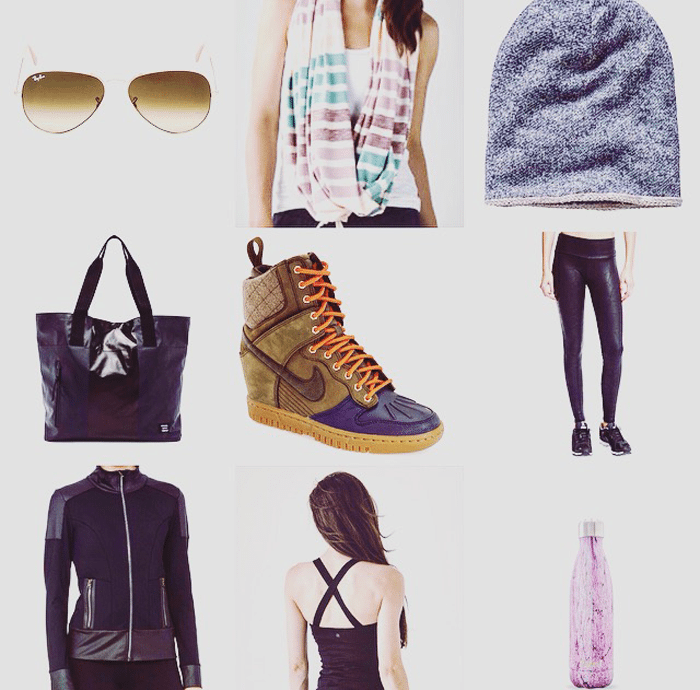 Fashion and function meet in our winter style guide, taking your look from the studio to the street with a few staple items. The key is to layer pieces to your look that will wick away your hard-earned sweat during class when the temps start to drop, while adding warmth to your ensemble when you step outside the studio.
As you start to layer on pieces, add style to your outfit through subtle patterns and textures (like snake skin and nylon) while keeping a monochromatic color scheme. Playing up textures rather than colors is a fool-proof way to mix and match without looking like you got dressed in the dark (which we often do as we're dashing out the door for 6:00 am spin class).
Look the part whether you're crushing it in boot camp or meeting your girlfriends for brunch with aSweatLife's Winter Style Guide:
Leggings: Full length leggings will allow you to wear them to and from the studio without your ankles getting cold. We love the ONZIE High Rise Legging in Coccodrillo because the glossy texture and subtle pattern adds interest, without drawing major attention to your (e'hem) rear like a loud, colored print can sometimes do.
Tank: Opt for a 2-for-1 cami/bra combo so that you can quickly swap your sweaty tank for a fresh one post-class. We're all for consolidating our gym-bag packing list and a cami with a built in bra does just that; no need to pack a sports bra. The Montiel X-Back Cami provides enough support for during your workout, and the solid black design is a great base layer for your street-style look.
Moto Jacket: Adding a cozy layer of warmth over your workout tank is key during winter. Opt for a stylish, yet technical fabric, layer such as the ALO Yoga Moto Jacket. The glossy finish adds just enough fashion that you'll disguise the fact you're wearing it for function (to wick away sweat).
Scarf: Lock in heat with a cozy, oversized scarf like the LULULEMON Vinyasa Scarf. A must for any studio-dweller; the soft, stretch, technical fabric of this oversized wrap prevents itch while your sweat glands might still be working in over-drive post-class. Not to mention you can wear the scarf ten different ways to change up your look!
Hat: Let your hair down after the gym but fool your friends by throwing on a cute hat that will not only keep your ears warm, but cover up your ponytail-kinked hair. We love the effortless look of the Athleta French Terry Beanie.
Shoes: Rain, snow, slush, salt. In winter, the list goes on of elements that will ruin your gym shoes (not to mention the studio floor) quicker than you can say burpee. Opt for a weatherproof, gym-commuter shoe that is oh-so stylish and functional for getting to class on-time. We're slightly obsessed with the NIKE Sky Dunk Wedge Sneaker Boot.
Bag: With all of these layers, you'll need an oversized tote that can fit your gym needs and toiletries for freshening up in the locker room after class that, well, doesn't look like a gym bag. The HERSCHEL Alexander Tote is large enough to fit all of your gear, but trendy enough to tote around town. We like the black nylon which keeps it sporty but sleek.
When investing in new apparel, think about building your base-layer wardrobe with neutrals so you can easily mix-and-match leggings and tanks without giving it much thought; black, white and gray will always look polished when paired together, however we can't say the same for that neon striped tank and patterned leggings. Use accessories like a scarf or hat to add pops of color to your layered look.
Let us know!
Did this post help you get closer to achieving one of your goals?