Fit Gift Guide: 10 Stocking Stuffers Under $30
The holiday season is fast approaching, but don't sweat it (pun intended) – we've got you covered. Spread some festive fitness cheer or get inspiration for your own wish list with these inexpensive gift ideas.
Motivate someone to run a little farther, jump a little higher or squat a little lower with this "beast mode" tank. Price: $21.99
Wrap up these sweat-wicking Nike Elite Lightweight No-Show Tab socks, which come in a rainbow of colors, for your favorite stylish runner. Price: $16
Don't feel like braving winter's chill to get to the gym? Work out at home with this convertible kettle bell weight set. Price: $27.49
Say goodbye to stale fitness routines with the FitDeck Bodyweight playing cards set. Think of it as a personal-trainer-in-a-box. Price: $14.96
Yogis will appreciate this hassle-free yoga mat tote with a handy zippered pocket for the essentials (keys, phone, lip balm, etc.). Price: $14.99
Gifting a foam roller is an arguably Grinch-like move, but the recipient (and his or her muscles) will thank you later. Price: $17.83 (on sale)
Sweatband, hair tie, ear warmer, handkerchief – the UV Half Buff is the Swiss army knife of head accessories. Tuck it into somebody's daypack or gym bag for a fun surprise. Price: $10.69
Tis the season for cookies, pies and cakes. The cookbook Baking with Less Sugar: Recipes for Desserts Using Natural Sweeteners and Little-to-No White Sugar
will help a pal enjoy all the goodies and still stay on track with fitness goals. Price: $16.09
For the girl or guy on the go, a foldable water bottle – which can be scrunched up small when not in use – is the perfect way to stay hydrated. This Vapur Element Bottle is BPA-free and dishwasher safe. Price: $9.99
Know someone who has been very good this year? He or she probably deserves a good long soak in a tub with healing salts that ease tired muscles. Price: $15.75 (on sale)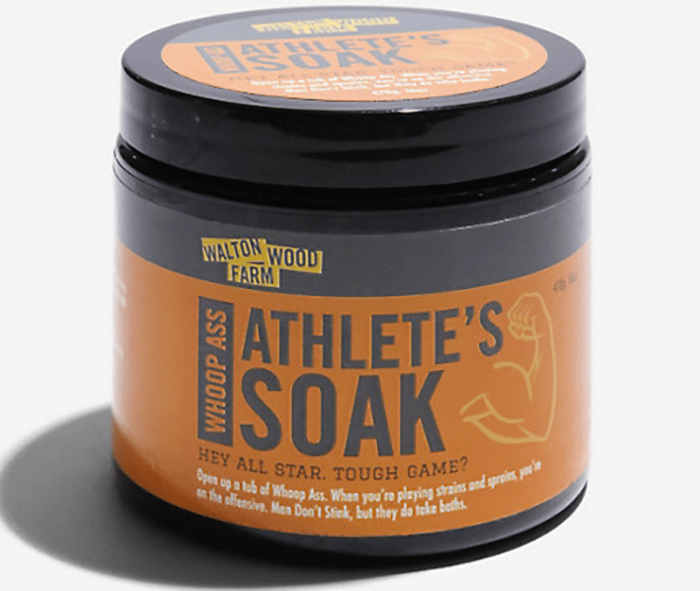 Have a little more to spend? Check out more ideas in our 2015 Healthy Holiday Gift Guide!
(Disclosure: From time to time, we use affiliate links. If you click on the link and buy something, we may make a couple of cents. Blogging isn't free, guys.)