Daybreaker – The Morning Dance-Rave Revolution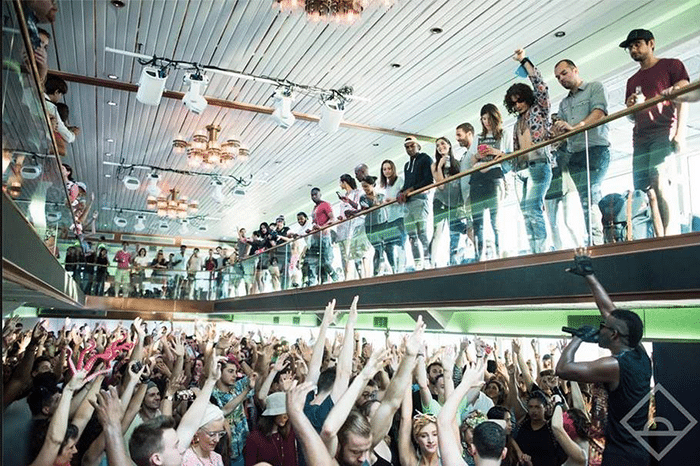 A new trend that has recently entered the Chicago scene, DAYBREAKER, isn't what you'd expect from looking at the photos. Dark clubs glow sticks, DJs and lots of dancing; but it's not the late-night party goers turning up. In fact, it's much different: it's a dance party made to energize your morning and kick-off the day with some serious high-vibes. Did we mention the beat drops starting at 6:00 am?
By definition, DAYBREAKER is a morning movement that will start your day off unlike anything else. It's a global trend with morning dance parties in San Francisco, LA, New York and Miami; all the way to Sao Paul, London, Paris … and now Chicago.
After receiving an email with subject line "(Jingle) Ball So Hard … December 18th" I had to see what this DAYBREAKER craze was all about. The secret December party location disclosed the night before the event turned out to be the iconic Macy's on State Street. More than 200 ugly-sweater clad young professionals showed up before the break of dawn to dance and prance and sober-party. The event was packed with a yoga flow to start the morning followed by DJs, a "White Christmas" solo performance, a drum line and more – all before 9:00 am.
Half workout, half fun and all straight up crazy/weird (in an amazing way) – I'm convinced, and will be starting my day with the DAYBREAKER tribe for mornings to come.
Reading this and still a bit apprehensive about the experience? I've compiled some "things to know" about attending DAYBREAKER and what to expect from the experience:
 High vibes: A 60-minute vinyasa flow kicks-off the morning, with the live DJ spinning yogi-beats to set the mood. The flow was rooted in a powerful intention that encouraged high vibrations only, to not only lift us up (that morning), but let that resonate among other people we interact with throughout the day. This month, DAYBREAKER partnered with Yoga Six, who guided us through an approachable and energizing flow (all levels welcomed and encouraged).
 A workout: You dance a lot, and dancing instigates perspiration. The combination of yoga followed by a cardio-party gets the blood flowing and heart pumping. Don't expect that same endorphin kick you feel after your favorite HIIT workout, but do expect a mood-boosting aura that stays with you all day.
 Serious community: MC of the morning, Abbay Misganaw, had the crowd huddled up in a dance-circle allowing everyone the opportunity to express themselves and show-off their moves. Sounds terrifying, right? The DAYBREAKER community welcomed every single person that entered that circle with open arms and lots of cheers, no matter how good your moves were. The community had you feeling like a rock star.
 A new way to "party": Sober socializing? What a concept. Feeling nervous upon entering the venue, you're not sure if it will be awkward dancing and mingling without any "liquid courage." Come to find out, you forget the presence of alcohol once you muster up the confidence to just start dancing. Hours later, you realize you might not need that drink (or four) to get the confidence to have fun on a Friday night. Bonus, you have stimulating conversations that you remember with all of your best pals.
Move at your own pace: My favorite part about DAYBREAKER is you make it what you want. If you're more of the type to kick back and channel everyone's energy, that's totally cool; or, if you want to be on-stage hyping the crowd – amazing. It's a three hour morning movement set to your own pace and pleasure. Come with an open mind and hold no judgment on those around you.
Grove comfortably: That feeling we know all too well after a night on the town; sky-high heels that look so cute, but hurt so badly. Check them at the door! DAYBREAKER style is all about expressing yourself, being comfortable and being dressed to move. Some people came in their work-day attire while many others dressed for a workout. Often times the party will have a theme so it's highly encouraged you dress the part.
December marked the third DAYBREAKER party in Chicago, so be on the lookout for these morning raves to pop up once-a-month at various venues throughout the city in 2016. Sign up on the DAYBREAKER mailing list to get information on next month's party; it will definitely be a hot ticket in town!