Recently I was able to check off an item from my bucket list: running with a celebrity.
Last Friday, actor and comedian Kevin Hart teamed up with Nike+ Run Club to offer an impromptu 5K run along Lake Michigan. This was only one of many "spontaneous" runs that he has organized along his nationwide "What Now" tour, but according to representatives from Nike, Hart's Chicago 5K broke three separate records:
The biggest Nike+ Run Club run to date
The biggest #RunWithHart run to date
The most new members who signed up for the run
What makes these runs "spontaneous" is how little notice is given before they happen. As with previous 5K runs given with Nike in New York and San Francisco, this run was announced only days before on Hart's Twitter page. With 20.6 million followers, it's not hard to spread the word.
Chicago, Get Ready. Field Museum on 7/31– Running @ 7:36AM! REGISTER HERE: http://t.co/UqOx1FcMAm #RunWithHart #NRC pic.twitter.com/AVHfzBlYej

— Kevin Hart (@KevinHart4real) July 29, 2015
Hart is doing his part to help raise awareness about health. According to Hart, "The purpose of this run is to simply get people out and get them motivated about living a healthy lifestyle. Today can be the first step in the right direction of doing what you want to do, living better, eating better, treating your body the way (you) should, which is as a temple."
The run was scheduled to begin at 7:36 am, but I arrived at 6:30 am to find an already large group of excited runners. After signing in, I received a free Nike #RunWithHart shirt and waited patiently as the number of runners slowly increased. According to a Nike spokesperson, 1,700 people had originally registered for the run.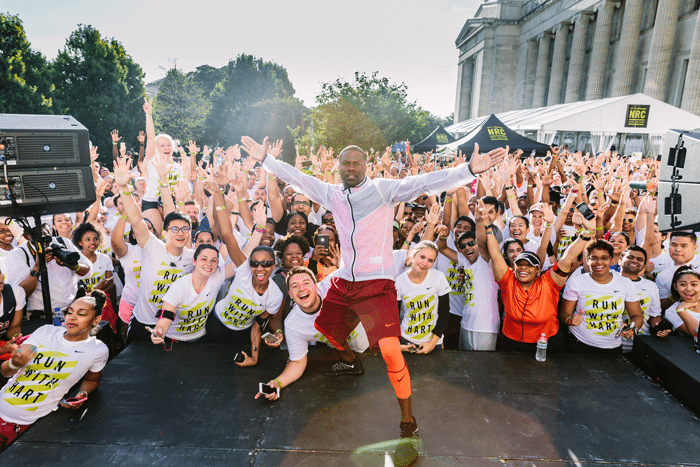 The crowd warmed up with a dynamic warmup led by Nike coaches Emily Hutchins and Robyn LaLonde. Following our warmup, we were greeted by the man of the hour who spoke about the importance of getting out and getting moving. After his quick speech, we made our way into pacer-led groups. I could have chosen the 7 min mile group that Kevin was in, but you probably would have found me collapsed on the side of the road.
Starting and ending at The Field Museum, runners ran north along the lakefront for 1.6 miles before circling back. Hart made sure to emphasize before the run started that he would wait at the finish line and wouldn't stop giving high-fives until every person had crossed.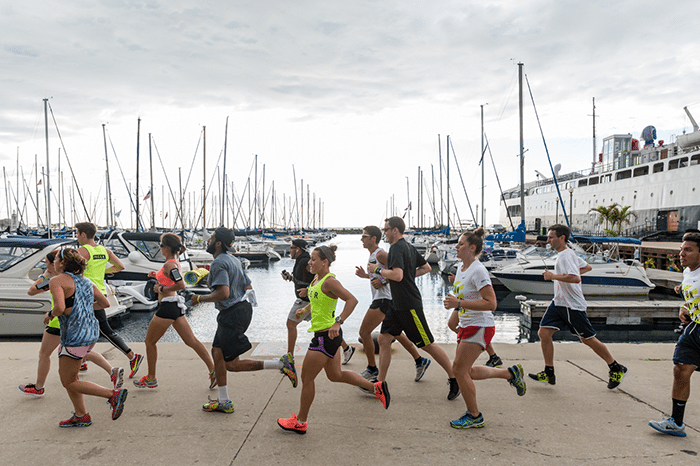 Hart finished in an impressive 21:54 and was true to his word, congratulating every runner as they finished. Once everyone had completed the 5K, they gathered together on the steps of the Field Museum for an epic picture that showcased the power of community in bringing people together in the name of health and fitness.