Don't Be Too Scared to SWEAT!
What are you scared of? That question can have so many answers. What scares you about fitness? And the number of answers might quadruple! There's a plethora of options to get fit, eat right and motivate you to change unhealthy habits. Yet the fear still remains to test the waters of HIIT (high intensity interval training).
As an owner of a boutique fitness studio, the number one comment I hear from people who haven't tried this style of fitness class is, "I'm too scared I wont be able to do it!" When I hear these comments, I think about our industry and how we can better prove to those who have yet to jump into the scene that YOU CAN DO IT!
What people don't realize is that there are NO prerequisites for HIIT studios! The doors are open to all fitness levels. We exist as an alternative to dragging yourself to the gym after work and motivating yourself through a self-created workout.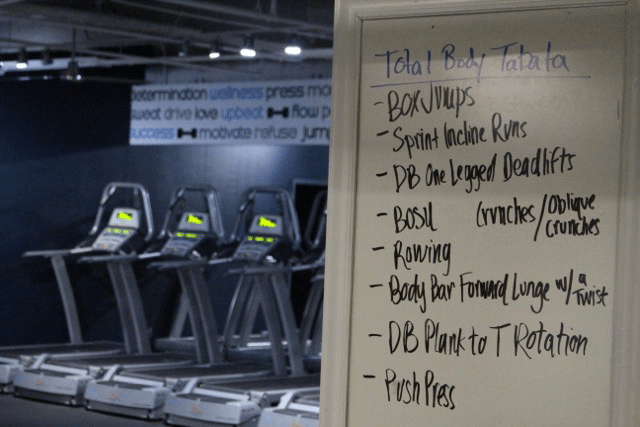 Trying out a new gym is one of the most nerve-racking things for most people to do. It becomes even worse when you realize you're one of only two or two people new people in a class filled with regulars who seem to know every movement and interval without thinking! With so many gyms and concepts to try, it's quite intimidating to step into a class where you don't know what to expect.
On the flip side, we as trainers know what you're feeling and we want you to come back to our classes. Our goal is to make you feel as comfortable as possible while providing you with as much direction as possible to feel comfortable and safe during a super sweaty workout.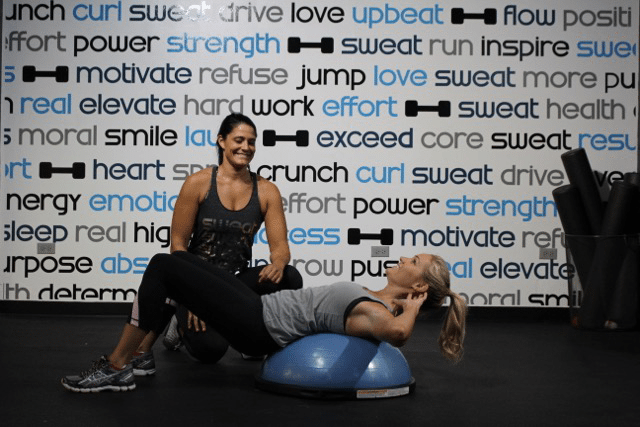 As you start to think about joining in on the sweaty fun, here are a few things that may help ease your fears and inspire you to try HIIT, bootcamps and strength training classes out of your current comfort zone:
1. Gyms WANT you! I'd be lying if I didn't say this first. As we want to grow our businesses, we want to grow our communities even more. That said, the trainers and staff are ready to meet you and make you feel comfortable. When you get in the studios, figure out who your trainer is. Even if we are talking to other clients, we want to learn your name so we can better drive you in the workout, so interject and say hello! We are there for you to make you as comfortable every step of the way.
2. You don't have to KNOW anything. Trainers have certifications and experience to provide proper training to you. While each class will vary at different gyms, no matter what concept you're trying, the trainer is there to inform you how the workout will be structured and how to do each movement. All you have to do is pay attention!
3. You can SCALE anything and everything! In the world of HIIT, every movement you do can be modified to fit your fitness level. Even if the trainer doesn't show you the modified version, ask for the modification on the side after the trainer shows the movements! You may have weaknesses or prior injuries that we are unaware of, but will be completely understanding of. Ask and we will tell!
4. It's YOUR workout. The trainer will be running around like they've had eight cups of coffee with espresso and using catchy motivational quotes to pump you up, but don't forget, this workout is all about you. You go at your own pace even if it means that others are doing more or going faster. It's 100 percent NORMAL to go slower as your body builds endurance to the higher intensity intervals and over time you'll see yourself go faster and faster as you progress on your journey. Take your time, do it right, and don't worry about what others are doing. It's your journey and everyone experiences it differently.
5. Get SOCIAL! Either bring a friend or make a friend. I know it's intimidating, especially in a gym setting. Yet more than likely the person next to you either has or at one point had the same fear of stepping into the class you have so why not bond over it? And if you didn't get to meet your trainer at the start of class, definitely introduce yourself after especially if you plan to return! Laugh when you struggle together through burpees! Yell when you feel that post workout high! Enjoy it!
In the end, the worst thing that can happen is that you get an hour-long kick butt workout and the chance to conquer a fear or two! Those are great rewards for a 60-minute class. Imagine what a routine of these classes will do for you?! An hour-long workout is only about four percent of your day! While every gym will be different and each person's experience will vary, keep an open mind and don't be too scared to sweat!
Paul co-wrote this post with Matheu Martell. Paul and Matheu are avid fitness ambassadors and local Chicagoans. Both are trainers at SWEAT Chicago.