Nike's #TrainChicago is Everything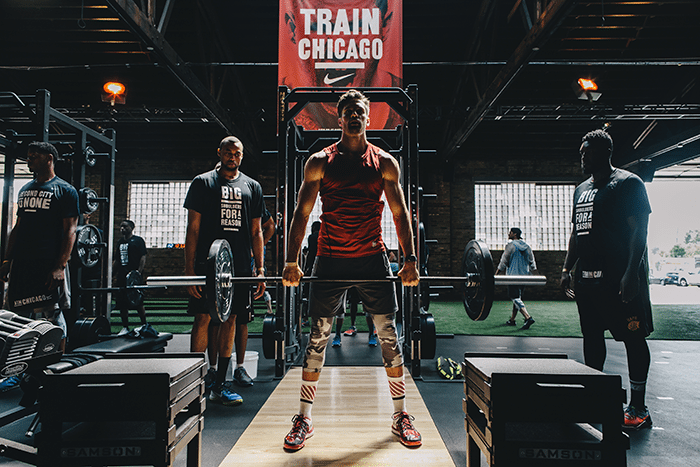 If you have ever participated in a Nike event, one thing stands out – they just get it. Whether it's a race, a training run or some other social sporting event, Nike always delivers a fantastic experience. None of this is more evident than at #TrainChicago, Nike's newest facility for Chicago athletes.
Located on the west side of the city, TrainChicago offers local athletes a series of sport-specific training sessions designed to improve performance through strength and agility workouts. Led by some of the city's top trainers with workouts tailored to football, hockey, baseball, soccer and basketball, TrainChicago offers a little something for everyone. This past Saturday I hit up the hoops specific workout because my pick-up game needs serious work (don't sleep though, this jumper is still wet).
From the moment you arrive at the facility, you already feel like you belong to an exclusive club. I'd imagine this is the same feeling people who actually get bottle service feel, except this is free and you don't have to part with your dignity. The facility is an old, unassuming warehouse, but once inside you immediately know you're at a Nike facility as you notice that the walls are adorned with murals and alllll the motivational quotes.
Upon arrival you immediately get free gear, which is almost always the best part about Nike events. Black and white DriFit shirts adorned with the quotes "Second City to None" and "Big Shoulders for a Reason" are the bounty for showing up to sweat on this particular Saturday morning. Next you're split into groups and given high-impact training shoes (Free Trainer 5.0) to demo.
Once everyone arrives and has checked-in, a garage door raises to reveal a crossfit style gym and a team of trainers/gladiators who probably wrestle bears and lions for leisure. We split into five groups of about 12-15 people. Each group breaks out into a corner of the gym to work with two trainers on a series of exercises. After a certain amount of time elapses a horn sounds and each group rotates onto the next station to begin a new exercise with two new trainers. This process is repeated until each group has done every exercise, then a quick water break before a new phase begins. Think of it as the lovechild between CrossFit and HIIT – only that child is Hercules and addicted to speed and methamphetamines.
Phase One – Flexibility
The first phase is a 30 minute warm-up designed to wake up the muscles, increase flexibility and prepare your body for the upcoming punishment (which I'm totally oblivious to). Exercises include a series of wall runs, hip rolling, spiderman stretches, lunges and resistance band work.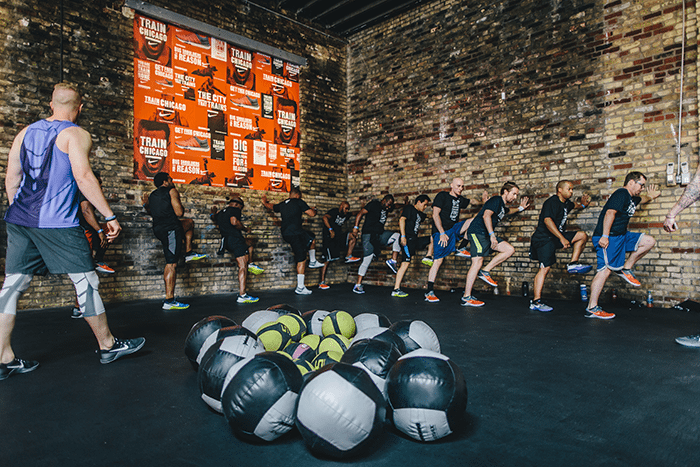 Phase Two – Strength
The second phase is 30 minutes of heart-pounding strength exercises designed to make sure you survive your new bear-fighting hobby. TRX bands, pull ups, kettlebells, hang cleans, pushups, medicine balls, rope slams and some core work for good measure – phase two has it all. "Good thing I'm done after this," I think to myself.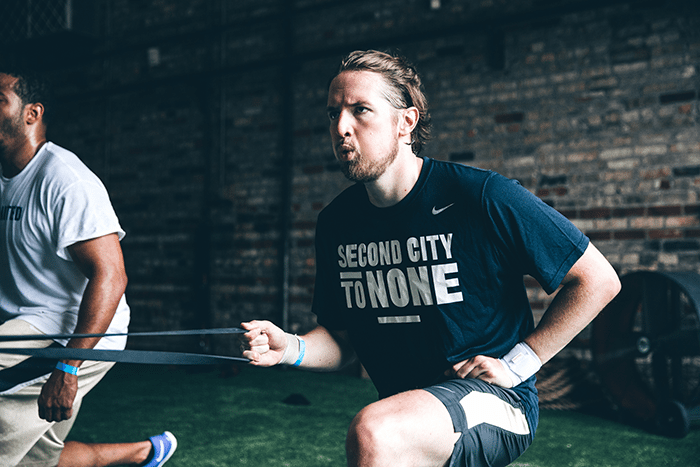 Halftime
What?!? Halftime? Halftime. One hour down. One hour to go. Good thing I read things before signing up for them or at the very least before arriving, I tell myself. Idiot. Water break number two commences when I see him.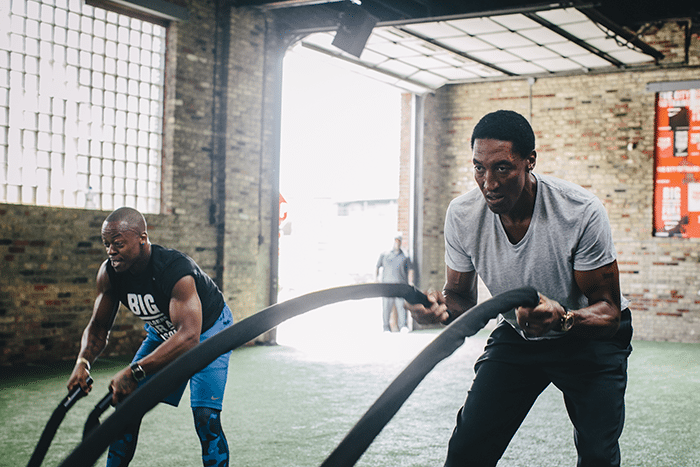 #33. Scottie Pippen is in the house watching this workout. This would be a big deal to most people. To a freak who has vowed to name all his dogs after 90's Bulls players (me) this is a HUGE DEAL! I walk over to Pip and shake his hand. Tell him what a fan I am while trying to remain cool and avoid going full teenage girl at a One Direction concert. One minute you're completely spent and the next minute one of your childhood heroes is watching you put in work.
Nike, everybody!
Phase Three – Agility
There's a buzz in the room. I have a renewed energy now. Phase three begins with 30 more minutes of cardio style work designed to improve agility and quickness. Box jumps, resistance running, ladders, agility jumps, cones and chasing tennis balls are all on display.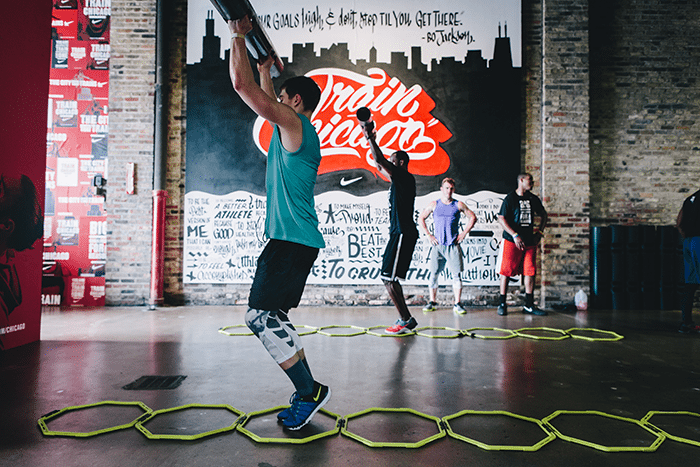 Phase Four – How are we not done yet?
For the last part of the workout we gather into one large group. Since this is a basketball-centric workout, we end by getting in a defensive stance and shuffle based on the direction we're told to move. It becomes a competition as those who lose form are eliminated. When the group is whittled down to enough people, we run everyone's favorite basketball workout – suicides. Only a handful of people make the 21-second cut (I am not one of them). Another run or two sorts out a winner and the workout is over.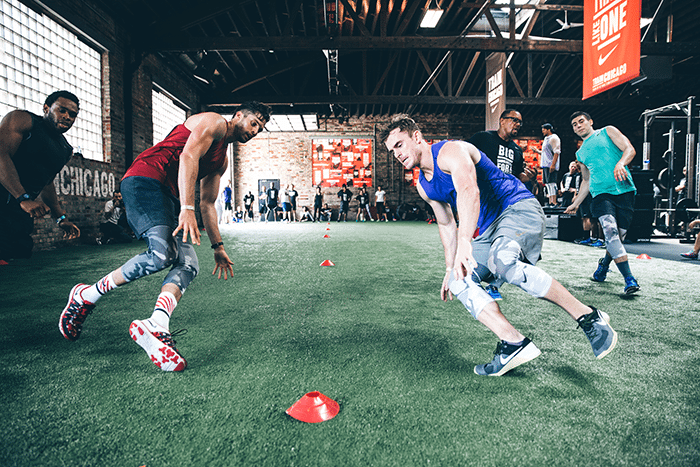 Two hours later there's not a single dry spot on that DriFit shirt. Pretty sure I just found my new favorite way to earn weekend brunch.