InMovement Seeks to Reduce Impact of The Sedentary Day
(Disclosure: InMovement gifted me the Elevate™ DeskTop DT1. As always, we always only write about the products and services that we love.)
Study upon study has placed the impact of the sedentary day at the top of the public-health risk list, finding that "Prolonged sitting leads to increased blood pressure and high blood sugar" and that risk is comparative to smoking. Beyond heart disease, the sedentary workplace has been cited as a culprit by The New York Times in the United States' obesity epidemic. And this is an epidemic – the average American spends 21 hours sedentary (including work and sleep) and spends only three hours being active.
InMovement, a Life Fitness company, is seeking to change the culture of sitting in the workplace by creating a selection of in-office solutions. The company created a suite of elegant workplace desk alternatives, ranging from treadmill desks to desktop attachments that allow one to adjust from sitting to standing without having to remove a clunky desk-top box.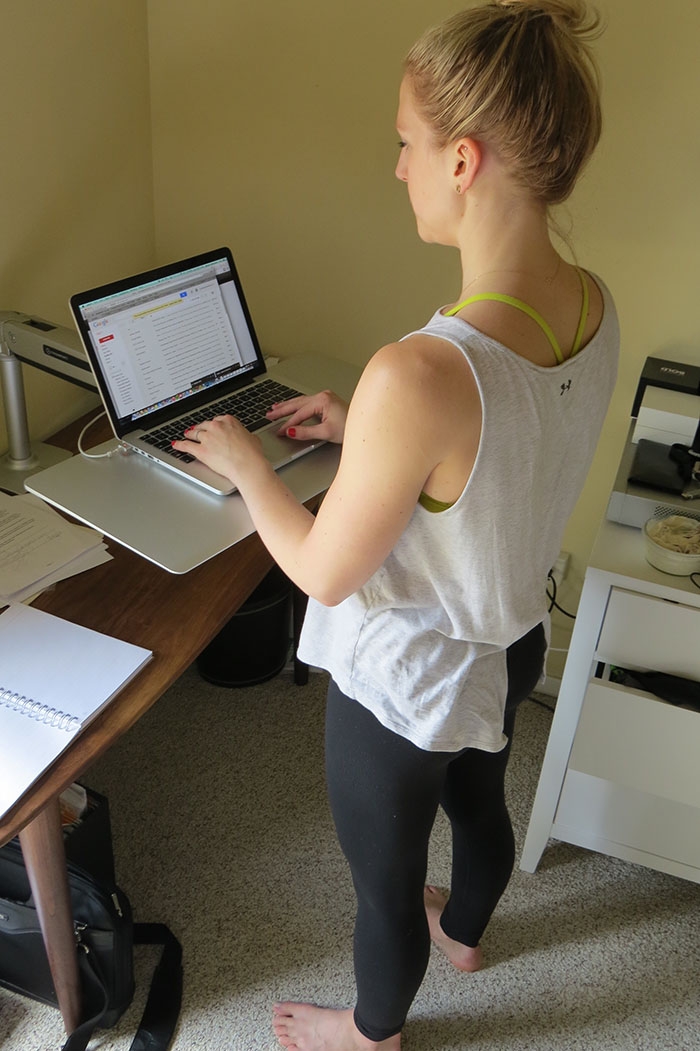 What researchers have found and what's fueling companies like InMovement in their success is that science supports standing at work. Evolution hasn't caught up with our less-active workdays, during which we exert little physical effort compared to the vocations of 100 years ago or even 50 years ago. We sit down in our chairs at 9:15 am, getting up only to catch a meeting, grab a coffee or take a bathroom break.
Not only are the health implications terrifying, the impact on mood and productivity are measurable. According to The Washington Post, the "brain fog" experienced while sitting is linked to your slowed body functions overall.
"Moving muscles pump fresh blood and oxygen through the brain and trigger the release of all sorts of brain- and mood-enhancing chemicals. When we are sedentary for a long time, everything slows, including brain function."
Does this mean that the average worker needs to stand for eight hours in order to stay healthy? Absolutely not. It's a matter of adding more active time to the average work day. Adding just a few hours of activity or standing add up. Standing three hours each day burns as many calories as running three marathons each year.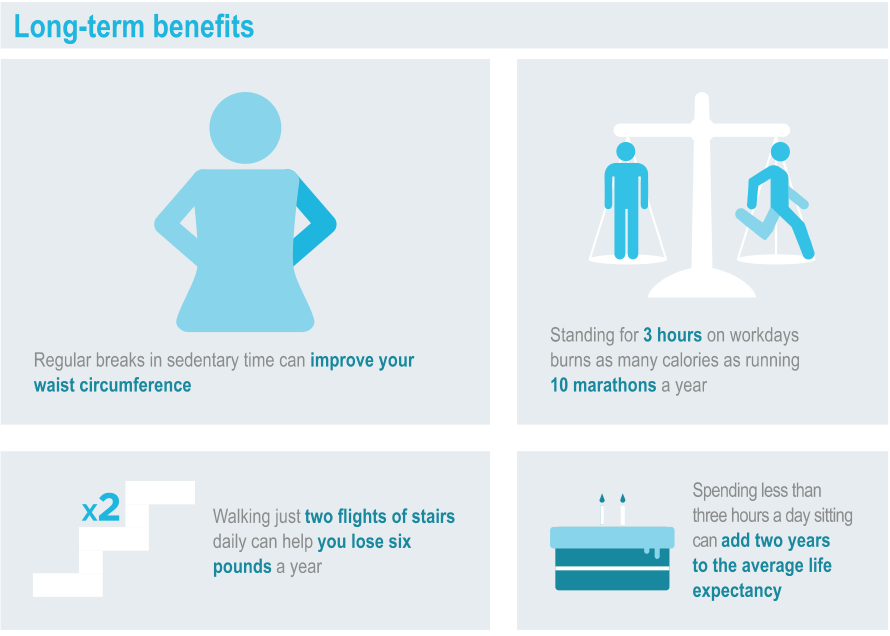 (Graphic via InMovement)
Not only is an active work day beneficial to one's health, it also increases productivity. A study by the University of Minnesota quoted by the Minneapolis Star Tribune found measurable improvement of productivity in workers who were completing tasks on treadmill desks.
"The study, conducted by Avner Ben-Ner, a professor of Work and Organizations at the Carlson School of Management, followed about 40 employees of a local financial services company who regularly used treadmills instead of chairs. Workers had a computer, a phone and writing space on a desk in front of a treadmill set to go no faster than 2 miles per hour. Ben-Ner and his co-authors studied them for a year. What they found was that treadmills increased productivity by nearly 10 percent."
The burden is on employers to make a cultural change. According to the Association for Psychological Science,  your pre- or post-work gym session won't counteract your inactive day.
"If people sat for most of the work day, even if they were physically active and getting exercise in their off hours, they still showed relatively higher rates of anxiety and depression symptoms than did workers who sat for less than 3 hours a day."
You can check out InMovement, but if your company "doesn't have room in the budget for standing desks" you can make your own with the help of Life Hacker.