The Lunch Bunch: Healthy Chickpea "Chicken" Salad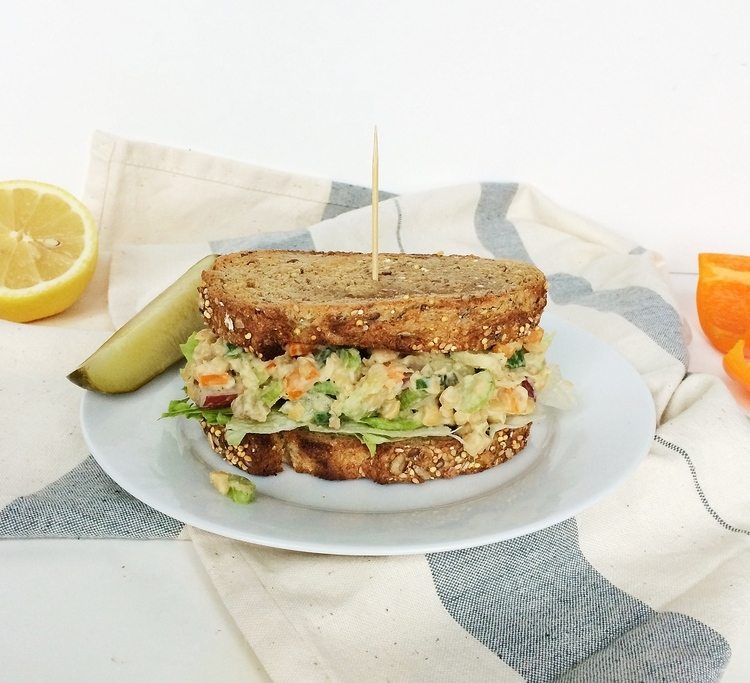 (Recipe and photo by WholeLivingLauren at http://www.wholelivinglauren.com)
My recipe this week comes with absolutely perfect timing and was created by one of my favorite Registered Dietitians, Lauren Blake. Lauren and I go back to our freshman year of college at Miami University of Ohio (eek – already almost 10 years ago) and we really got to know each other throughout our four years of undergrad in Miami's Dietetic program. Her wellness and nutrition blog is called WholeLivingLauren.
Lauren's blog is absolutely inspiring and is full of delicious plant-based recipes. I have always found a vegan lifestyle challenging for people to follow when the right support or nutrition education is lacking. Lauren practices nutrition consulting in Columbus and provides both this great support with some of the best recipes that will convince you that you're not even eating vegan!
As I mentioned, this recipe for chickpea "chicken" salad came at a perfect time for me. I saw Lauren's post a few weeks ago and decided it was about time to try it out myself and share for our weekly Lunch Bunch. After experiencing some pain and discomfort while eating these past six months, I finally decided to take a food sensitivity test. I eliminated eggs from my diet over a year ago when I first started experiencing uncomfortable GI symptoms. These went away for a while until I realized that eggs are not the only culprit. Well, based on my results given to me last week, I am very sensitive to casein – the protein found in milk and most dairy products. (Yes, I have to give up cheese … wasn't too thrilled about that one). As disappointed as I am to learn of the sensitivity, I honestly couldn't be more motivated for a positive change and I'm excited that I have scientific results on which to base my lifestyle changes.
I'm temporarily eliminating all soy and gluten as well for the next 2-3 months until I'm completely healed and back on track; however, it's not a bad change to incorporate long term. My nutrition philosophy focuses on whole, nutrient-dense foods and making lifestyle changes that better you and your body. I do NOT believe in diets, so let's stop using that word right here!
I've worked with clients who have taken similar food sensitivity tests and have completely changed how they feel and look based on their results and subsequent food changes. I'm not simply talking weight … I mean their energy goes up, headaches and brain fog are gone, hair and nails look healthier, workouts get stronger and body composition goals are met. I'm sure you agree, but I want to feel like THAT! I want to wake up energized, feeling like I can kick ass and conquer the world each and every day!
Some people are going to be sensitive to certain foods more than others. The key is listening to your own body and knowing what makes you feel good and what doesn't. How can you feel your best? Maybe simply start focusing on incorporating more meals with whole, nutrient dense foods like this recipe. If you are experiencing stomach problems, an elimination diet of big trigger groups like gluten/soy/dairy is a great place to start. Lastly, if you're stubborn like I am and like some scientific facts to back you up – a food sensitivity test is a great resource and we at aSweatLife will always be here to support you.
This gluten-free/egg-free/soy-free/dairy-free lunch will have you drooling. Even if you skip the healthy description when eating with your coworkers, I promise they will want to steal it anyway! I've tweaked some of Lauren's ingredients to make a bigger batch for your week of lunches and I've provided 5 different ways to keep it exciting each day. Feel free to pick and choose from the Lunch Bunch below based on any of your diet restrictions.
As always, happy lunching! Download your lunch prepping and packing guide here.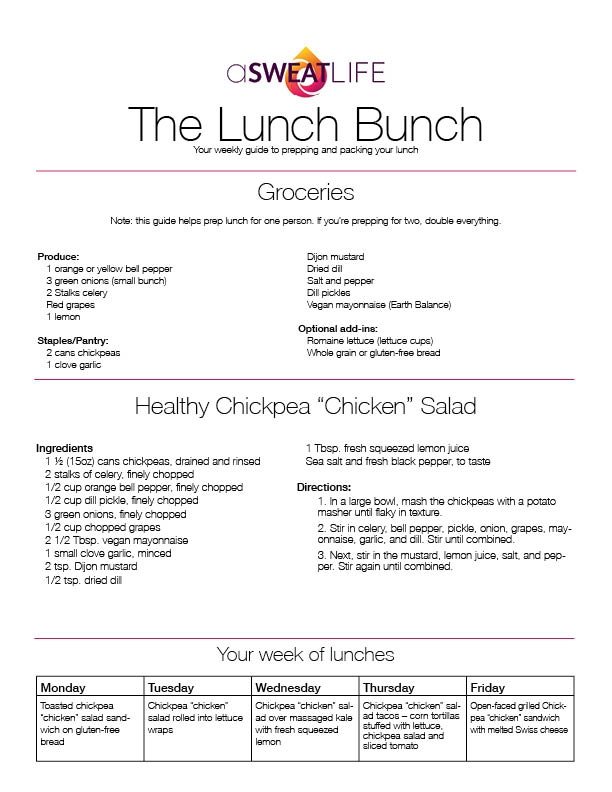 Ingredients 
Produce:
1 orange or yellow bell pepper
3 green onions (small bunch)
2 Stalks celery
Red grapes
1 lemon
Pantry:
2 cans chickpeas
1 clove garlic
Dijon mustard
Dried dill
Salt and pepper
Other:
Dill pickles
Vegan mayonnaise (Earth Balance)
Optional add-ins:
Romaine lettuce (lettuce cups)
Whole grain or gluten-free bread
Recipe: 
Ingredients:
1 ½ (15oz) cans chickpeas, drained and rinsed
2 stalks of celery, finely chopped
1/2 cup orange bell pepper, finely chopped
1/2 cup dill pickle, finely chopped
3 green onions, finely chopped
1/2 cup chopped grapes
2 1/2 Tbsp. vegan mayonnaise
1 small clove garlic, minced
Directions:
In a large bowl, mash the chickpeas with a potato masher until flaky in texture.
Stir in celery, bell pepper, pickle, onion, grapes, mayonnaise, garlic, and dill. Stir until combined.
Next, stir in the mustard, lemon juice, salt, and pepper. Stir again until combined.
Let us know!
Did this post help you get closer to achieving one of your goals?