The Lunch Bunch: Kale Pesto Recipe Five Ways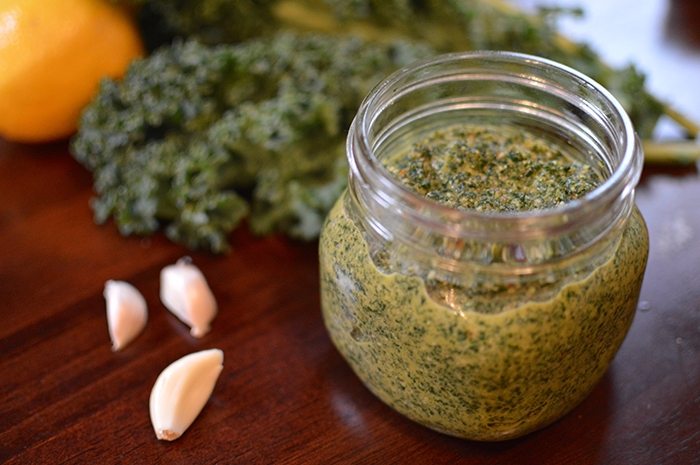 I've been meaning to try out this idea of using kale in place of basil for pesto sauce for quite a while now, and I can't say that I'm disappointed. It's pretty easy to find a kale pesto recipe on the foodie blogs, so I took this inspiration and made my own! For this week's lunch bunch, we're going to make a staple sauce for your fridge and freezer with which you can do just about anything!
What makes me the happiest about this kale pesto is just how easy and convenient it is. The recipe I came up with yields 5 or more servings (roughly 2 cups), perfect for a week of lunches or freezing for later. I've stored mine in a 16 oz. mason jar for the week, but if you're not a huge fan of leftovers, place individual servings in an ice cube tray – this way you can easily defrost the perfect serving right in your pan!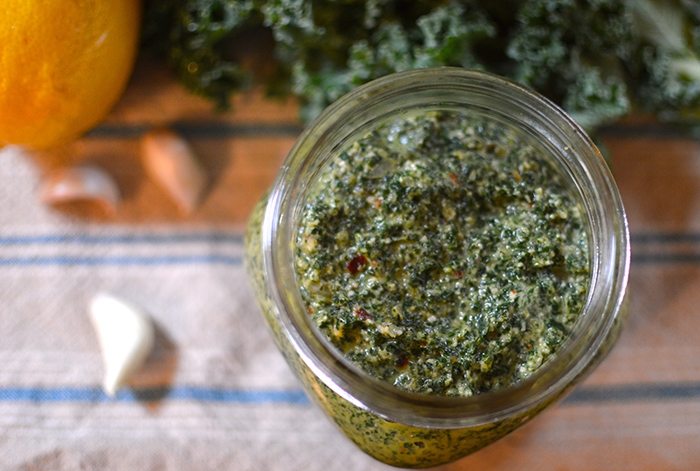 This green goodness glams up any meal to a 5 star, nutrition packed dish. You all know by now from my nutrition rants just how much of a superfood kale is… by now I should seriously buy one of those shirts that say, "I love kale!" This dark leafy green has all the benefits of its leafy green buddies, however it offers a tremendous amount of detoxification properties. By replacing the basil in traditional pesto with kale, we are adding tons of fiber, vitamins A, C and K and not to mention all the other B vitamins and minerals. I've opted for organic kale simply from what I've read about in the Dirty Dozen guidelines. This particular green does tend to contain a few pesticides. Read more about The Dirty Dozen; the choice is up to you!
For lunch this week, I've got a few ideas up my sleeve.  I've used less oil and made this pesto thicker on purpose. I can now use it as a marinade and on other dishes. If you are interested in making a pasta sauce, simply add more extra virgin olive oil when you are rewarming to get to the consistency you enjoy. I'm excited to try out a spiralizer
, basically a noodle maker for veggies, and this will make for some perfect lunches! Try out zucchinis or sweet potatoes, whatever you're feeling like at the grocery store. If you decide to go with zucchini, I've also found this delicious zucchini boat recipe for day two. If I can use any ingredient for two days in a row, that's a huge win. We all want to eat healthy AND save money, right?!
Lastly, as I'm all about keeping things simple – this kale pesto would be a great addition to shredded chicken. Just toss, perhaps add some avocado, making it extra creamy and you've got a nutritious chicken salad for the week.
Get your grocery lists ready, as you have lots of great options this upcoming week! And as always, happy lunching.
Grab and print your one-page shopping and packing guide.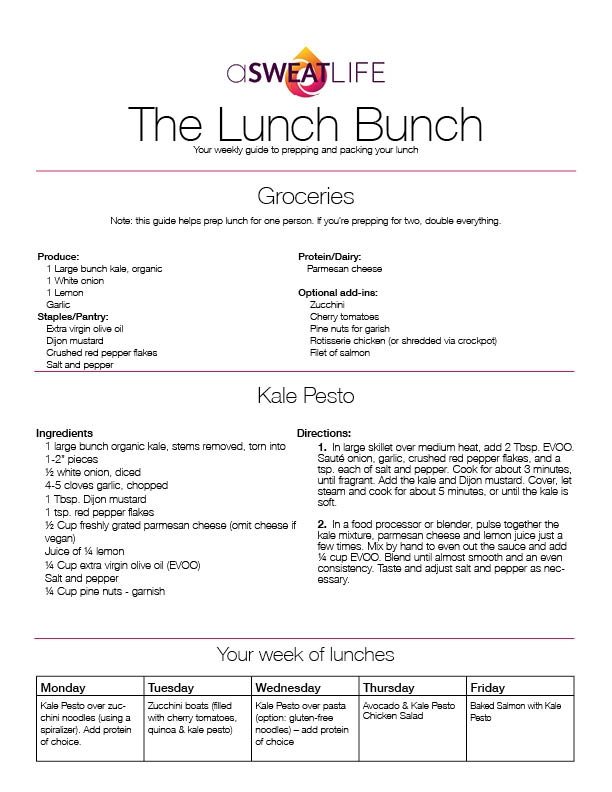 Grocery List:
Produce:
1 Large bunch kale, organic
1 White onion
1 Lemon
Garlic
Protein/Dairy:
Pantry:
Extra virgin olive oil
Dijon mustard
Crushed red pepper flakes
Salt and pepper
Optional add-ins:
Zucchini
Cherry tomatoes
Pine nuts for garish
Rotisserie chicken (or shredded via crockpot)
Filet of salmon
Recipe:
Ingredients:
1 large bunch organic kale, stems removed, torn into 1-2" pieces
½ white onion, diced
4-5
cloves garlic, chopped
1
Tbsp. Dijon mustard
1
tsp. red pepper flakes
½ Cup freshly grated parmesan cheese (omit cheese if vegan)
Juice of ¼ lemon
¼ Cup extra virgin olive oil (EVOO)
Salt and pepper
¼ Cup pine nuts – garnish        
Directions:
In large skillet over medium heat, add 2 Tbsp. EVOO. Sauté onion, garlic, crushed red pepper flakes, and a tsp. each of salt and pepper. Cook for about 3 minutes, until fragrant. Add the kale and Dijon mustard. Cover, let steam and cook for about 5 minutes, or until the kale is soft.
In a food processor or blender, pulse together the kale mixture, parmesan cheese and lemon juice just a few times. Mix by hand to even out the sauce and add ¼ cup EVOO. Blend until almost smooth and an even consistency. Taste and adjust salt and pepper as necessary.