Chicago Meal Delivery Service Kitchfix Prepares to Expand
If you've stepped into a Chicago gym or studio over the past year, chances are that you've seen a Kitchfix (formerly CJK) refrigerator stocked with healthy meals. Chicago meal delivery service Kitchfix closed a $300,000 investment round this June that will help advance the healthy-living company's mission and will fuel the expansion of the company's prep location from a 1,000 square foot kitchen to a new 5,000 square foot kitchen.
But a little more than two years ago in Kitchfix's infancy, Chef Katt was simply seeking a way to turn his passion for food and his reluctance to work in a "crazy restaurant" into a job. He found an answer while teaching after school cooking lessons through Common Threads, an organization that teaches children and families how to cook and eat healthy food.

Katt was approached by a Common Threads board member who was recovering from cancer. She wanted him to prepare meals for her according to the anti-inflammatory diet.
"I read up on the anti-inflammatory diet and I really liked it," Katt said. "I realized that the way I was taught to cook – it wasn't a big step for me to change to meet the requirements of the anti-inflammatory diet."
The anti-inflammatory diet formed the foundation of what would be Kitchfix's nutritional standards – foods that are free of gluten, dairy, corn, soy, chemical additives, preservatives and refined sugars. These standards are now maintained in the company's menu, which changes weekly.
As one client turned into a few and a few turned into more steady corporate clients, Katt took the next step to grow his burgeoning business. He approached his River North church with the idea of using its kitchen to start a business with a purpose.
"I sort of pitched them the idea of having a training program while operating my business," He said.
After hiring two of his early employees from the Cara Program, a training program to help those caught in a cycle of poverty find jobs, Katt said both are still with the company. Two additional employees have been hired and retained from Growing Home, a gardening training program, and Operation Kitchens, a kitchen training program.
"We want to have opportunities for people that maybe other companies wouldn't give," Katt said, "As more of a company culture, we're always giving second and third chances and always believing the best of people."
After building a team to help meet greater demand, Katt reached out River North CrossFit with an idea to offer his meals to the gym's members. Kitchfix offers some food that adheres to the Paleo diet, often followed by CrossFiters, and Katt said that River North CrossFit owner Aaron Wahls was "really excited about it."
"The first day that I showed up, I had 15 people sign up for a meal plan. And then it's kind of kept growing from there," Katt said.
A few of Kitchfix's key milestones happened at River North CrossFit. Katt said, "Those 15 people paid for a month of meals up-front and I bought a fridge and I kept growing that business and then I met my first investor there."
As the refrigerator took its place at that first gym, Katt and team worked to secure other gyms where they could offer members the amenity of Kitchfix meals. Those gyms would act as a part of the hub that would help customers keep the cost of delivery down.
That hub is now made up of 25+ locations that serve as locations for consumers to pick-up meals, whether they're a member of that gym or not. This helps to keep delivery prices down. Ordering meals to be delivered to your home costs $10 per order in Chicago and $20 in the surrounding suburbs, while gym pick-up only costs $3 each order.
Chef Katt doesn't spend a lot of time discussing the diet or weight loss benefits of Kitchfix's food, though he does describe meals as "really really good food that is really really healthy." His reluctance to talk about weight loss doesn't mean clients haven't lost weight or started a healthier lifestyle with the food, the company just prefers to focus on the key compliment it receives: "the food is really delicious."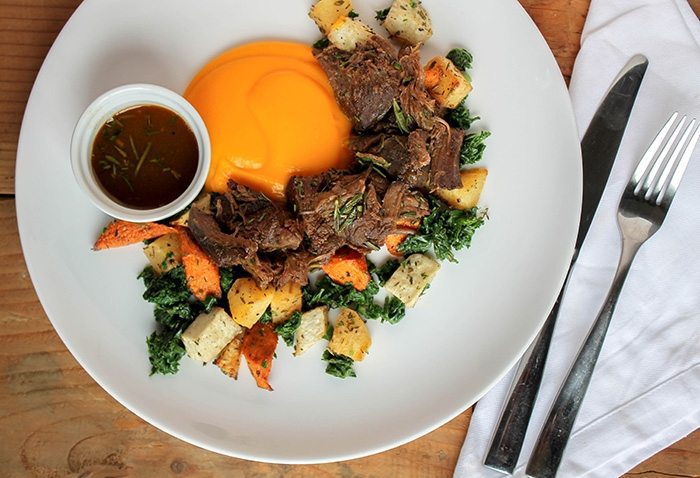 (Rosemary beef photo courtesy of Kitchfix)
Menu items range from $12 to $15 and include items like Mexican Beef Sliders, Shredded Pork with Chorizo-Apple hash and Chicken "fried" Quinoa.
As Kitchfix prepares to open its larger prep space, they're focusing on educating consumers on ordering pre-made, high-quality food. "We just want people to feel really OK about ordering food and reheating a meal at their house," Katt said.