Lunch Bunch: Healthy Chicken Pot Pie Recipe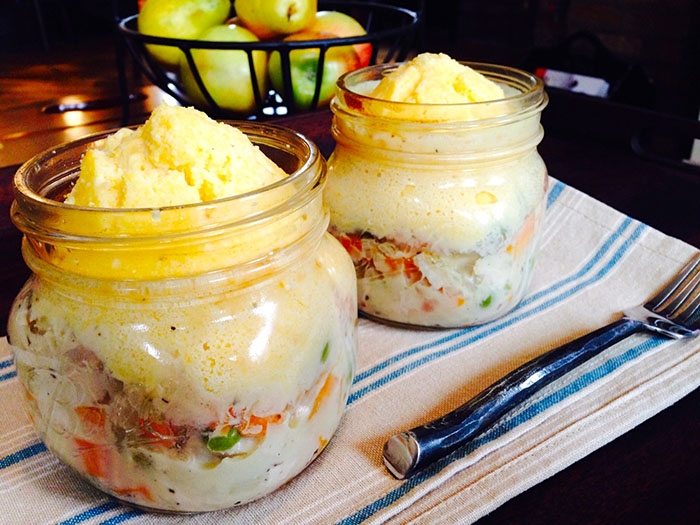 This week for lunch bunch, I decided to create an old school favorite of mine: chicken pot pie. As much as I'd love to think I've always been a health guru, eating perfectly since the moment I could hop on a stool to help out in the kitchen, this is simply not the case. I hate to admit this, but growing up I was that Lunchables loving kid and frozen Stouffer's Pot Pie fanatic.
Despite this shameful fact of mine, I grew up in an extremely active and healthy family. We somehow managed to sit down together to homemade dinner every night and Fruity Pebbles was simply a weird colorful food that I dreamed of at my friend's house down the street. But hey, I was a skinny string bean of a kid running around with two older siblings – between all of our sports and activities, I don't blame my mom for sometimes feeding me that not-so-healthy stuff to get in a few easy extra calories!
I recently read an article that outlines ten common habits that can sabotage our weight loss goals. It was a wonderful review by other Registered Dietitians on what we commonly preach in consulting sessions. One habit mentioned: Striving to be perfect. Holiday parties happen. We have a meal out. We crave that chicken pot pie (okay, I crave that chicken pot pie). We cannot let one poor decision get us down and ruin the rest. Slip ups happen! Just think – each new day is a chance for a new you. With Lunch Bunch, we are already eating healthy for 5 of our 35 meals a week (counting on the fact that you eating 5 meals per day). If 32 of our 35 meals are healthy choices, that is over 90 percent! That is success in my book!
If you have followed my rant so far, you may understand the direction I'm going with the chicken pot pie… I was craving this old school dish that I hadn't had in years. Thus, I starting thinking up ways to make this meal in a healthy way that will leave me feeling both guilt-free and absolutely satisfied. I'm happy to say my creative brainstorming worked and the recipe is a tasty success!
These "pie-less" chicken pot pies are baked in mason jars and topped with cornbread to give you that crunchy, satisfying topping without the high calories or fat. I also used almond milk in the roux for the dairy sensitive. These mason jars are convenient for cleanup, are a simple serving size and easy to reheat. You should find these meals in a jar very filling with very little room to over eat – check that off of our healthy choices list for next week!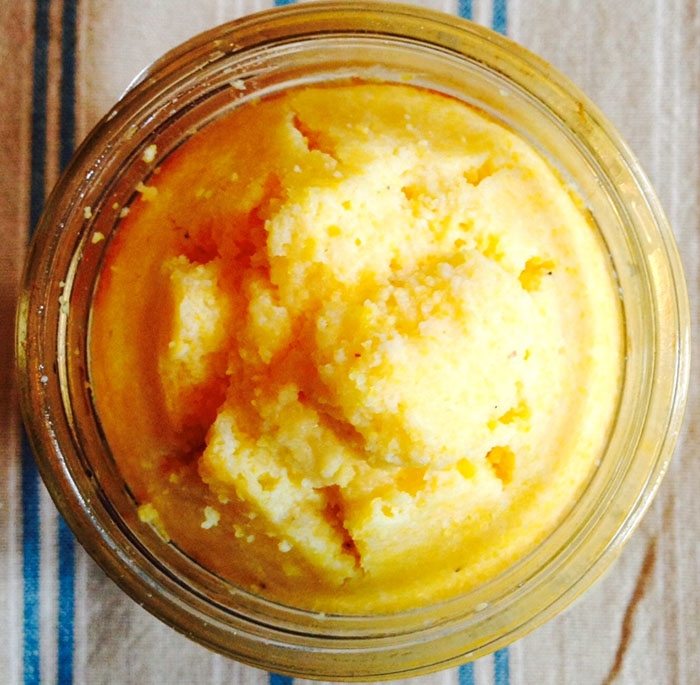 Get your printable  Lunch Bunch here.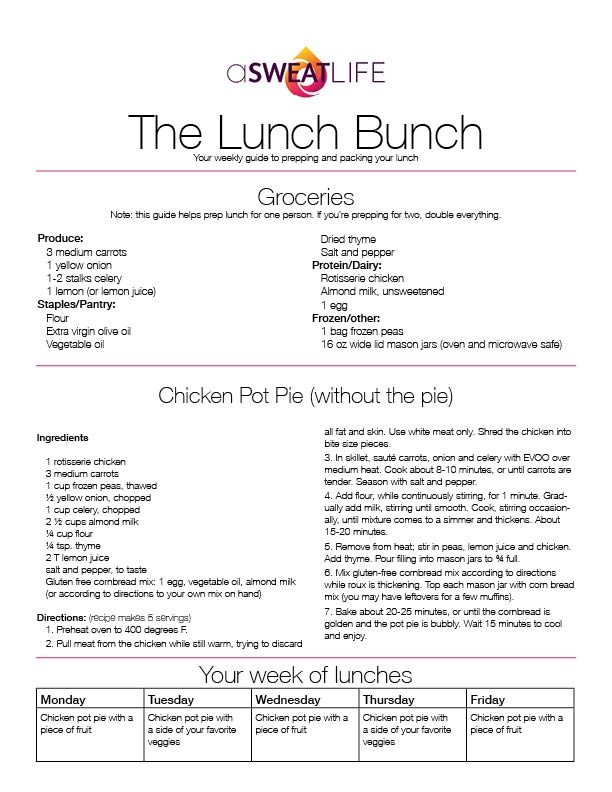 Grocery List:
Produce:

3 medium carrots
1 yellow onion
1-2 stalks celery
1 lemon (or lemon juice)

Protein/Dairy:

Rotisserie chicken
Almond milk, unsweetened
1 egg

Pantry:

Flour
Extra virgin olive oil
Vegetable oil
Dried thyme
Salt and pepper

Frozen/other:

1 bag frozen peas
16 oz wide lid mason jars (oven and microwave safe)
Recipe:
Ingredients:

1 rotisserie chicken
3 medium carrots
1 cup frozen peas, thawed
½ yellow onion, chopped
1 cup celery, chopped
2 ½ cups almond milk
¼ cup flour
¼ tsp. thyme
2 T lemon juice
salt and pepper, to taste
Glutino Cornbread mix: 1 egg, vegetable oil, almond milk (or according to directions to your own mix on hand)
Makes 5 servings
Preheat oven to 400 degrees F.
Pull meat from the chicken while still warm, trying to discard all fat and skin. Use white meat only. Shred the chicken into bite size pieces.
In skillet, sauté carrots, onion and celery with EVOO over medium heat. Cook about 8-10 minutes, or until carrots are tender. Season with salt and pepper.
Add flour, while continuously stirring, for 1 minute. Gradually add milk, stirring until smooth. Cook, stirring occasionally, until mixture comes to a simmer and thickens. About 15-20 minutes.
Remove from heat; stir in peas, lemon juice and chicken. Add thyme. Pour filling into mason jars to ¾ full.
Mix gluten-free cornbread mix according to directions while roux is thickening. Top each mason jar with corn bread mix (you may have leftovers for a few muffins).
Bake about 20-25 minutes, or until the cornbread is golden and the pot pie is bubbly. Wait 15 minutes to cool and enjoy.