Lunch Bunch: Mayo Free Chicken Salad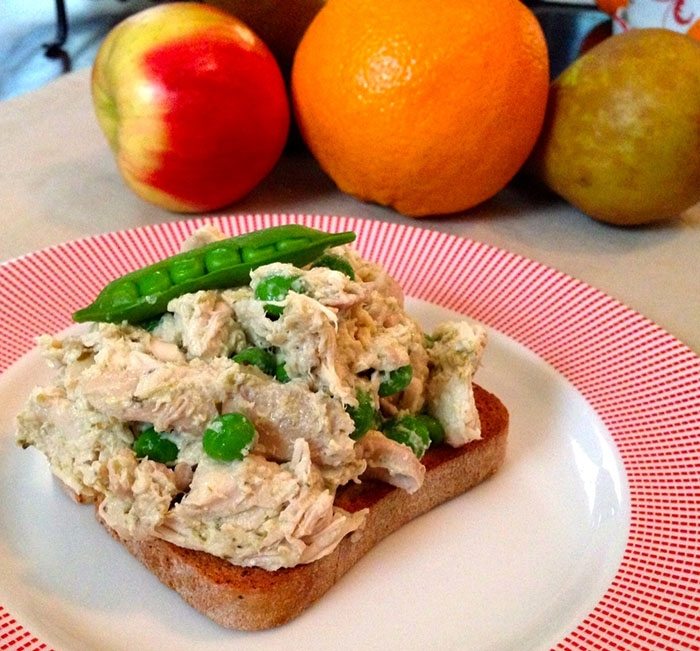 I recently came across a Huffington Post article stating that mayonnaise has become the #1 used condiment in America. Unfortunately, this shouldn't surprise us. We lather this creamy condiment onto most sandwiches and use it as a base for spreads, party dips and even salad dressings! I'm going to tell you some facts of exactly why we should 'hold the mayo' come lunchtime.
One tablespoon of mayonnaise has a whopping average 90 calories and 10 grams of fat. It is an emulsion of oil, egg yolks and either vinegar or lemon juice. I know this all too well from one of my jobs back in Australia as a kitchen hand. Of my many food hospitality jobs – I really got my hands dirty with this one. I learned quickly about food prep techniques, urgency and kitchen chaos; and that making mayonnaise was my least favorite job on the list. After mixing a few gallons of this creamy stuff and being covered head to toe in dozens of eggs and buckets of oil – you may feel the same way!
Okay back to the facts … this condiment is high in calories and sodium with practically no nutritional value except for the fat. It is an empty-calorie food. We need to switch this out with a nutrient-dense food in our lunches that has fewer calories and more nutrition. Seems way better, right? Some of these great substitutes to think when making mayo free chicken salad  are hummus, almond butter, mashed avocado, Greek yogurt or pesto.
For my chicken salad, I've swapped out the mayonnaise for my favorite brand of Greek yogurt – Faye 0%. This Greek yogurt is packed with protein, contains no added sweeteners and has an abundance of probiotic cultures to aid in digestive health. Not to mention you will keep that same creamy texture of a traditional chicken salad.
I've mixed the yogurt with some store bought basil pesto (feel free to make your own) to give a boost of flavor and then added peas for an extra crunch. Edamame and pine nuts would also make fantastic additions. I hope you enjoy this delicious, nutrient dense dish for this week's #lunchbunch!
Download and print the lunch bunch to take with you to the grocery store here.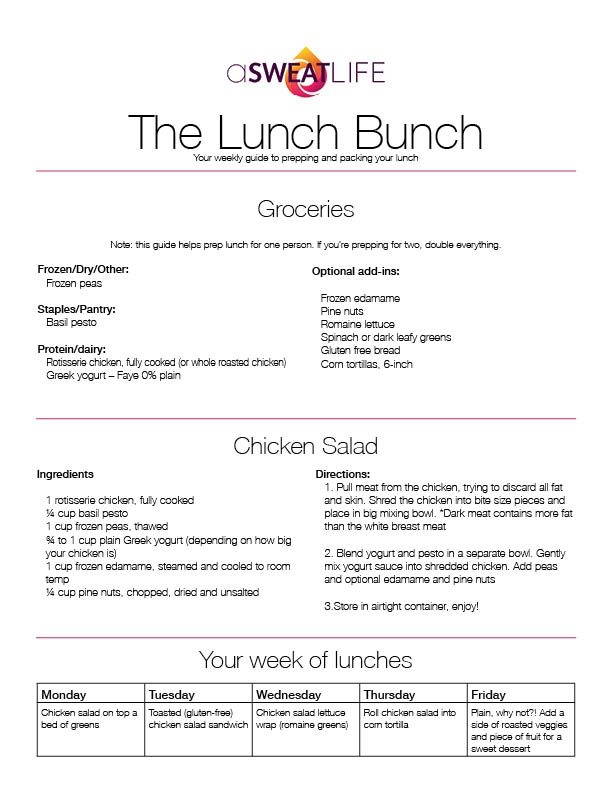 Recipe:
Ingredients:
1 rotisserie chicken, fully cooked
¼ cup basil pesto
1 cup frozen peas, thawed
¾ to 1 cup plain Greek yogurt (depending on how big your chicken is)
1 cup frozen edamame, steamed and cooled to room temp
¼ cup pine nuts, chopped, dried and unsalted
Directions:
Pull meat from the chicken, trying to discard all fat and skin. Shred the chicken into bite size pieces and place in big mixing bowl. *Dark meat contains more fat than the white breast meat
Blend yogurt and pesto in a separate bowl. Gently mix yogurt sauce into shredded chicken. Add peas and optional edamame and pine nuts
Store in airtight container, enjoy!