Five Lifesaving Lunch Options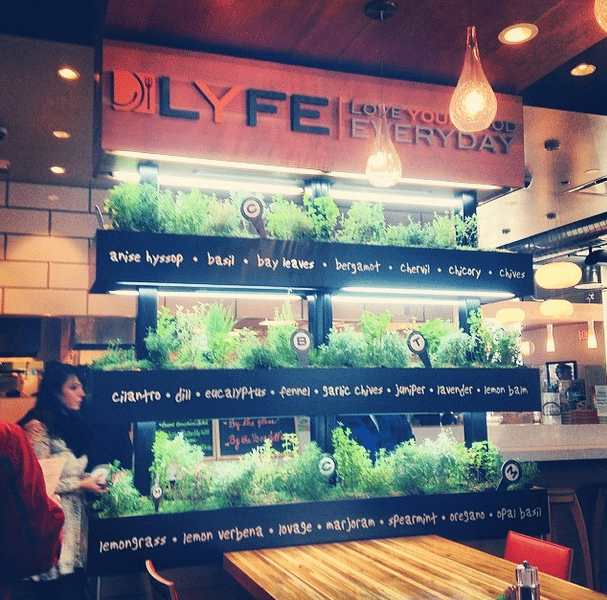 I don't know about y'all, but it's just been one of THOSE WEEKS for me. My wonderful parents are in town, and I admit, I kind of used that as an excuse to slack on buying enough groceries for the week, figuring I could count on leftovers from dinners out to get me through lunch this week. Well, one cancelled flight, a seven-hour drive in the pouring rain, a mystifying hour in which my parents' luggage was lost in the space between their car and their room, and a comped room service bill later, and it's safe to say my plan didn't exactly go according to schedule. I was left today without a healthy, cheap packed lunch to stash in the fridge at work. The horror! The hanger!
Luckily, I have a few tricks up my sleeve when it comes to scouring Chicago for nutritious and wallet-friendly lunch options. Here are my five favorite places to grab a healthy lunch when my life is slightly shambly and I need food, stat:
1. Native Foods Cafe (locations in the Loop, Wicker Park, Lakeview, West Loop, and Hyde Park)
Native Foods Cafe is one of my favorite restaurants in Chicago, period. Their quick-service menu is entirely vegan and ranges from fresh, healthy salads (the OC Raw Chopper, above, is always my go-to) to comfort food that you typically don't get to enjoy as a vegetarian (the Soul Bowl! My god!). They run a daily special that includes an entree and a side item for $9.95, a deal good enough to encourage me to throw in one of their HUGE vegan oatmeal cream pies as a dessert. Native Foods also has a super-handy "order online" option for days when work is crazy and you don't have time to take a leisurely lunch. They get me.
2. Protein Bar (multiple locations in the Loop, Streeterville, and Lincoln Park)
The Green City Vegan Bar-rito
Protein Bar gets high marks in my book for giving you the nutritional information for their full menu. With plenty of options for the health-conscious carnivores and vegetarians, Protein Bar's menu ranges from salads to "Bar-ritos" to chilli (with chicken or veggie/vegan!) to delicious blended drinks to some amazing breakfast options. Seriously, they have something no matter what time your hunger strikes. They also have a great app that lets you order from your phone, pay from the app, and earn rewards along the way!
3. Freshii (multiple locations across Chicago, including the Loop and newly opened in Lincoln Park)
Okay, truth? I haven't been here yet- but a Freshii just opened on Armitage near the Brown Line in Lincoln Park, and I've been not-so-patiently staring into their window every time I go past for the last six months. You can either build your own bowl or opt for one of their time-honored favorites. A few items on their menu that I'm dying to try? The Superbiotic Green Wrap, the Soho Salad (sans bacon), the Med Life Bowl, and the Banana Nut Crunch Smoothie. Those names are doing something for me, y'all.
4. LYFE Kitchen (413 North Clark Street in River North, at Clark/Hubbard)
LYFE stands for Love Your Food Everyday, so it's basically Fab Fit Chicago's spirit animal. LYFE is the brainstorm of Chef Art Smith, who you may know as being Oprah's former chef and a Top Chef Masters contestant a few times. Art had something of an ephiphany and realized that his love for cooking was starting to hurt his health, so he revamped his cooking style to focus on healthy, local ingredients that still show off his creativity as a chef and passion for "great tasting food that's good for you." Couldn't have said it better myself. Also, just going into the restaurant to eat is a Zen experience; the entire place bursts with life (no pun intended) and green plants and happy looking people chowing down and chatting. As for the menu, it's handily coded according to different dietary requirements. The Farmer's Market Salad speaks to me, as does the Roasted Mushroom and Goat Cheese flatbread.
5. Chipotle (probably one on your street corner right now)
Okay, hear me out. Maybe you stayed out a little too late on a Thursday night at karaoke. Maybe you're having a rough week at work. Maybe your umbrella turned inside out in the middle of a downpour and you look/smell like a wet dog. MAYBE YOU JUST REALLY WANT SOME GUAC, OKAY? No one's judging you. Enter Chipotle, the quick service Mexican restaurant that is one of college students' four main food groups. Here's the thing- Chipotle is what you make it. Sure, you could go overboard with a cheesy burrito, white rice, and refried beans. But that wouldn't feel good, now would it? Make your Chipotle healthy with a few simple tricks: load up on fresh veggies and lean protein (grilled chicken), opt for a burrito bowl with brown rice or a salad bowl to get rid of the 290-calorie flour tortilla, skip the cheese and sour cream, choose black beans over pinto beans, and voila! A guilty pleasure meal that you don't feel guilt over. Pssst! Plan ahead using Chipotle's nutrition calculator. Knowledge is power!
Where are you eating lunch today?