Pear salad with basil oil dressing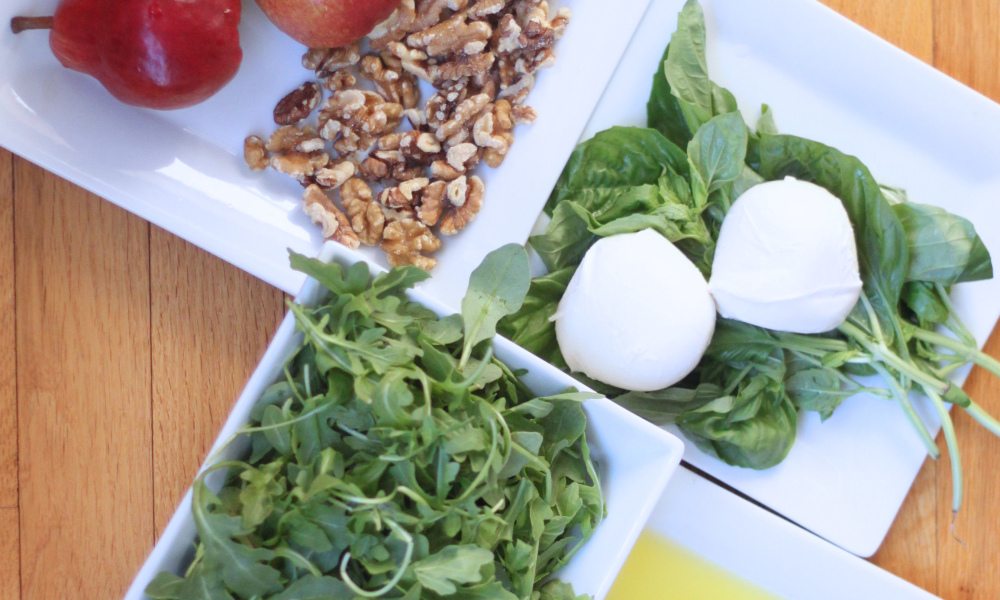 (Recipe adapted from Women's Health 15-Minute training guide)
If you're as obsessed with soaking up every second of warm weather while we've got it as I am, then you're probably looking for ways to add amazing fruits and fresh flavors to your easy weeknight salads. I'm a huge fan of making your own dressing, because it's almost always more healthy and delicious. This salad's dressing offers a fresh herbaceous flavor the everyone at your table will enjoy, health freak or not. Noticing a serious upgrade in recipe photography? The talented Christiana Basso is to thank for that. Dressing ingredients:
3 TBS olive oil
2 TBS balsamic vinegar
1 cup fresh basil
1/4 tsp salt
Salad Ingredients:
2 ripe pears
2 cups arugula
2 large balls of fresh mozzerella
3 TBS chopped walnuts
Directions: 1. Start by combining all dressing ingredients in a food processor or blender.
2. Let the mixture blend for about 1 minute. It should look like a thin pesto when it's done. You could make this dressing alone on a Sunday and use it throughout the week.
3. Divide the arugula in half and place on two plates.
4. Cut the pears into half inch cubes or whatever you consider to be a smallish cube.
5. Put half of the cubed pears on each salad.
5. Cut the fresh mozzarella into cubes the same size as your pears. Cheese is my weakness, I cut up a little extra (about 1/4 cup) to make a snack out of mozzarella marinated in the dressing.
6. Add Mozzarella and walnuts to your salad.
7. Drizzle dressing onto the salad and devour!
Recipe options: you can add some rotisserie chicken to the mix or sub in grilled asparagus instead of pears for a weeknight feast. Enjoy!