Eat Seasonally This Spring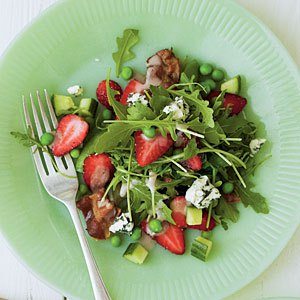 If you're anything like me, you have the grocery routine down to a science. I follow a very specific route around Trader Joe's on Clybourn, starting with the produce, moving to yogurt and juice, then anything canned or packaged and ending with frozen fruit before I hit the checkout line. I tend to buy the same things week after week- both because I'm usually in a rush when I'm grocery shopping and because I have a hectic schedule most weeknights. Being able to whip up something easy without a recipe is CLUTCH when I don't get home until 8:30pm.
Because of my streamlined routine, I pretty much eat the same thing year-round- and as it turns out, that's a pretty bad habit. Following the same diet year-round can get expensive and isn't that great for the environment either, whereas eating seasonally is cheaper and eco-friendly. Plus, by eating foods that are naturally in-season, you guarantee that you're eating fresh, flavorful produce, and you cut down on extra seasonings or oils you add while cooking to enhance flavor. It's a win-win-win.
Luckily, spring is the best time to start eating seasonally, and there are got some great tools that you can use to help you get started. Before you do anything else, check out this interactive map from Epicurious. It shows seasonal produce by state, plus links to recipes featuring these ingredients. Illinois residents, looks like we'll be eating green this spring in more ways than one!
You don't have to limit yourself to what's in season in your immediate area, either. Asparagus, strawberries, beets, spinach, peas, raspberries, and artichokes are all spring produce that are insanely delicious and have tons of variety when it comes to how you use them. Sauteed asparagus and artichoke hearts, a spinach salad featuring beets, strawberries, and/or raspberries, sugar snap peas as a snack… I'm hungry just thinking about all of this.
Other ways to add seasonality to your diet? Fresh-squeezed lemons and grapefruits- they may be available year-round, but they peak in the spring. You can also use the herbs mint and parsley; mint freshens up a cool glass of water, and parsley with olive oil can kick up flavors in a simple dish.
Image from MyRecipes– click through for the recipe!
Personally, I love a good spinach salad with strawberries, craisins, goat cheese, pecans, and raspberry vinaigrette. Excuse me while I go eat such a salad immediately.
You officially have no excuse to not eat seasonally anymore- myself included. Go forth and conquer spring produce- and leave your favorite spring recipes in the comments so that I can try them too!