Class title: Go (50 minutes of Spin class)
Studio: Go Cycle Fitness , 525 W North Ave
Class Focus: Cardio. The class I took had an emphasis on jumps and shorter hills
Cost per class: $20
Money saving offers:
Student discount: $15 (not on the pricing page, but it's listed when you buy a class through MindBody)
Classes can be purchased in packages to bring the cost down to as low as $11 and memberships are available for $125/month, which brings classes down to $10 a pop if you go 3 times/week
Who should take the class:
Anyone trying out a first spin class or trying to take a new spinner to class. They're great at introducing the postures and alignments at the beginning of class so everyone makes it through class with proper form.

The Fab Fit take:
I took two goes at this spinning studio as my first 6 am class found me groggy and unnaturally unhappy about how happy the instructor was. Seriously, Sara, you're great. It was me, not you. I took a second stab at the 50 minute GO class with D.C. and if anyone is qualified to kick my butt it's that guy.
The classes were both intense and very different. If you're like me and you hate doing the same workout twice, you'll appreciate it. It also was the instructors who chose the music for each class. Sara played bands a little house, a little hipster music and D.C. played the Fresh Prince and Jazzy Jeff. No I'm not kidding and yes, I loved it.
Some of the tech features that you'll find at Flywheel, you'll also find in this studio in a little less intense way. You can track your progress and compete on the leaderboard at Go Cycle, but there's no way to see your performance Online after class. The bikes are Keiser brand, so everything is digital and displayed on a iphone sized screen on the handle bars.. I found the tension/torque a little hard to adjust, but it was manageable.
One tiny little thing I absolutely did not like was as follows: as the class starts, a clock simultaneously starts at each bike. So as you look down at your RPMs, Speeds, etc. you literally watch the seconds tick by. This is a personal preference, picky and weird, but I hate being able to see the clock in class. Again. Very small.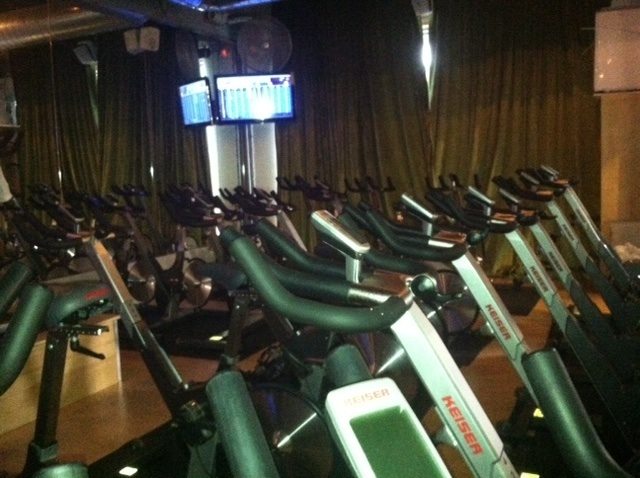 Tips:
Go Cycle Studio is a part of All About Dance Studio – the awning outside of the building says, All About Dance, not Go Cycle
There's a parking lot on Cleveland that is Unmetered – under the El tracks on the East side of the street
The owner is very communicative, helpful and nice. Her email address is listed on the site. I couldn't find parking and emailed her to tell her I still wanted to try the class and she added the class back onto my account. That's also how I found out about the parking lot.
The verdict: The class was fun, but I want to go back to try GO Pump. Take a look at the video for more on the studio from the owner, Emmy.
[youtube http://www.youtube.com/watch?v=Z6bBdMSeMro]