10 Ways To Level Up Your Hot Cocoa This Holiday Season
Winter is here, which means holidays, festivities, and cold weather. There's no better way to get that cozy, warm feeling than with a classic cup of hot chocolate. During this time of year though, a plain cup of cocoa won't suffice!
No matter which of the winter holidays you choose to celebrate, I've got the perfect list of cocoa recipes to make your drink as festive and fun as your heart desires this time of year. I challenge you to try a new variation each day for an advent calendar hot cocoa experience! And don't worry, all the variations below can be done with your go-to instant hot cocoa mix.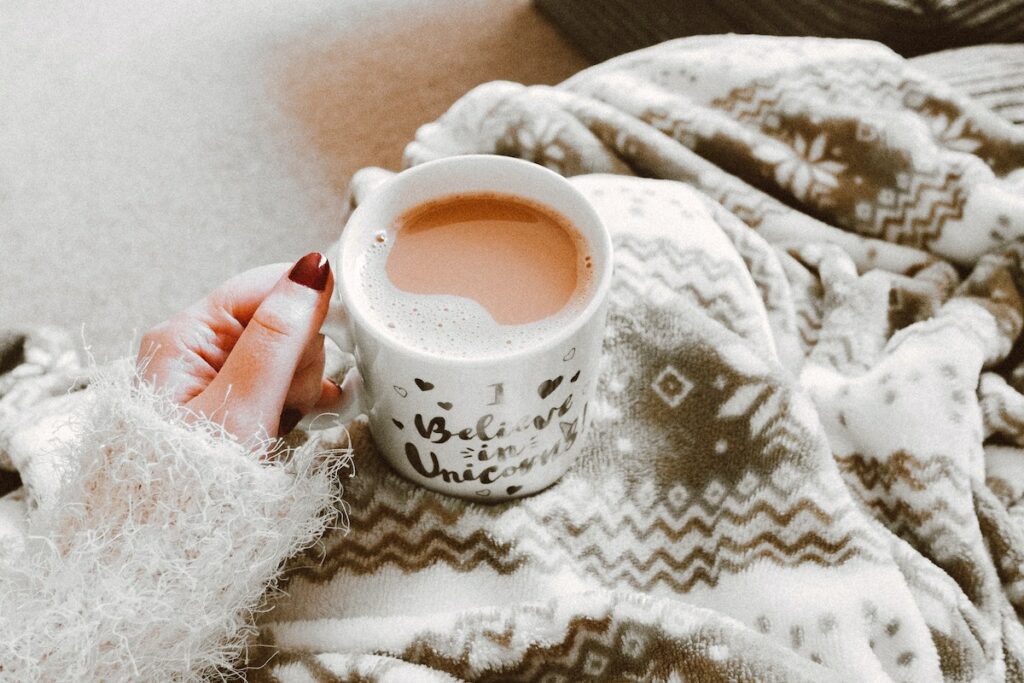 1. Salted caramel hot chocolate
The smell of warm caramel is everything during the holidays!
For the ultimate caramel flavor, you can stick a caramel candy in the bottom of your mug or you can stir in caramel syrup. Top your cocoa with caramel sauce and a few sprinkles of sea salt to elevate the flavor even more. 
2. Peppermint hot chocolate
Nothing screams fa-la-la-la-la like a minty drink rim!
Spread marshmallow fluff along the rim of your mug. Then dip the cocoa mug in crushed candy canes. You can fill it with instant cocoa and hot water. For additional mint flavor, toss in a teaspoon of peppermint extract.
3. Toasted coconut hot chocolate
All the flavors of a samoa cookie in your cocoa!
For this variation, you can add either coconut milk or coconut extract to your mug of hot chocolate. You can then top it with chocolate syrup and a few toasted coconut bits for garnish. This is a hot chocolate spin on one of the best Girl Scout cookies.
4. S'mores hot chocolate
A classic chocolate combination that never disappoints!
Why not elevate the run-of-the-mill marshmallow add-on and amplify it with graham crackers? You can add crushed graham cracker pieces to the rim of your cocoa mug using marshmallow fluff or you can add bigger pieces of graham cracker directly into the cocoa.
5. Spiked hot chocolate
Nothing gets you in the holiday spirit faster than a boozy beverage!
Take the edge off by adding one of your favorite liquors to your cocoa. You can choose from rum, bourbon, Baileys, or Kahlua for a rich, satisfying flavor. This variation is sure to keep you warm on a cold winter night.
6. Gingerbread hot chocolate
This is the perfect cocoa to pair with your gingerbread men!
The key to gingerbread hot chocolate is finding the right combination of spices for your desired flavor. I've seen a variety of spice blends, but a good combination is cinnamon, allspice, and of course ginger. You could also give gingerbread-flavored creamer a try.   
7. Egg nog hot chocolate
Because why wouldn't you combine the two best holiday drinks?!
This creamy combo is both comforting and classic with its blend of flavors. All you have to do is stir your desired amount of egg nog into your cup of cocoa. Top with whipped cream for added decadence.
8. Peanut butter hot chocolate
With this classic chocolate combination, you can't go wrong.
Adding peanut butter to your hot chocolate turns your seasonal beverage into a dessert itself. You start with the cocoa mix, add the peanut butter, then gradually pour in hot water as you continue to stir until it's well blended. Add peanut butter cookie crumbs for garnish.
9. Raspberry hot chocolate
When you mix fruit with chocolate, it makes it healthy!
Most raspberry hot chocolate recipes will call for you to make it from scratch, but the easy way is to simply stir in your favorite raspberry jam, jelly, or preserves. You can then place a few raspberries on a toothpick or small skewer for garnish.
10. Affogato hot chocolate
The hot chocolate version of a classic!
A traditional affogato is an Italian dessert with espresso and either ice cream or gelato. For this variation, you can add a scoop of your favorite ice cream to a half cup of instant cocoa. There are so many flavors you can choose from. Chocolate-based ice creams tend to taste the best.
The bottom line: There are countless hot chocolate additions you can experiment with this holiday season. Hot cocoa variations are always fun to try and test out with family and friends. For you next festive party, I encourage you to set up a hot cocoa bar for your guests. Someone could come up with your new favorite hot cocoa flavor combination!