How to Build a Balanced Protein Shake
As an RD, balanced, homemade protein shakes will always be in my toolbox — and I think my clients would say the same. They're a delicious and convenient way to pack in nutrients during busy seasons of your life.
I put this right in line with stir-fries in the sense that you have a basic structure but can mix and match ingredients so you truly never get bored. This structure can help support satiety and steady energy, plus give you all of the benefits each individual nutrient provides. This is also a great way to add different colors to your eating plan, which can really support a diverse microbiome.
Let's take a look at each overarching category for building a balanced homemade protein shake.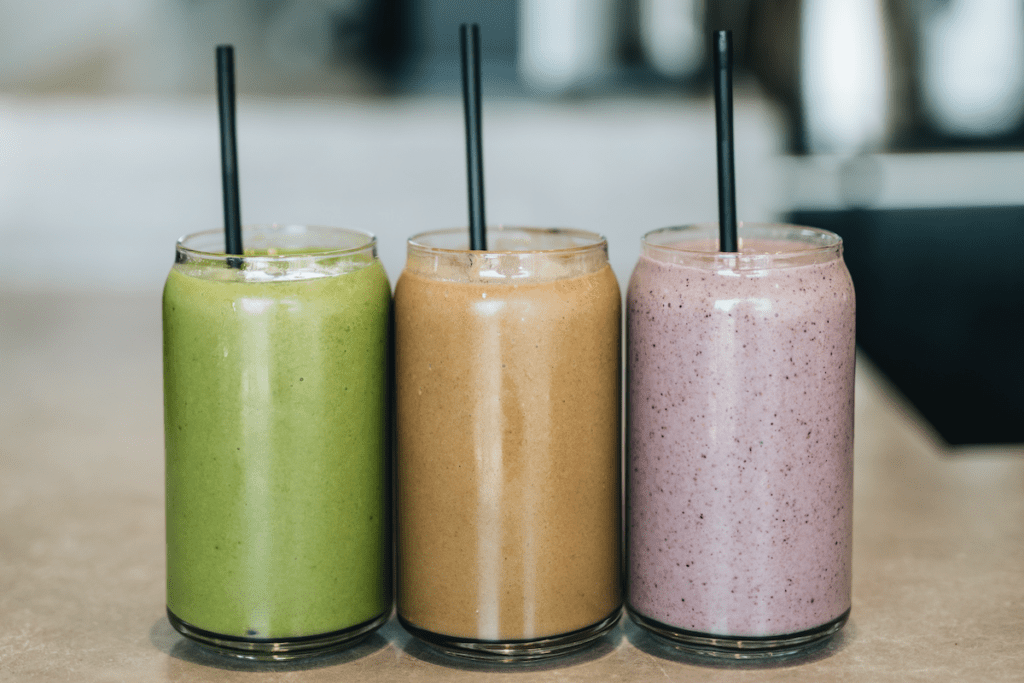 The ultimate homemade protein shake recipe
1. Choose a base
This can be based on preference and tolerance, just like each of the other categories. My personal preference is a milk alternative such as oat, pea, almond, or cashew milk, which makes it creamier.
Just look out for additives or added sugar. You don't need to choose a flavored milk alternative because you'll be getting plenty of flavor with your other additions. You can also use plain water, coconut water, or dairy milk if tolerable as a base.
2. Scoop in a protein powder
This will give you flavor and protein, of course. I personally like vanilla since it's versatile, but you can also add chocolate or other fun flavors. Based on preferences and tolerances, you can choose whey, which is a milk protein, or various plant-based proteins.
Plant-based protein powders generally include hemp, brown rice, or pea. Collagen protein powder is also an option and can support your joints and the gut lining.
Ensure your protein powder has simple, pronounceable ingredients and is sweetened with stevia. Protein is most well-known for building or maintaining muscle but is also helpful in all cell and tissue health and satiety.
3. Add a fruit
You can stock up on frozen fruits to keep different ones in rotation here. Options can include dark cherries, bananas, raspberries, blueberries, and canned pumpkin, just to name a few.
This will also provide the majority of your flavor and give your shake an antioxidant boost.
4. Add a vegetable
You can really add any vegetable you want here, but I've found some work better than others. Kale and spinach are easy, you can barely taste them, and they pack in a ton of nutrients.
I also like frozen riced cauliflower, which doesn't change the color of your shake, unlike the leafy greens. Beets are also antioxidant powerhouses that are great when paired with raspberries or cherries.
5. Finish with a fat
Fat is necessary for hormone health, and it's helpful to be mindful of adding quality fats to meals and snacks. For shakes, nut butters are my personal favorite fat to add, which really help with a rich flavor.
Chia seeds and flax seeds are also great, tasteless additions that boost the fiber as well. Avocado is another addition that can really give your shake a nice, creamy texture. 
Putting it all together
Protein shake recipes are great, but I hope this empowers you to get creative and mix and match ingredients. The possibilities are endless with different texture and flavor combinations from each category. Just find a reliable blender, and work this into your everyday routine!
All of these (along with the fruit) will add to the fiber of your shake as well, which helps keep you fuller longer.