How to Maintain Your Mental Health While Online Dating
Online dating. Some people love it, some people hate it. After my latest dating experience, I currently find myself in the camp of I no longer GAF (pardon my language). A big reason for how I got here is because of that last unfortunate encounter, which inspired me to take a step back and reevaluate and refocus on my own mental health and dating.
Just like you sometimes need a break from things like noise (hello, silence) and social media, you may need a break from dating apps and online dating. However, if you decide dating apps and online dating are for you, be sure to prioritize your mental health. 
Here are some tips about online dating and mental health from mental health experts themselves.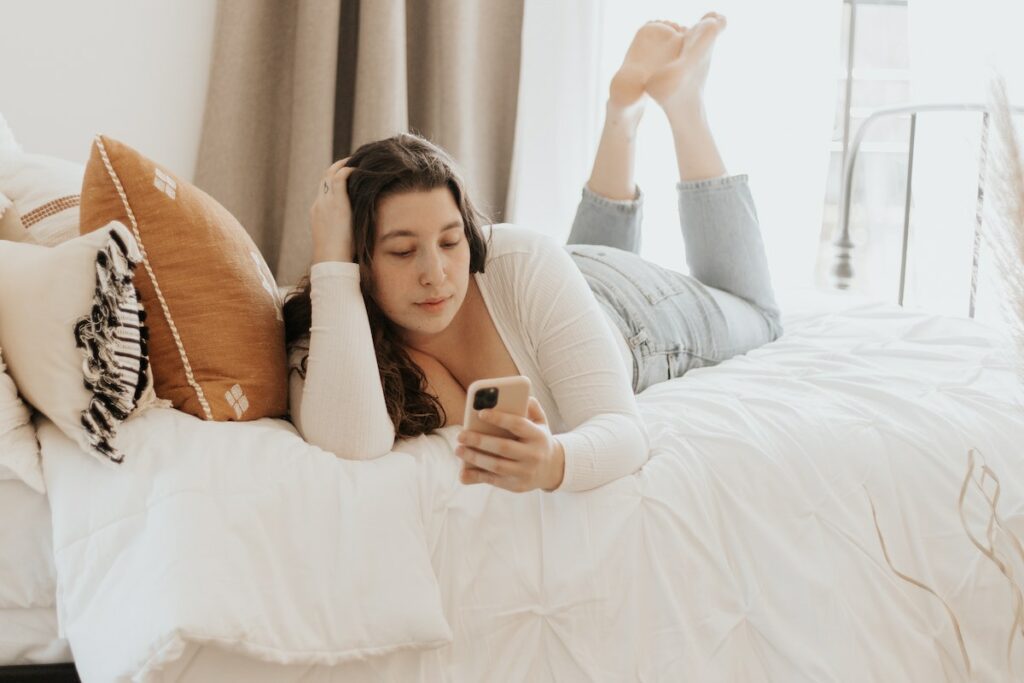 Mental health and dating
It's always important to maintain good mental health, but especially so while dating, states Shauna Pollard, PhD, a licensed clinical psychologist in private practice. "Being stable and grounded as you go through the [dating] process will help you to screen out partners who are not a good fit," she explains. 
Katie Wegner, LCSW, an individual and couples therapist, provides a list of reasons why maintaining your mental health while online dating is so crucial:
To be able to provide your half of the solid foundation for a healthy relationship.
To attract and be compatible with another healthy individual.
To avoid being drawn into a codependent or toxic relationship. (This allows you to be able to identify red flags or traits that wouldn't be a good match for you.)
To be aware and confident of the traits that make you a good partner and be able to demonstrate these traits.
To determine if there are other areas of your life you should be focusing on or if it's healthy or necessary to take a break from dating.
To have the coping strategies to manage a breakup, not being chosen by someone that you choose, or deciding to end the relationship or dating.
To maintain your individuality while dating and then while in a relationship.
Online dating and mental health tips
Clearly, it's important to prioritize mental health while online dating — but what does that actually look like?

Well, it can be as simple as maintaining your health and wellness routine. Wegner says things like exercise, hydration, journaling, meditation, proper nutrition, and quiet reflection are all low-lift ways to support mental health while online dating. 
Continue to maintain individual activities you enjoy as well as family relationships and friendships that are important to you while you also prioritize what's important to you about a partner, relationship, and future, notes Wegner.

Pollard recommends going at your own pace and taking breaks from the apps if you're feeling overwhelmed. "Allow yourself to take a break after any bad dates or to even put the apps away for months at a time," she says.

This is especially true if you're experiencing significant mental health challenges. "I actually recommend giving the apps a break," she says. "Going on bad dates, being ghosted, and having to turn down possible suitors can be very stressful."

Instead, she recommends seeking connection and friendship through other routes as they may be a better starting point. "The apps should not be your only dating strategy," states Pollard.
Finally, therapy can also be beneficial. Whether you're taking a break from online dating or have met someone, Wegner shares that therapy can be helpful to process your thoughts and feelings about someone you've met and if they're healthy or healthy for you. (Take note of that last part here, people.)
The bottom line on online dating and mental health
While my last online dating experience has caused me to take a break from dating apps altogether so I can better refocus on mental health and myself as a person, be sure that whether you're online dating or not, you take the time to prioritize your mental health and do what's right for you.