Supermodel Erin Heatherton Empowers Through Strength at Resistance Chicago
The 7th season of our podcast is a HUGE celebration of fitness – its creators, innovators and everything in between. We made sure to include goodies from the studios and brand we're chatting with for you, so make sure to listen, share with a friend and try something new. And also, make sure you don't miss a single episode by subscribing wherever you get your podcasts including Apple Podcasts and Spotify.
And listening to this week's episode featuring Erin Heatherton and Karol Kocemba gets you a discount on classes at Resistance Chicago. Select "Intro 3-Pack $59" here and enter the Promo code "asweatlife" to get 50% off.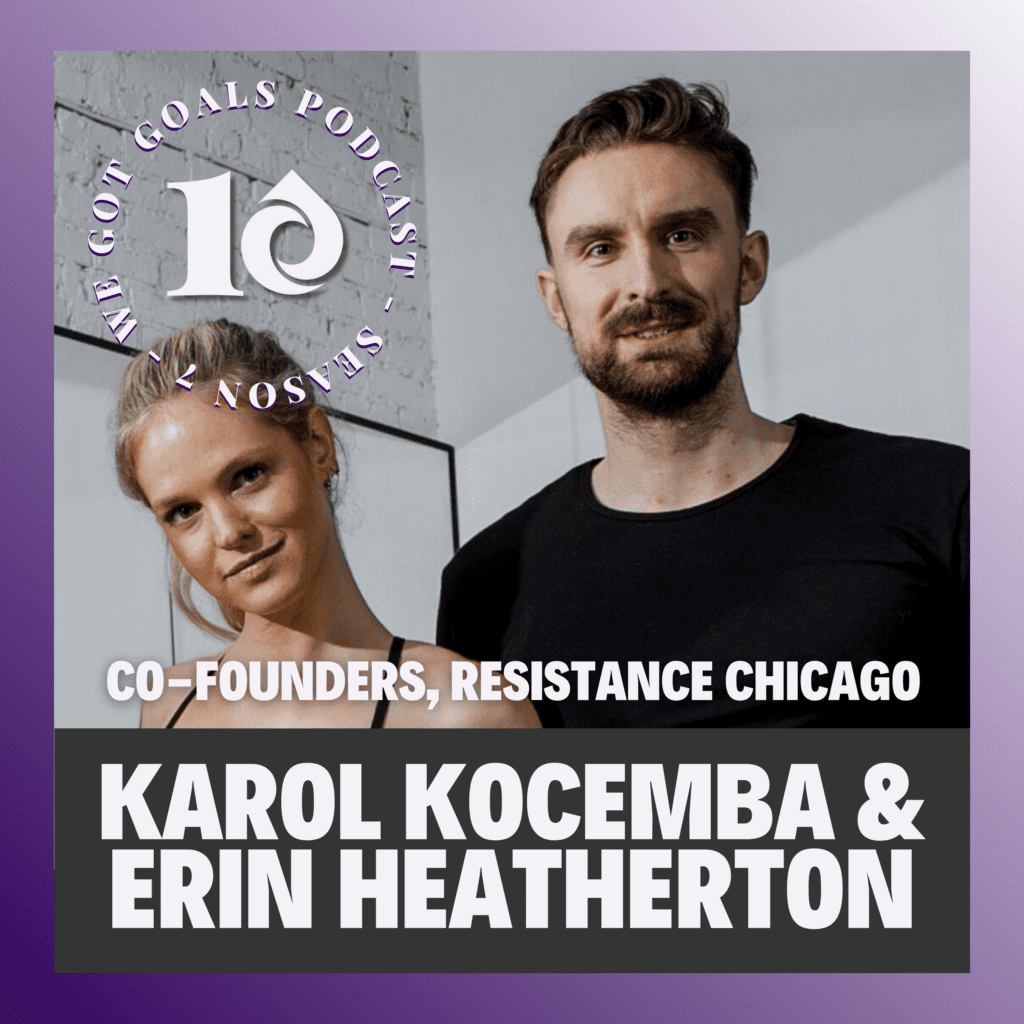 We could talk all day about the pressure of being discovered as a teenage model like Erin Heatherton, co-founder of Chicago-based studio Resistance Chicago, was. She was scouted on the street at 17 and would go on to walk in high fashion shows as well as Victoria's Secret Fashion shows. The pressure comes from being expected to stay that way – a teenage girl – for your foreseeable future.
Erin recently wrote about it, and I'll quote her instead.
"At the peak of my career, there was constant pressure to stay very thin. Even early on, maintaining industry standards was a full time job, but it was possible for my body type at the time. I took my fitness seriously and was motivated by the validation I received … As I got older, I continued to work hard, but the "fit" version of my body looked different. I built my career and my self image on positive feedback that came naturally when I was younger and the foundation crumbled when that feedback turned negative. Shoots and agency meetings that were once fun and rewarding felt depleting and incredibly taxing on my self esteem. I was training twice a day and religiously monitoring the quality of my diet, but my body would simply not return to its 18-year-old shape."
We gloss over this on this week's episode of #WeGotGoals, but before leaving New York City and moving back to Chicago, Erin started to hate fitness. It had become a thing she had to do to whip her body into the shape that was being demanded of her. It was not a thing she enjoyed anymore. So she spent a year not working out, not smoking and getting back in touch with herself.
So when she went to her first Lagree class, it was – as she describes it – humbling. I would say that a humbling experience can knock you off your path, but for her, it was the beginning of a couple of special things: a new relationship with fitness that was healthier and a new relationship with her person. In the middle of her journey to rediscover fitness in a more joyful way, Erin also found Karol Kocemba, who would become her co-founder at Resistance and her fiancé.
They dated, they Lagree'd, and he fell for the fitness modality too and started nudging her to making this passion a business.
I've taken a couple of classes at resistance and the environment is comfortable, small and attentive. The focus is on form and Erin is a born instructor. On the episode, you'll hear her describe the nerves she felt before teaching, but I think she does all of the things that are very important for a good class. She makes you do hard things with a smile. She praises loudly, but corrects quietly. She greets new students at the door instead of waiting for them to wander in. 
She tells me on the episode that feels empowered now by serving people and making them feel good about their bodies and the strength they feel. Contrast that with making herself miserable to maintain an impossible standard that's sold as "beauty."
I'm excited for you to hear the story of Erin and Karol's studio and of finding each other. 
Resources: