How One Yogi Paid Off $30k Of Debt And Created A Financial Self-Care Business
I love the memes that say things like, "I'm so glad I learned about the Pythagorean theorem in high school instead of learning about taxes, debt and savings." Memes like this help me feel less alone every April when I look at my tax paperwork like it's written in Greek. Just me? I hope not.
My lack of a financial education made me feel like a child stuck in a 30 year old woman's body. So, I made it my goal for 2022 to finally do something to educate myself. Serendipitously, a friend of mine posted on Instagram about a personal finance course she took that she said was "life-changing." Ready and willing to try anything to tackle my goal, I signed up on the spot. 
The course is called Heal Your Relationship With Money and Become Financially Free, and it is run by AJ Schneider. Schneider is the CEO and Founder of Beyond The Green, a personal finance coaching company. She founded it after pulling herself out of debt and transforming her money mindset.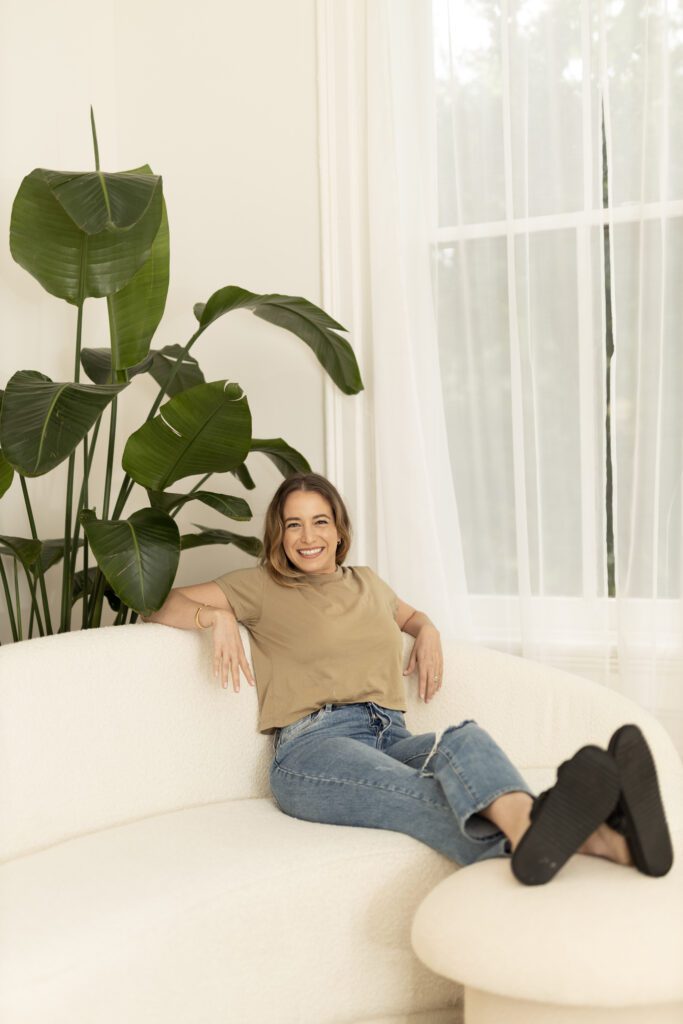 From over $60k in debt to financial stability
At the worst stage in AJ's financial history, she had just moved back to the US after teaching yoga in Australia and traveling the globe. She was in $10k worth of credit card debt that had been sitting in collections for years. She hadn't touched her $34k worth of student loans, and she hadn't filed for taxes in 5 years (which amounted to $10k). Not to mention, she'd started to accumulate $9k in debt to her family. 
"I felt so alone for so long because of my financial situation," Schneider said. "I felt like nobody could understand what I was going through because everybody was better with money than I was."
Overwhelmed and ashamed, Schneider asked a family member to help her face her financial reality. Her aunt held her hand as she opened letters from the IRS, called debt collectors, and set up a budget for the first time. Her credit card debt and family debt was paid off in 13 months, and her debt to the IRS was paid off in 18 months. 
Coming from a yoga background, Schneider was no stranger to the idea of positive thinking, manifestation and acceptance. But it wasn't until she healed her relationship with money that she started to feel her circumstances and attitude changing.
"You can do all the yoga, sound bathing, green smoothies, and face masks. But if you're in chronic fear and anxious about money, you cannot fully relax until you resolve the underlying issue," Schneider said. 
That's why Schneider calls budgeting the "most radical form of self-care."
"This work is deeply spiritual and strategic, and I believe money is energy," Schneider said. "There is no right or wrong way to spend money or manage your time. But if you don't feel good about what you're doing, who you're doing it with, or how you're doing it, then we know there's a misalignment."
How Schneider helps clients heal their relationship with money
In Schneider's Heal Your Relationship With Money course, clients spend a few weeks exploring their beliefs about money and identifying their values before they even start digging into the numbers.
"We cannot create a budget if we do not know what you care about or what you are working toward," Schneider said.
When it does come time to create a budget, Schneider steers clear of any spend-shaming. She makes sure every budget line item makes sense with the person's lifestyle. If spending money every month on boutique fitness classes is important to you, she won't judge. It just might mean you have to make sacrifices in other areas. 
"Sacrifice is essential to this work,: she said. "But the goal is for the sacrifice to feel effortless because you're actually living in alignment with your values."
How to improve your financial health – today
If you have finance-related goals, Schneider offers three things you can do today to put yourself in a better financial position in the future. The first: learn exactly how much money you spend every month and on what. The second: get crystal clear on how much money you earn, including salaries after taxes, bonuses, freelance work, etc. And finally, don't be afraid to reach out for support.
"Your relationship with money is not logical; it's emotional," Schneider said. "Getting your finances in order is hard stuff, and you don't have to do it alone."
Beyond The Green offers the Heal Your Relationship With Money Course five times per year. Head to their website for more information.