Why Saying "I Go To Therapy" Is The Hottest New Line on Dating Apps
Now that we know how to somewhat exist in a COVID-19 world, the dating scene is booming. And when you're "single and ready to mingle," you're probably trying to make yourself more attractive to potential matches. When I was trying to reel in my current partner, I intentionally researched endurance sports while sitting in front of him in class. One day he noticed and asked me if I was into running. The rest, as they say, is history. 
How we present ourselves to potential dates will look different for each of us. We may emphasize our physical appearance, highlight our accomplishments, or brush up our dad jokes. But what we think will make us a catch changes over the decades. For example, a woman in the 1950s may have been more desirable if she told her suitor that she wanted to get married and have children right away. Now, women who are more industrious are viewed as attractive as well.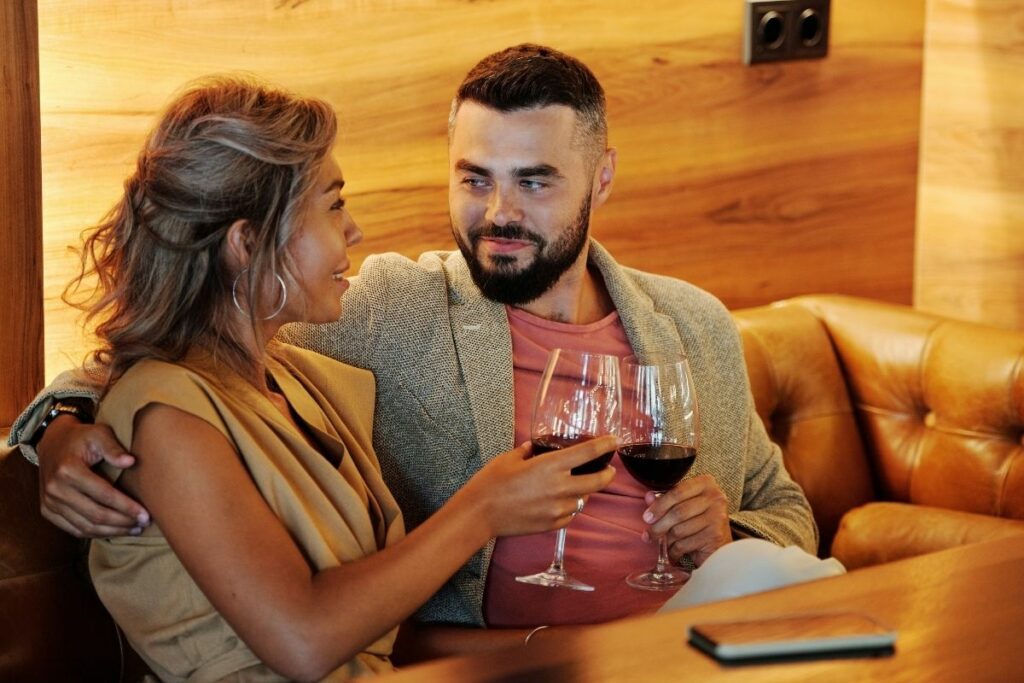 A more recent (and I mean super recent) trend in dating is to talk about therapy and mental health. Cultural representations of therapy have shifted significantly in recent years. In a Sex and the City episode from 1999, Carrie Bradshaw's friends cajole her into therapy because they're tired of her talking about her break up with Mr. Big. Carrie spends the rest of the episode talking about people who go to therapy as being unhinged. When she begins dating someone from therapy, she and her date both tell each other they are "too fucked up" to continue seeing each other.
Here's what research from Hinge says about therapy and dating
Twenty years later, I still believed that if I told someone I was in therapy, I'd be deemed undatable. Bringing up therapy on dates felt risky because I couldn't know what may be assumed about me.
I probably could have relaxed my fears a bit, because new research from the dating app Hinge shows that going to therapy is seen favorably among those on the app. Hinge reports that 91 percent of users prefer to date someone who goes to therapy. Even better, 89 percent said they would be more likely to go on a second date with someone who mentioned going to therapy on their first date.
I was surprised by this data and did an informal poll of my Instagram followers. I put up a question box that said, "Would someone saying they go to therapy be considered a 'hot' or 'not' on dating apps?" 94 percent of respondents said hot, while six percent said not. Those that said not messaged me and said they were very pro-therapy, but would be concerned that someone talking about therapy without context may be virtue signaling or inauthentic. So – between my very unofficial poll, and Hinge's very official poll – we can say that going to therapy is definitely a green flag for potential partners. But why exactly should you consider dating someone who says they're in therapy?
Why dating someone who is in therapy can be beneficial
Taking care of your mental health can lead to many benefits. Here are a few ways that may appear in dating:
Communication skills are improved. Unfortunately, I didn't have any classes teaching me how to respectfully share a concern, apologize, or be accountable when I was growing up. Therapists are able to support someone in vocalizing their difficulties or needs with partners in a solution-focused way.
Awareness about the past impacts the present is built.  Someone who has worked with a therapist has likely built awareness of how their former pains show up in their current life. This awareness can support someone in knowing when a challenge is something they need to work on independently or if it something happening in their relationship.
Personal growth is prioritized. Therapy is often a space to set goals for personal reflection and improvement. Someone who has been to therapy is likely to value taking positive steps forward in their goals and is open to doing the work that is needed to achieve their goal.
How to talk about therapy when you just started dating
Even if it's a "pro" to talk about therapy while dating, how do you actually do that with a date? (Because honestly, talking to others about therapy can be really tricky.) Below are a few of my tried-and-true tips:
First, reflect on your goals for dating. It is perfectly normal to date casually and choose to not go emotionally deep. If that's your dating goal, you may decide talking about therapy is not your thing. Conversely, if you are dating for long-term partnership, discussing therapy may be important. 
Next, reflect on the work you are doing in therapy. Some people see a therapist for emotional maintenance while others are working through trauma, addiction, or significant grief. If you are working on something more vulnerable, think about when and how you'll be ready to talk about that with your new partner. When you're ready, consider having an intentional discussion about your experience in therapy and how you've grown.
Keep it casual. If you are ready to talk about therapy, you can casually drop the topic into conversation. You can say, "My therapist shared something interesting with me the other day," or "I can't make it to brunch that morning. I have therapy."  
Don't overthink the conversation. There is nothing wrong with going to therapy and you know why you go. If the person you are talking to becomes judgmental or unsupportive, that says more about them than you. 
Over the past couple years, we've learned how important it is for us to take care of our whole selves. We are also better able to recognize when someone maybe has some work to do. If you're working on your mental health, that's a strength and will help you be your best self in relationships.
Let us know!
Did this post help you get closer to achieving one of your goals?