May 2022: AKT Cardio Dance Fitness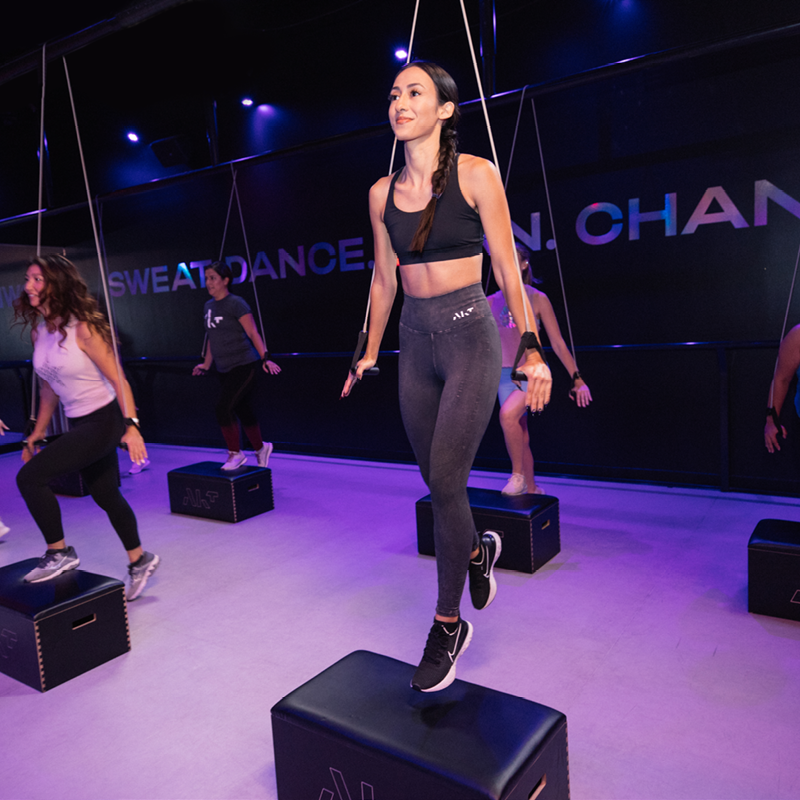 I'm the first to admit that I am missing the part of my brain that processes choreography. I willingly two-step at all weddings and special events. Once in a while I three-step, which is almost the salsa, for those of you keeping track at home.
So when you talk about cardio dance fitness, I get a little bit in-my-head about the whole thing. That's why a low-light, high-energy experience at AKT brings the kind of joy that will overcome any of your I-signed-up-for-the-talent-show-and-never-learned-the-dance nightmares.
AKT was featured as aSweatLife's studio of the month for May, which means that aSweatLife ambassadors across the nation were able to try the workout for themselves. In Chicago, we took on a workout together, trying a mash-up of the four signature class formats. We got to sample dance, bands, tone, and circuits.
The classes used two distinct props: a resistance band suspended from the ceiling and a step. At first, I was delightfully fixated on the fact that I looked like a member of NSYNC in the No Strings Attached video.
"I've never worked out with the bands in that way," aSweatLife ambassador Bea Jimenez said.
By the end of the workout, when we were all sweaty and tired, the disco ball turned on and brought everything to a new level, distracting me completely from any hard work that remained.
"I loved the energy that the AKT team brought – from check-in, to class, to post-class chatting – it was such a positive, fun atmosphere," aSweatLife ambassador Anna del Castillo said.
What did we think of it? aSweatLife ambassador Cathy Sweeny said it best: "Fun and energetic studio, the staff was excited to have us there."

Want to try AKT for yourself? Book your first class free today!