How to Mix Up Your Breakfast Game with Savory Toast
After losing my toaster when I moved a few months back, I stopped eating toast for a while. Until, that is, I got a new one for the holidays and remembered how much I love toast. After making sweet toast for a few breakfasts, I found myself quickly tired of the flavors and longing for something more savory.
Enter: savory toasts. If you're like me and would always rather eat a savory breakfast than sweet. They're also perfect if you don't want to commit to cooking eggs on your way out of the house. Here are threesavory toast recipes to try.
Hummus toast
In the search for a savory toast spread, you really can't go wrong with hummus. High in plant based protein and micronutrients, it will easily keep you full until lunch. Plus, there's no limit to the flavors you can build.
Try lemon hummus and cucumber, roasted red pepper hummus and sundried tomato, herb hummus and cherry tomatoes, pine nut hummus and spinach, or any other flavors that make you excited to get up for breakfast. The combo of plant based protein and veggies rounds out the meal so that you have a balanced and delicious toast to curb your appetite and never get bored with breakfast.
Avocado toast
Of course we can't talk about savory toast without diving into this fan favorite millennial brunch. News anchors may love to hate it, but avocado toast is popular for a reason.
Like hummus, avocados are a major nutritional powerhouse boasting high levels of healthy fats, antioxidants, and vitamins that will keep you full for hours. The rich flavor and creamy texture are simply an added bonus that keep us coming back for more.
To round out your avo toast, try adding cucumbers and everything bagel seasoning, sliced tomatoes and balsamic vinegar, bell pepper and lime juice, or red onion and microgreens. Similarly to hummus toast, there's no shortage of delicious combinations to build out a healthy and exciting breakfast without ever having to heat up a pan.
Humble Nut Butter toast
If nut butter toast elicits images of peanut butter, cinnamon, and honey, all decidedly sweet toasts, you haven't met our friends at Humble Nut Butter. Like me, co-founders John and Jessica Waller prefer savory flavors to sweet and saw a gap in the nut butter market for people like us. They decided to create a decidedly savory nut butter and it's a game changer. I sat down with them to learn more about their product and get their favorite savory toast recipes.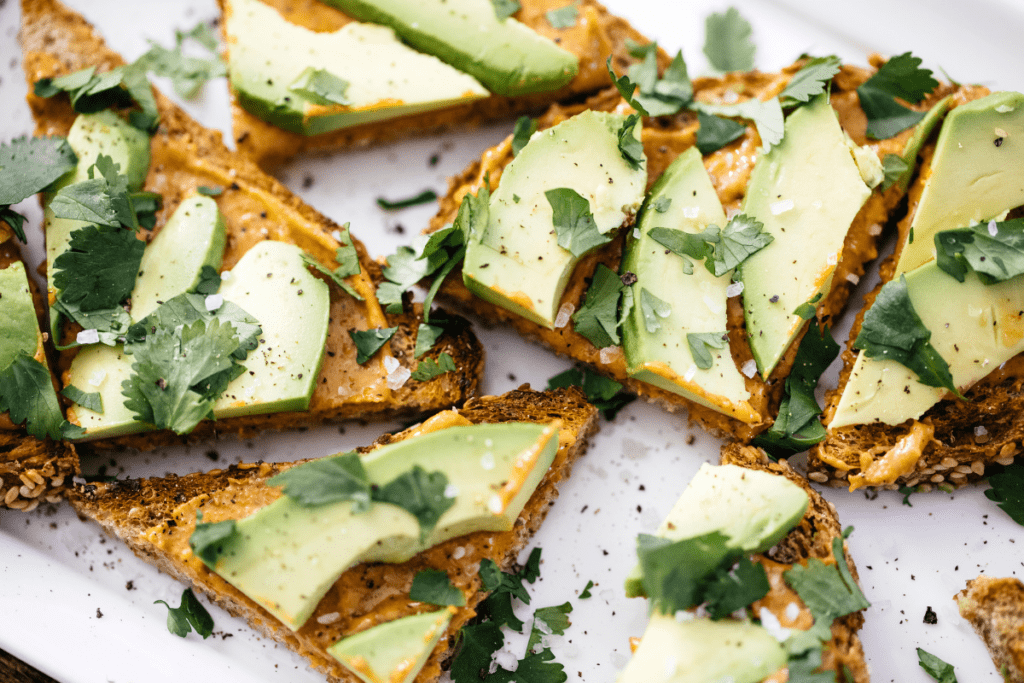 "I love nut butters because they have a satiating quality. I hate eating something and feeling like you're hungry after" Jessica told me. "Raiding our kitchen one night and staring into our cupboards I wondered why so many nut butters are sweet when so many mixed nuts are savory, I started thinking why couldn't you take the same flavor profiles that you find in mixed nuts and put them into nut butters."
Spoiler alert, they did and it's awesome. With three flavors including sundried basil cashew butter, truffle herb walnut butter, and turmeric maple pecan butter, there's something for everyone and they make a perfect building block for your next savory toast. The Wallers' personal favorite toast combos are the sundried basil cashew butter with avocado or when you're missing a little bit of that sweetness after diving head first into the world of savory toast, try the turmeric maple pecan with banana for a sweet and savory combo.
Humble Nut Butter products are vegan, gluten free, palm oil free, soy free, don't contain MSG, and they're delicious. If you want to pick up a jar or three you can check them out here. You can also find them at the #Sweatworking Summit – your ticket includes a free jar of Humble Nut Butter in your Summit Box!