For Guaranteed Family Fun: Spikeball and Spike Brite
This post was written in partnership with Spikeball. As always, we only write about brands we truly love—and we're obsessed with playing Spikeball.
Do you remember the Thanksgiving episode of Friends where they play football and get entirely too competitive? Or the brief football scene in New Girl where Nick gets tackled and gets his injury treated by Jess's gynecologist friend? 
For years, family and friends have gathered to play sports on major holidays. Playing a game together gets everyone outside and moving, and it creates a bonding experience for everyone involved. But in our opinions, football is a little overdone. That's why this year, we're gifting our friends and family a Spikeball set for the holidays.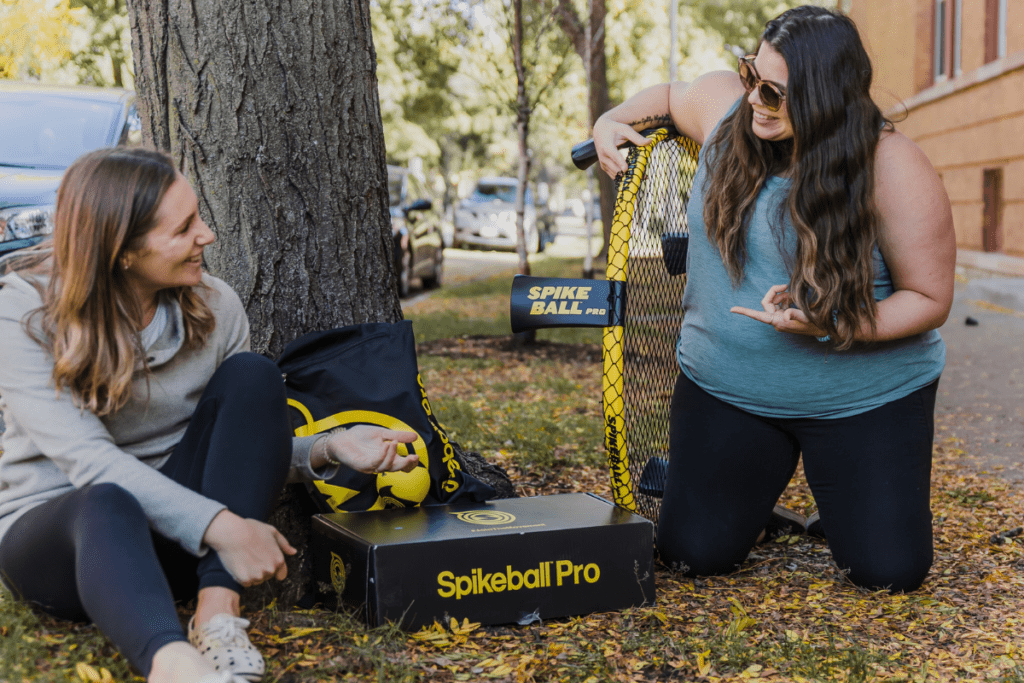 Why we love gifting Spikeball:
Ever since we learned how to play Spikeball at a Trainer's Connect event a few years ago, we've made it a regular part of our recreational routine. Now, we're realizing that it just might be the perfect gift to bring family and friends together during those long holiday afternoons when you're in between servings of leftovers. 
First, Spikeball is super easy to learn. Imagine a combination of volleyball and foursquare, and you've basically got it. People of all ages can pick it up quickly, without spending minutes at a time translating a thick rulebook (and totally losing interest in the process).
The actual Spikeball set is portable and lightweight, making it a great gift for families who love camping or day trips to the beach. We keep ours in the trunk of the car just in case an impromptu picnic pops up and we need a little entertainment.
Finally, we love how Spikeball brings people together over learning a new game and gradually getting better at it. You play Spikeball with two teams of two, and you play to 21—games go quickly, and there's plenty of opportunity to mix and match teams so everyone gets a turn playing with that one weirdly athletic cousin who played D3 baseball.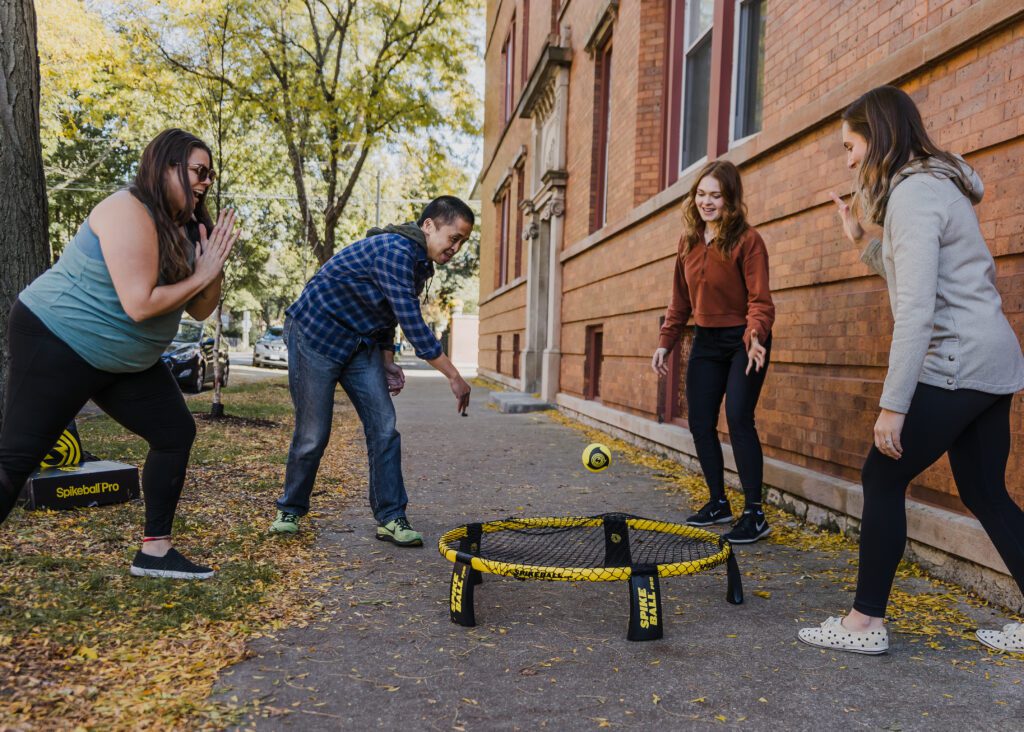 One suggestion? Bring a Spikeball set to Thanksgiving or your next holiday party as a "thank you" gift to the host. Then, set up a tournament for everyone who wants to play, and have that as an activity in the background while people mingle and catch up. Trust us, it's way more engaging than watching a parade or a Hallmark holiday movie.
And in case you find yourself having too much fun to quit, make sure to get the SpikeBrite bundle. Yup, it's Spikeball after dark, with all the standard Spikeball equipment plus a light-up attachment that makes it possible to play when the sun goes down (after all, Mom won't let us play inside). 
So, who are we gifting Spikeball to?
A few ideas:
The family and friends we'll see during the holidays, so we can play together
A couple who loves camping and always offers to plan the next backpacking weekend
The neighbors next door with younger kids, to give them a non-screen activity to do together (and psst, Spikeballs won't go crashing through your windows like a baseball or football might).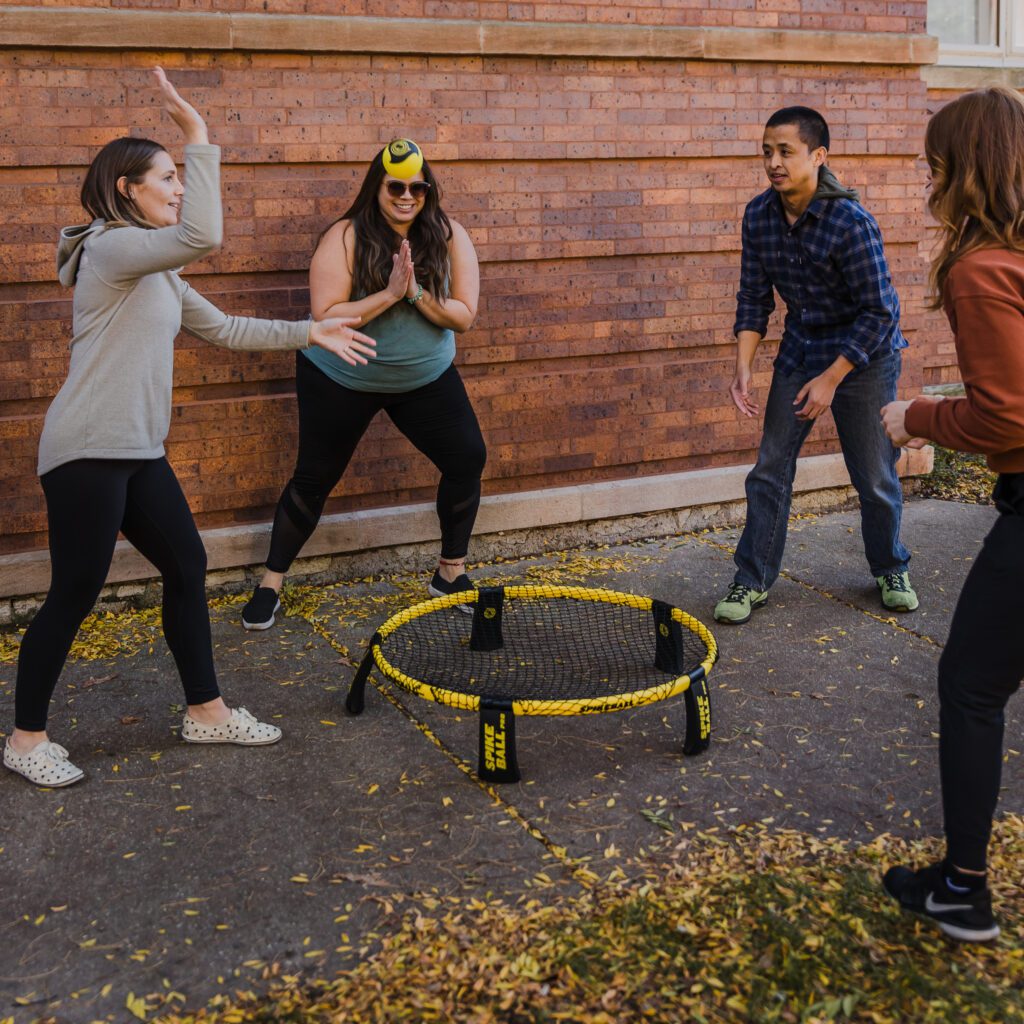 Shop Spikeball and the SpikeBrite bundle here. Never played before? Here's a quick guide (plus the full rules):
Start with two teams of two. Each team stands on opposite side of the net.
Game play starts when Team 1 hits the ball down onto the net so it bounces back up towards Team 2.
Team 2 has up to 3 moves to return the ball back to the net (just like in volleyball, you can bump, set, and spike).
After the serve, players can move around the net and hit in any direction, so you don't have to stay in place.
If a team can't return the ball onto the net in 3 touches, the other team gets a point. A shot that hits the rim, the ground, or bounces twice on the net is a loss.
First team to 21 wins!
Enter our giveaway for a chance to win a Spikeball Pro set and SpikeBrite attachment (plus three more to give away to friends!)
As part of our Happy HAUL-idays giveaway, we're serving up a Spikeball Pro set and SpikeBrite attachment to get you started on your Spikeball journey. But because #everythingisbetterwithfriends, we're also letting you choose three friends to receive this prize too! Think of your go-to pals who you know would be down to play Spikeball whenever—by gifting them your extra sets, you'll guarantee that someone always has a set on hand.
Ready to enter for a chance to win your own Spikeball set? Get on it below.