11 Songs You Must Add to Your October Workout Playlist
With hundreds of songs dropping across music streaming platforms every week, it can be challenging for fitness enthusiasts to stay on top of all the new releases for their personal workout playlists. As a fitness instructor who is always scouring the depths of Spotify and Soundcloud, I want to save you from digging for the latest bangers and remixes so you have more time to focus on breaking a sweat. Check out eleven songs below that you absolutely need on your October 2021 workout playlist, along with suggestions for how to utilize them.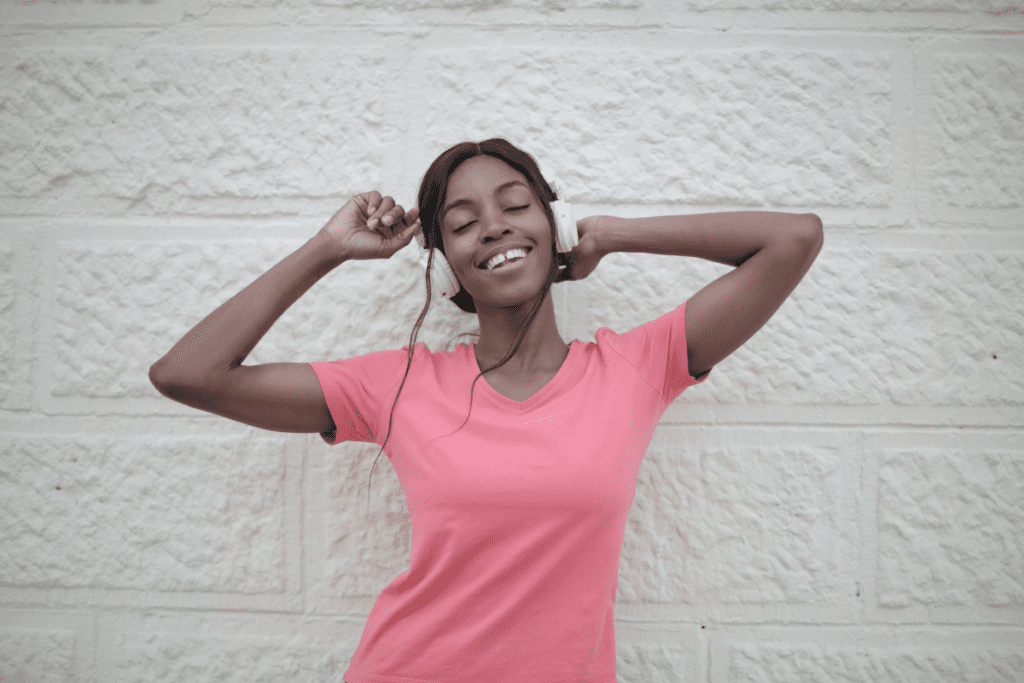 1. "Love (Sweet Love)"- Little Mix
Nobody does a self-empowerment anthem quite like UK girl group Little Mix (see "Shout Out to My Ex" and "Wings"), and their newest track affirms that notion. "Love Sweet Love" is a shot of pop perfection, ideal to get the blood flowing at the beginning of your workout and remind you that every step you take or every rep you perform is an act of self-love (sweet love).
2. "LFGD" (feat. Chris Melberger)- Dillon Francis
When it's time to take your workout from the warmup to the working zone, this is the perfect song to program. The throbbing bass and shouts of "Let's f*cking go dude" will have you sprinting to a whole new level without even realizing it.
3. "Summer in Brooklyn" (feat. Jordy)- Young Bombs
This breezy dance record evokes the feeling of sunny days and sandy beaches. Play it during a crisp, autumn run, and embrace the last few weeks of pleasant weather before winter takes hold.
4. "Brutal"- Olivia Rodrigo
As fitness enthusiasts know, workouts can be brutal, but Ms. Rodrigo is here to help. Picking up where "good 4 U" left off, "brutal" features a crunchy guitar line and enough teen angst to power you through the heaviest of squats or deadlifts.
5. "Headspace (Goldhouse Remix)"- Riley Clemmons
With marathon season in full swing, "Headspace" is a must for your training playlist. This feel-good EDM banger will ward off negative thoughts of quitting and motivate you through the later miles of your distance runs.
6. "DOLLA SIGN SLIME" (feat. Megan Thee Stallion)- Lil Nas X
One of the standouts from Lil Nas X's new album Montero, "DOLLA SIGN SLIME" brings together two of the biggest names in current hip-hop for a triumphant bop. Confident lyrics over a trap beat full of bouncy horns will help you sink a little deeper into a heavy climb on a spin bike or tackle a few extra flights on the Stairmaster.
7. "Lone Wolf" (feat. Wasiu)- Ezgod
Falling somewhere between trap and rock, this track boasts a powerful drop to help you unleash your inner werewolf for the month leading up to Halloween. Listen to this one while strength training for some extra pump!
8. "Everytime I Cry (Sigala Remix)"- Ava Max
Even if every bicep curl or tricep extension makes you want to cry, Ava Max reminds us that each one makes us a "little bit stronger." Let this floor-filler soundtrack your sets with a high number of repetitions, and it will keep the tears on the final few reps at bay.
9. "Free Woman" (Rina Sawayama & Clarence Clarity Remix)- Lady Gaga
Bigger percussion and electric guitar, along with some added girl power from Rina Sawayama, make this remix of "Free Woman" better than the original. Plus it's a whole minute longer, extending and amplifying the empowering message of the lyrics. No matter what kind of exercise you're doing, this song is a reminder that there is freedom in movement.
10. "Found You"- Retrovision
This full-throttle EDM track makes for an explosive finale to any cardio workout, giving you the push you need to shave some seconds off of your final split time. I often play this one as the last working song during my indoor cycling classes so riders can cross the finish line with a bang!
11. "Payday" (feat. Young Thug)- Doja Cat
Ethereal production including a harp line make this a nice finisher to bring your heart rate down and leave you feeling "on cloud nine." Exercise is like "payday" for your heart, lungs and brain so don't think of it as a chore – think of it as a blessing.
Check out the full playlist here, and stay tuned for 11 new tracks next month.